Introduction:
The global health crisis COVID-19 highlighted how important are telemedicine/ telehealth services. Although telehealth existed before that, it has been gaining popularity in the last few years. Today, care facilities, home-care centers, behavioral therapy centers, and hospitals have either implemented Telemedicine or looking forward to it.
Telemedicine implementation in care facilities has boosted their care delivery and patient engagement systems. Like mHealth, electronic health records, or any other custom healthcare solutions, Telemedicine offers a myriad of benefits. However, it's important to follow the best practices for telemedicine implementation.
Telemedicine implementation in hospitals and care facilities covers diagnosis, regular tracking of medicines, emergency care, and more. So, if you're interested in investing in telemedicine implementation, best practices and capable telemedicine software companies are the best aids. And here are the five best practices for telemedicine implementation in your care facility.
How to Successfully Implement Telemedicine Program at Care Facility
Telemedicine implementation in healthcare is not an uphill task. Hospitals can effectively deliver advanced telemedicine services with the right telemedicine implementation strategies. So, here are some of the steps to implement a telemedicine program.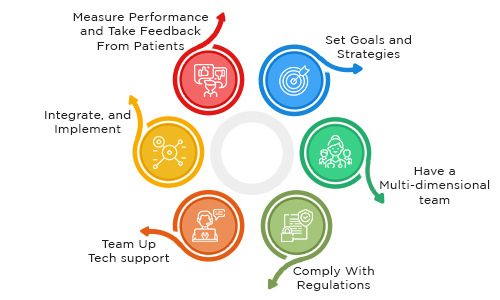 Set Goals and strategies- Just setting up telemedicine software is not enough. Healthcare provider solutions must always have a goal and strategy for it. So, if you're trying telemedicine implementation at your care facility, then you need to set your care goals and develop strategies to achieve them.
Have a multi-dimensional team- Telemedicine software requires multiple providers or staff. Even services from different businesses or healthcare facilities are required. So, it's essential to gather a cross-functional team to make the implementation process easier. Telemedicine programs might require healthcare automation or healthcare analytics solutions to drive further care and growth decisions.
Comply with regulations- HIPAA compliance is a must, whether it's a telemedicine software platform or a telehealth app for patients. Complying with regulations assures patients and Stakeholders of privacy and security.
Team up Tech support- Technology plays a crucial role in telemedicine implementation. It's required to team up with reliable IT support partners to implement telemedicine software successfully.
Integrate, and implement- The last step is to integrate the telemedicine software into your existing system or implement it separately. Besides, you can use cloud-computing solutions in healthcare to develop telemedicine programs. Cloud-based telemedicine solutions are a better option and easier to integrate as well.
Measure performance and take feedback from patients- Just implementation of Telemedicine isn't enough. With integration and implementation, providers need to track the performance of telemedicine solutions. Besides, feedback from patients is equally important for improving the telemedicine software.
The 5 Best Practices For Telemedicine Implementation
Telemedicine implementation is easier with the right set of goals, some great strategies, and an excellent cross-functional team. However, hospitals with integrated care management need to adopt these five best practices to implement Telemedicine. Telemedicine implementation will also boost other solutions like electronic data exchange or healthcare interoperability. Data generated from Telemedicine is critical and helps in improving care quality. So, providers also use clinical data analysis to manage telemedicine software data.

1. Identify and mitigate risks
One of the essential practices in telemedicine implementation is identifying the risk factors and eliminating them. Implementation of telemedicine software for providers is affected by several challenges, including reimbursement and cost of adoption issues. As providers, it's essential to identify the potential risks affecting telemedicine implementation. Besides, providers can use tech solutions to mitigate these risks and boost the implementation process. For instance, if your hospital implementing Telemedicine requires data management solutions, you can use clinical informatics solutions. This will make the implementation process faster.
2. Pick and evaluate patient-centric features
Telemedicine or telehealth solutions enhance patient experiences. And patients also look for features like data transparency, appointment scheduling, emotional connectivity, and test results. Besides, you can consider features like mobile app support, integration with wearables to monitor remotely, and more. They are ensuring that the telemedicine software platform has patient-centric features. However, providers also need to understand patients' expectations and needs to select features of the telemedicine software. Above all, considering patient-centric features mean improved feedback from patients. And this is an excellent way for telemedicine implementation in hospitals.
3. Focus on HIPAA compliance
Technological solutions in integrated care management systems need to maintain their processes and data privacy and security. So, developers of these tech solutions are attentive towards HIPAA compliance. Even in telemedicine programs, providers and developers need to ensure that their software complies with HIPAA regulations to maintain security. Moreover, complying with regulations also assures patients of the authenticity of the software. So, when implementing Telemedicine, it's best to ensure regulatory compliance with HIPAA to boost its performance.
4. Communicate with Care Facility Staff and Tech Support
Another critical practice impacting telemedicine implementation in healthcare is apt internal communications. Communicating with care facility staff or tech support timely with your requirements and suggestions effectively implements a telemedicine program. Even with patients, communication related to telehealth solutions is beneficial. So, successfully implement Telemedicine in hospitals with this good communication practice. Further, maintaining proper communication between the stakeholders can boost the integrated healthcare systems.
5. Track KPIs
KPIs or Key Performance Indicators monitoring is a must when implementing telemedicine software. KPIs include patient satisfaction scores, scheduling statistics, telehealth reimbursements and revenue generated, and productivity of care providers. Tracking these aspects when implementing Telemedicine will help providers determine its success. Further, maintaining this practice is quite beneficial for providers who have implemented Telemedicine. This practice also helps providers with population health management.
How Telemedicine will Benefit Care Facilities
Telemedicine or telehealth solutions offer multiple benefits that boost the patient experience, provide quality care, and save money. Here are some of the significant benefits of implementing Telemedicine in hospitals.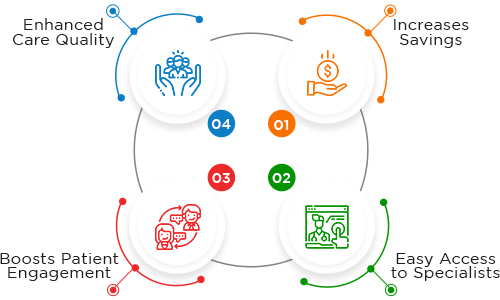 1. Increases savings
Nearly $2.9 trillion is the spending of the U.S on healthcare every year. And it's predicted that in this, roughly $200 million in unnecessary spending. But Telemedicine has changed the scenario. Implementing Telemedicine or integrated telehealth solutions reduces healthcare spending by reducing hospital readmissions, ER visits, and medication adherence issues. Above all, telemedicine consultations are also cheaper than in-person visits.
2. Easy access to specialists
Apart from savings, Telemedicine even assures easy access to specialists. Chronic and critically ill patients require regular monitoring and consultations. And in-person visits and remotely monitoring chronic patients are difficult. However, Telemedicine ensures that patients get easy access to specialists. With such faster accessibility and consistent care, Telemedicine improves patient care and patient engagement.
3. Boosts patient engagement
As we mentioned, Telemedicine boosts patient engagement but in different ways. Telemedicine ensures patients get the best quality of care alongside other health support, including medication adherence, vitals monitoring, access to their health records, and more. These attract patients and boost hospital productivity. Moreover, Telemedicine ensures better patient-provider relationships based on empathy and trust. This also increases patient engagement.
4. Enhanced care quality
In Telemedicine, following up on patients remotely to ensure better care outcomes is quite common. Providers implementing Telemedicine assure patients of improved care quality, as patients have complete control in this care process.
Conclusion
Telemedicine implementation is not an easy task but is worth adopting. From electronic data exchange to medical records management solutions, healthcare facilities are burdened with data issues, care quality, and more. But with Telemedicine, providers and patients both are benefited. Providers generate more revenue through its telehealth platform, and patients find this cost-effective. Besides, following the best practice for implementing Telemedicine can enhance its productivity and results. So, if you're trying to implement Telemedicine, make sure you set your goals and adopt these practices.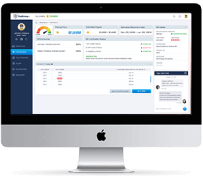 How can we help?
Fill out the short form below or call us at (888) 846-5382
Looking for software solutions to build your product?
Let's discuss your software solutions for your product in our free development acceleration call!
Get In Touch arrow_forward
About Author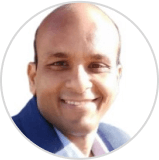 Written by Riken Shah
Riken's work motto is to help healthcare providers use technological advancements to make healthcare easily accessible to all stakeholders, from providers to patients. Under his leadership and guidance, OSP Labs has successfully developed over 600 customized software solutions for 200+ healthcare clients across continents.