Introduction:
Telemedicine is the future of healthcare, and there's no denying it. As the healthcare system battles tirelessly against COVID-19, we have been faced with the reality of the sheer inability of traditional systems to deal with new-age requirements. Telemedicine software applications are the future of healthcare, and organizations must embrace the emerging technologies related to this domain to stay relevant and increase their ROI. Governments are now focusing on the long-overdue requirement of pumping money into the healthcare sector towards research, patient engagement systems, and practice management solutions. All these factors will be realized through the one and all-important domain – Telemedicine app development solutions.
Telemedicine vendors undertake healthcare software product development to create telehealth apps that enable patient-provider communication through online portals. Advanced telehealth solutions offer solutions for healthcare providers, such as appointment scheduling, to integrate the entire caregiving spectrum.
At OSP, our US-based client wanted to invest in technology to provide quality health access to pregnant women. Building a telemedicine platform that connects MFM experts to pregnant women in the remote local clinic through real-time video streaming was the need of the hour. Our dynamic remote health monitoring system offered:
Quality health access in real-time
Simplified risk probability
Highly secure, HIPAA-compliant streaming
No. of Follow-ups increased
Uninterrupted connectivity between provider & patient
Robust decision support in real-time
Advantages of Telemedicine Apps for Providers
An advanced telemedicine software platform aids caregivers in offering more control of their health to patients.
A telehealth app for patients can be designed to offer an insight into the specifications of their health conditions.
Telemedicine providers can apply technology that allows the patient to monitor and conduct primary screening without physical check-ups continually.
Telemedicine apps for doctors can be designed to offer healthcare management charts that provide time-based summaries, such as weekly data for further analysis.
Apps for telemedicine can offer a primary diagnosis based on an analysis of symptoms that the patient enters.
The initial diagnosis can then be taken a step further to offer a connection to the doctor who is closest in proximity or convenience.
Top 2022 Features in Telemedicine Apps for Providers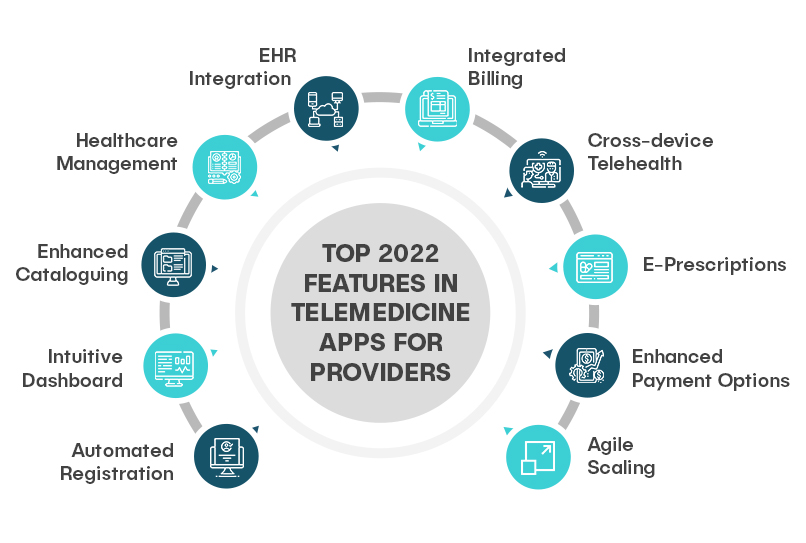 1. Automated Registration
A comprehensive telehealth mobile app that ranges across the entire lifecycle of health management will apply integrated healthcare solutions towards the overall adoption of innovative technologies of the healthcare organization. Appointment scheduling on mobile devices ensures that the patient is responsible for the entire appointment scheduling process through automated features on their device. Similarly, the registration process can be enabled on mobile devices to limit inconvenience and allow the process to function smoothly at the patient's end. Enabling provisions for insurance eligibility verification through innovative technology that offer automation can be undertaken seamlessly with telemedicine applications for healthcare.
2. Intuitive Dashboard
As part of the telemedicine EHR software, an intuitive dashboard that offers analysis on health patterns, EHR solutions, automated health reminders, and wellness initiatives on patient devices can effectively simplify accessibility. One cannot stress the importance of an easy-to-use interface or user dashboard in telemedicine for healthcare. This critical component defines the user experience, and Healthcare cloud computing offers effective solutions toward this feature. When choosing telemedicine software app solution providers, ensure that the dashboard is built to provide users with the most meaningful and essential information as efficiently as possible. Navigation should be seamlessly executed on the mobile healthcare app. As far as possible, use bold fonts and bright displays to assist the user in finding and grasping information.
3. Enhanced Cataloguing
Adopting custom healthcare software solutions toward telemedicine app development for hospitals should be incorporated with enhanced cataloging techniques. A doctor's catalog can be a significant time-saver for healthcare professionals and patients alike. It uses medical informatics to increase the accuracy of matching a provider with a patient based on specific factors. Usually, telemedicine software app solutions profile patient features, but doctors' profile features can also be included with enhanced cataloging. With provider cataloging, details such as an address, qualifications, specializations, experience, availability, schedules, allocations, and patient health records can all be included.
4. Healthcare Management
Telemedicine apps for physicians offer multiple features for varied needs. Healthcare management remains the ultimate goal, and towards that end, telemedicine solutions offer various features across the entire lifecycle of caregiving. Today's healthcare scenario could be fitness offerings, lifestyle management, disease management, women's health, telemedicine, and healthcare finance-related apps. Digital health technologies that educate communities and patients are required more than ever before. Hospital spaces are full, and doctor availability is at an all-time low. Accessing the needed healthcare advice and information can be accommodated through telehealth services without the added pressure for physical examination and space.
5. EHR Integration
Telemedicine app developers should ensure EHR integration within the app for enhanced feasibility through electronic data interchange. Patient health data, including blood work, laboratory tests, radiological images, prescriptions, and physician recommendations, are all stored for integrated usability. By storing this vital patient information, health monitoring is empowered, and physician time is significantly saved. Telemedicine software solutions, integrated with HER, ensure that patient records are easily accessible through centralized processing and consolidation.
6. Integrated Billing
Telemedicine software solutions can be incorporated to offer automated billing solutions that remove the requirement of manual processes by health administrative staff and create opportunities for billing and reimbursement virtually. Furthermore, innovative technologies can now offer the entire range of healthcare codes by CMS in a tabular form with automatic updates as the situation changes or evolves. Patient preauthorization, fee charges, payments, recovery, statements, co-pay management, collections, and reimbursements can all be undertaken through telehealth to create a holistic billing experience. Integrated billing can work as a powerful tool by enabling those mentioned above.
7. Cross-device Telehealth
Telemedicine app development solutions can never be entirely complete without incorporating cross-device accessibility. Keep in mind that a patient might use his mobile phone to enter information, and the caregiver might be looking to access that information on his desktop or laptop. The same goes for clinical management apps that require accessibility across multiple and variant devices. Pay careful attention to the devices your users will be using for the app and ensure that they can be accessed across the entire range of those devices. The bare minimum, telemedicine apps for providers, is to ensure accessibility across IOS and Android.
8. E-Prescriptions
Based on the individual requirement of the healthcare organization, automated healthcare solutions can be applied toward telehealth apps for prescription management. This technology maintains secure communications of e-prescriptions between various caregiving aspects of the patients, their relative pharmacies, and claims agencies for holistic integration and accurate process flow. This e-prescribing procedure empowers the entire process flow of the pharmacy's system, saves provider time, and increases patient satisfaction due to error-free dispensing and billing.
9. Enhanced Payment Options
Telemedicine apps for providers should be embedded with the capability for patients to pay their medical bills remotely. This provision will ensure that bills are paid in a timely fashion, and the entire revenue cycle management of the healthcare organization will be positively influenced through this feature. Embedding features, such as automated invoice generation, multiple payment options, development of pay-slips for hospital staff, payment record management, and compliance can go a long way in achieving patient and provider satisfaction.
10. Agile Scaling
Telehealth apps can create a telemedicine platform to host many features based on specific requirements. If you are looking to develop a mobile health monitoring system, you will most likely need a booking feature. This feature is commonly used to book an appointment with caregivers (virtual or physical). Careful attention needs to be paid to strict mobile app security. Finally, app development companies need to adhere to compliance, prompt execution, and seamless integration throughout the development cycle. Agility can be further enhanced by deploying a physician rating system within the app.
Conclusion
Telemedicine solutions come with an assurance of providing maximum benefit to the caregiver, healthcare staff, and patient alike. As healthcare technology advances rapidly, new and improved features take over the telehealth space. Healthcare organizations should carefully examine their specific needs and opt for customized apps that address their requirement. However, telehealth app development has some core components for overall usage success and futuristic readiness. The ten tips mentioned above will comfortably ensure successful development and execution.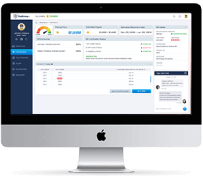 How can we help?
Fill out the short form below or call us at (888) 846-5382
Looking for software solutions to build your product?
Let's discuss your software solutions for your product in our free development acceleration call!
Get In Touch arrow_forward
About Author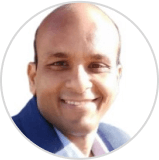 Written by Riken Shah
Riken's work motto is to help healthcare providers use technological advancements to make healthcare easily accessible to all stakeholders, from providers to patients. Under his leadership and guidance, OSP Labs has successfully developed over 600 customized software solutions for 200+ healthcare clients across continents.