The complexity of the healthcare industry in the United States is unlike anything seen in any other country. American healthcare is a meandering labyrinth of evolving regulations that hospitals must keep up with. In light of this complexity, it can be challenging to navigate all the rules and still stay true to the bottom line – revenues. Hospital revenue cycle management is a multi-layered bureaucracy involving many steps and complicated workflows.
An effective hospital revenue cycle management system is indispensable to ensure quality care. In other words, healthy revenues result in providers not cutting corners and diverting more resources for patient care. This is where hospital revenue cycle management systems or software (RCM) comes into the picture.
Introduction to RCM Software
RCM solutions are a part of the more significant healthcare software product development industry, including practice management solutions and remote health monitoring systems.
Hospital revenue cycle management solutions digitize the activities involved in managing revenues from patients. Medical RCM software does so throughout the patients' care journey – from scheduling appointments to final discharge.
While healthcare revenue solutions exist across the globe, their footprint is enormous in the United States, given the nature of its healthcare industry. Since the entire revenue cycle management process must comply with strict regulations, it becomes imperative to get things right. Mistakes in the process can delay payments or lose them entirely.
Why Should Your Healthcare Organization Have an RCM Solution?  
In light of regulatory hurdles, healthcare revenue solutions are critical to streamline administrative workflows and help clinicians derive incomes faster.
Effective hospital revenue cycle management solutions ensure that billing errors are avoided, the number of accounts receivables minimized, and the overall administrative overhead is optimal.
The result? Hospitals enjoy significantly higher revenues, which would, in turn, help in improving the quality of care and the overall patient experience. But numerous vendors develop RCM software coupled with custom healthcare software solutions. So how do you select the right medical RCM platform that meets the requirements of your organization? The following are some of the most essential features that any good RCM solution ought to have –
The Top 7 Must-Haves for Hospital Revenue Cycle Management Systems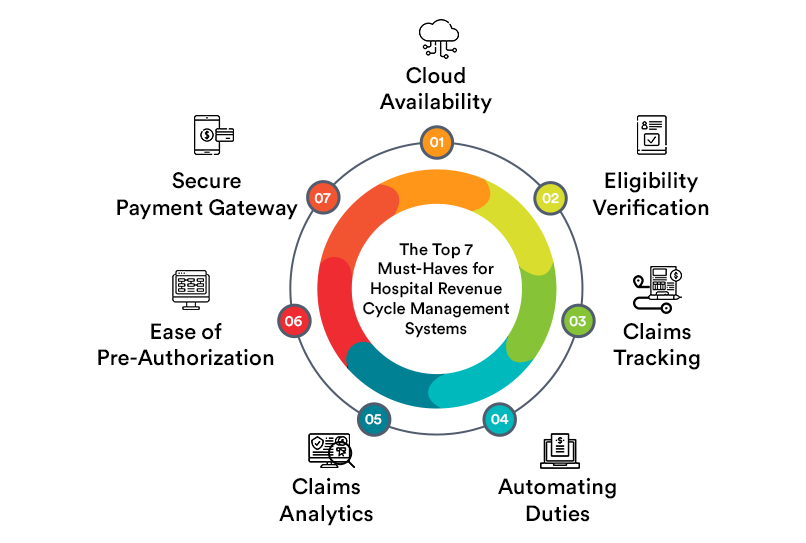 1. Cloud Availability
The cloud is well on its way to transforming the software industry. Healthcare cloud computing has been gaining momentum for the better part of the last decade. As opposed to being installed on-premises, cloud-based hospital revenue cycle management software doesn't require additional hardware investment as storage needs grow. Moreover, investing in a cloud-based solution also avoids expensive servers and saves the trouble of having IT teams, adjusting networking and bandwidth parameters.
Additionally, hospitals can rest assured of business continuity in the event of a catastrophe or data theft. As the information won't be stored on-premises, their retrieval is fast and convenient.
These benefits, coupled with the advantage of accessing data remotely while on the move, make it paramount for RCM software to be available on the cloud.
2. Eligibility Verification
Checking patients' eligibility has got to be one of the slowest and most tedious jobs in healthcare revenue cycle operations. Before technology solutions, it would've involved a long, arduous verification process over a phone call. On the other hand, a revenue cycle management solution can verify claims and fetch information on every patient's insurance coverage in a few short steps. In addition to this, an effective hospital revenue cycle management system can minimize errors in the entire claims procedure. The result is an accelerated workflow, reduced wait times, and better patient outcomes overall.
3. Claims Tracking
Submitting claims with everything in order is essential for hospitals as well as smaller practices. Mistakes result in a claim being denied and a long wait-time to correct that mistake. Unsurprisingly, this causes a drop in efficiency and hampers revenue streams. A significant advantage of revenue cycle management software within broader integrated healthcare solutions is checking the status of claims in real-time and highlighting errors. As a result, hospital staff can make changes and resubmit denials without having to wait. In other words, revenue cycle systems improve the overall health care management processes and clinical outcomes in the long run.
4. Automating Duties
Solutions for healthcare RCM provide an easy and efficient means of storing and managing billing records. If you're looking for a hospital revenue cycle management solution, then know that its primary function is to reduce the time between the service and getting paid.
The best way that a healthcare RCM platform can pull it off is by seamless integration with other automated healthcare solutions and patient engagement systems to facilitate smooth electronic data interchange. When this happens, hospitals can automate many tasks and end up saving a considerable amount of time and effort that would've otherwise been spent on repetitive activities.
For example, a comprehensive, integrated solution for revenue cycle management for hospitals, as mentioned above, can notify patients of arrear payments and even assess why a claim was denied. Such features save countless hours and enable hospitals to allocate resources better.
5. Claims Analytics
There are numerous reasons why claims might be denied. Filling out claims and submitting them is a tedious process, and when a claim is denied, it leads to unproductive re-work. Medical informatics within revenue cycle management software should be able to predict patients at risk and analyze claims. Tracking claims is a significant part of hospital revenue cycle management. But analyzing them could reveal missed revenues. Healthcare revenue cycle analytics that assesses claims can help you discern valuable patterns in the claims workflow, highlight potential missed payments, underpayments and forecast possible decreases in your bottom line.
6. Ease of Pre-Authorization
Pre-authorization is when a particular service, medication, or procedure is clinically essential by an insurance provider. Perhaps the only time this procedure is side-stepped is during emergencies. If revenue management solutions for healthcare can simplify pre-authorization, it enables doctors to deliver care sooner. As a result, the overall workflow of the hospital improves drastically, which in turn improves the revenues. In addition to helping doctors, faster pre-authorization also helps patients avoid the anxiety of wait times before their procedures begin. In other words, good hospital revenue cycle management entails a streamlined process of pre-authorization.
7. Secure Payment Gateway
An effective revenue cycle management solution must also include a secure, HIPAA-compliant payment gateway. In addition to ensuring data privacy, it cuts costs, saves time, and reduces billing errors while accelerating your reimbursements. Advanced telehealth solutions that integrate revenue cycle management solutions with secure payment gateways proved invaluable during the pandemic. The lockdowns increased virtual consultations and helped many providers improve their bottom-line as their RCMS software-enabled secure payments.
Consequently, it leads experts to recognize the importance of this feature in revenue cycle management for hospitals. So, if you're on the lookout for good RCMS software, this feature is a must-have.
Conclusion
A solution for hospital revenue cycle management has become indispensable for hospitals as well as practices. The nature of US healthcare resulted in complicated workflows around claims, authorizations, and reimbursements. Without a digital platform for the entire hospital revenue cycle management process, clinicians have high costs and sketchy income streams.
In light of this, doctors and hospitals need to know what to look for in RCM software solutions and make informed decisions.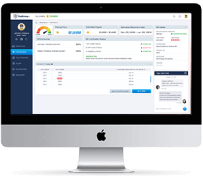 How can we help?
Fill out the short form below or call us at (888) 846-5382
Looking for software solutions to build your product?
Let's discuss your software solutions for your product in our free development acceleration call!
Get In Touch arrow_forward
About Author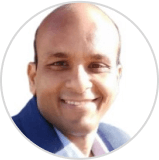 Written by Riken Shah
Riken's work motto is to help healthcare providers use technological advancements to make healthcare easily accessible to all stakeholders, from providers to patients. Under his leadership and guidance, OSP Labs has successfully developed over 600 customized software solutions for 200+ healthcare clients across continents.