Introduction:
Multiple layers of regulation have made American healthcare extremely complex. There is an elaborate, bureaucratic process for providers to enter and process patients electronic health records, fill out claims and finally get paid. On top of that, the covid-19 pandemic has not done any favors for healthcare revenue cycle management.  
The perennial debate around making care more affordable brings in changing regulation, making medical RCM more complicated. With numerous revenue cycle management vendors offering many solutions, it can get overwhelming for healthcare providers to pick the right one.
A few pervasive misconceptions surrounding healthcare revenue cycle systems are added to this problem. If you're a provider who's apprehensive of a revenue cycle solution, you need to have a look at some common myths –  
Five Common Myths About Healthcare RCM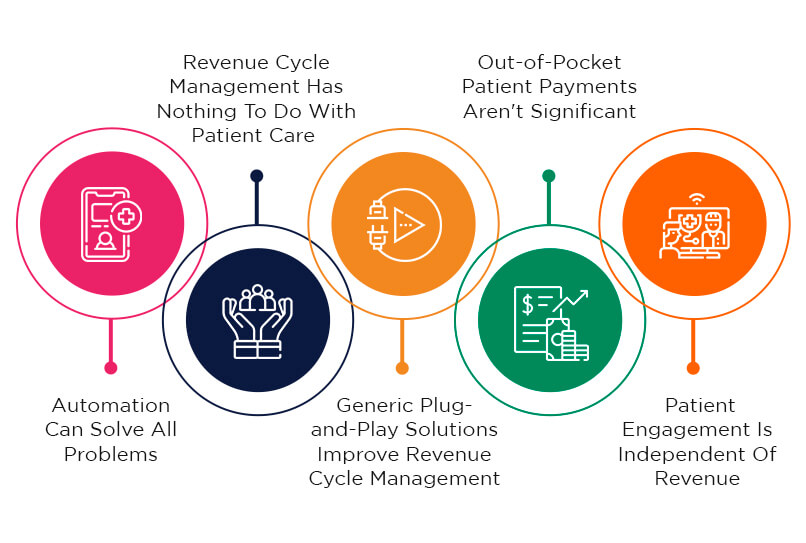 1. Automation Can Solve All Problems
Healthcare automation has gone a long way in improving the efficiency of medical workflows and billing activities. There are plenty of revenue cycle management vendors offering solutions to automate manual processes. But implementing it requires caution and a complete picture of your existing RCM system. You must know precisely how your billing and revenue workflows function before deciding to automate specific components. The only tasks that are better off being automated are repetitive and quantitative. In other words, avoid those tasks that require human staff to apply skills and ingenuity.
Understanding this necessity needs consultation with IT experts who can give the best advice. Furthermore, implementing automated revenue cycle management solutions entails adequate training for the staff and subsequent support to keep things running smoothly. Integrated healthcare solutions and healthcare management systems that incorporate revenue cycle solutions always feature automation. So, it's essential to make sure that whatever you are automating needs to be compatible with broader clinical, administrative solutions.       
2. Revenue Cycle Management Has Nothing To Do With Patient Care
Even though it does seem like medical attention and revenue cycle management are two completely unrelated aspects of healthcare, they're not. Everything that happens within a hospital or a practice ultimately is about patient care. When clinicians use healthcare revenue cycle solutions integrated within practice management platforms, they optimize everything, not just billing and financial activities. As a result, more resources and time are left over to give to patients. Effective RCM systems also make it easy for patients to complete their payments and avoid waiting times.
In other words, patients can get treated faster, and doctors have more time to give to patients. The payers too experience efficiency and lack of bottlenecks. To sum it up, competent HIPAA-compliant solutions for healthcare revenue cycle services are nothing short of a win-win for all stakeholders involved. That's why it's always practical to view Healthcare Revenue cycle Management and patient care as closely interlinked.
3. Generic Plug-and-Play Solutions Improve Revenue Cycle Management
Numerous healthcare revenue cycle management companies are offering a plethora of solutions. While it might be tempting to purchase cost-effective ones, you must assess how it would affect established working styles. A solution that doesn't mimic existing work routines might hinder non-medical operations. Additionally, the staff would need time and training to get used to newer healthcare revenue cycle services, which would affect the patient experience.  
So, it's feasible to have an IT expert assess hospital workflows and develop customized medical revenue cycle management software in the long run. The best part, it need not even be installed on-premises.
Cloud computing in healthcare has led to customized RCM solutions that need installation on hardware devices. They offer seamless healthcare interoperability, secure data backups, and scalability without additional hardware investment. Such platforms can be tailored to meet unique requirements in hospital revenue cycle analytics and medical informatics.     
So, try to know what exactly matches your requirements, and don't shy away from a customized solution. It might take longer and cost a little extra, but it's worth it.
4. Out-of-Pocket Patient Payments Aren't Significant
Out-of-pocket payments might not account for large hospitals' revenue in urban locations. But they are significant in rural outpatient settings. The rising cost of healthcare has resulted in millions of Americans being underinsured and even uninsured. So, it helps both the providers and patients to have transparency in pricing, coupled with accurate estimates for out-of-pocket costs. Transparency in costs is known to establish efficient revenue cycle management in hospitals and ambulatory care settings, achieving better results in population health management. So, direct payments will benefit long-term healthcare revenue cycle management goals, and it is worth considering.
5. Patient Engagement Is Independent Of Revenue
Healthcare only involves going to a doctor and getting a prescription for most people. But it's not the same for patients with serious or chronic conditions. Such people need greater interaction with their providers, and a good patient engagement system with seamless electronic data exchange works wonders. Patient engagement is nothing but doctor-patient interaction beyond consultations and clinical admissions, and it entails educating patients and encouraging them to be actively involved in managing their care. On the face of it, patient engagement may not directly impact the healthcare revenue cycle.
But that doesn't mean they're independent of each other. Regular interactions with doctors empower people to handle their care better and help doctors detect early signs of disease. Moreover, it reduces missed appointments and delayed payments while streamlining reimbursement processes. These factors resulted in improved medical outcomes and healthcare revenue cycles. In addition to this, patient engagement is directly beneficial for medical records management as it helps providers keep people's health information up-to-date. Providers would also be better off using custom healthcare analytics solutions to assess each patient and craft unique engagement strategies.
Conclusion
Healthcare revenue management is entwined with medical care. As regulation evolves to meet emerging technologies, providers will have to seek custom solutions to meet their requirements. This is especially true for smaller practices with one or a few physicians. Doing so requires clarity and awareness about the best healthcare revenue cycle management practices. That, in turn, must start with an understanding of what is true and what's not about RCM in healthcare.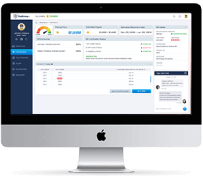 How can we help?
Fill out the short form below or call us at (888) 846-5382
Looking for software solutions to build your product?
Let's discuss your software solutions for your product in our free development acceleration call!
Get In Touch arrow_forward
About Author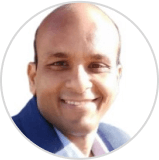 Written by Riken Shah
Riken's work motto is to help healthcare providers use technological advancements to make healthcare easily accessible to all stakeholders, from providers to patients. Under his leadership and guidance, OSP Labs has successfully developed over 600 customized software solutions for 200+ healthcare clients across continents.