Introduction:
Mobile Patient Monitoring Systems today are gaining momentum in the healthcare industry. Digital tools and services like electronic health records or patient engagement systems are changing the paradigm of care delivery and treatments. Similarly, mobile patient monitoring system enhances remote patient monitoring and telehealth. This system depends on mobile computing and wireless technology to facilitate continuous communication of the essential vitals of the patient.
Providers and healthcare management both advocate how this new mobile patient monitoring ensures efficiency and convenience of patients. As part of mHealth, mobile remote patient monitoring also helps providers and health organizations amplify their remote patient monitoring system to provide quality care, maximum practitioners' flexibility, and enhanced patient experience.   
Besides, in any practice management, the patient monitoring system offers many benefits. So, if you are interested in building a mobile patient monitoring system for your organization, here is a complete guide on this. This guide focuses on developing a mobile patient monitoring system from scratch. However, before you shift your focus on the process, you must understand the potential barriers and benefits of mobile patient monitoring in healthcare.
Barriers in Developing a Mobile Patient Monitoring System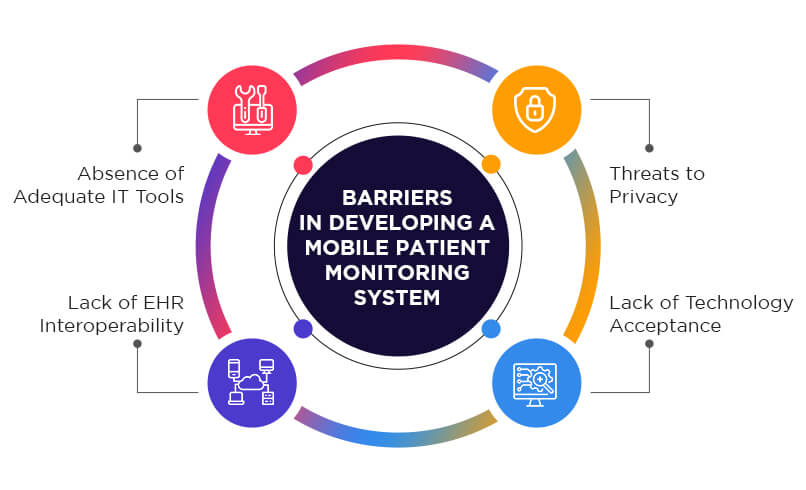 Healthcare providers are plagued by rising care costs and the increasing chronic and geriatric population. So, healthcare IT leaders and providers resorted to remote patient monitoring applications to keep track of patients' bio-signal and bio-markers. This helps physicians to make informed health decisions for patients' better health. However, providers and healthcare organizations are skeptical of developing and implementing a mobile patient monitoring system due to these roadblocks.
1. Threats to Privacy
Any integrated health solutions or mobile health applications have the most common obstacle- the threat to data security. Mobile healthcare solutions keep track of the significant body vitals to ensure patients' health stability all time. And these mobile patient monitoring devices and systems generate a massive amount of health data to help clinicians. However, the mobile monitoring application without HIPAA compliance imposes more privacy and security risks. So, providers and vendors developing mobile patient monitoring systems must comply with all regulations. This will assure users and patients safe and secure healthcare data management and electronic data exchange for better health outcomes.
2. Lack of technology acceptance
Another common barrier in developing mobile health monitoring systems is providers' lack of acceptance of technology. With new emerging technological solutions, health providers benefit from the health applications. However, technology acceptance is still a challenge, as most providers are still skeptical about the most solutions. Moreover, remote patient monitoring systems have to deal with a huge amount of health data. And to manage this data, providers need medical informatics or healthcare analytical solutions. These additional investments impact providers' financial and technical credibility. So, providers aren't sure about developing such a remote health monitoring system.    
3. Lack of EHR interoperability
Mobile patient monitoring systems generate a massive amount of patient health data. Even though providers today have EHR systems, the lack of healthcare interoperability poses a risk in sharing vital monitoring data across the care settings. This barrier affects the complete patient monitor software. Moreover, if your EHR system isn't interoperable, there are chances of data loss, lack of adequate information to make clinical decisions support system, and more. So, providers need to ensure that their organizations have EHR interoperability to ensure seamless data exchange and storage. Some experts suggest that cloud-based storage is better and more secure than web interface-based applications.   
4. Absence of Adequate IT Tools
 Developing a mobile patient monitoring system is possible only with many IT tools. Healthcare providers lacking adequate IT resources face obstacles in developing a mobile patient monitoring system. The mobile remote patient monitoring systems will deliver effective results with the right set of IT tools such as medical records management applications.   
How to Develop a Mobile Patient Monitoring System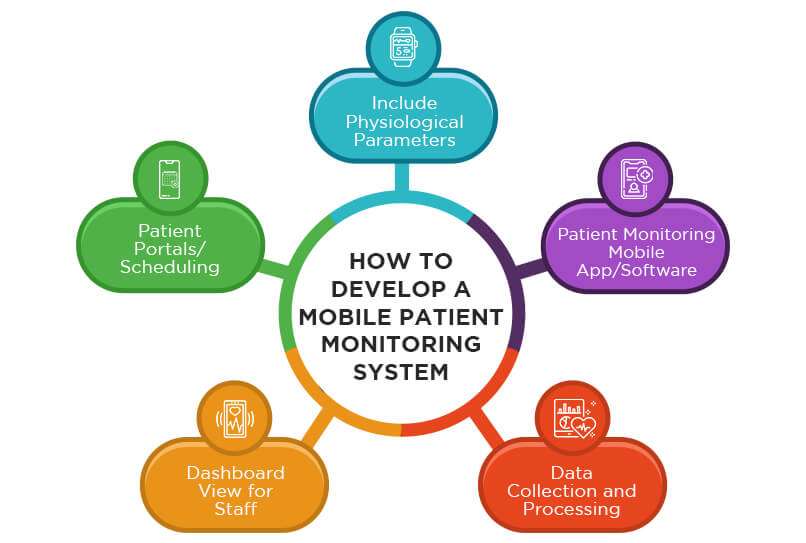 Healthcare management and providers inclined towards developing mobile patient monitoring systems can follow these steps.
1. Include Physiological parameters
The essential component or specification to include in any patient monitoring system is the physiological parameters. For instance, the remote patient monitoring system based on an application must collect patients' physical vitals like heart rate, SpO2, pedometer, and more. These vitals help physicians get a basic understanding of the patient's progress in the care episode. Providers developing a mobile patient monitoring system can integrate wearable devices data into their organization's EHR to allow practitioners to get timely access to all critical patient health data.
2. Patient Monitoring mobile app/software
eHealth's most significant service is mobile remote patient monitoring. And creating an application/software for remotely monitoring patients is the best way to timely track them and get accurate data. So, providers willing to invest in mobile patient monitoring must ensure that the app or software accurately addresses patients' and providers' needs for improved care delivery.
3. Data Collection and Processing
The patient monitoring system must include data collecting and processing features of all the essential specifications. In a mobile remote patient monitoring system, the data accumulated from the application or software is highly critical and sensitive. So, appropriate data collection and processing will benefit clinicians in making timely care decisions. Also, it helps physicians predict abnormalities in patients' health. Besides, providers can go for cloud computing in healthcare or healthcare automation to ensure effective data collection and storage space.  
4. Dashboard View for Staff
Another criterion required for developing a mobile patient monitoring system is the proper dashboard view for the staff. While patients have to use the application and device, providers need adequate features to view the different aspects of patient health through collected data. And the remote healthcare monitoring system with a comprehensive and easy-to-access dashboard for the staff will help them manage, access, and control data and patients more efficiently.
5. Patient Portals/ Scheduling
Integrating the mobile patient monitoring system with patient portals boosts the patient experience. Moreover, the patient portal with appointment scheduling, lab tests, and consultations enhances the monitoring systems. Besides, providers integrating patient portals with remote patient monitoring systems save money on additional costs. Overall, this integrated mobile patient monitoring system benefits patients giving them access to their data and effective treatments. This will help providers with population health management too.
Key Benefits of a Mobile Patient Monitoring System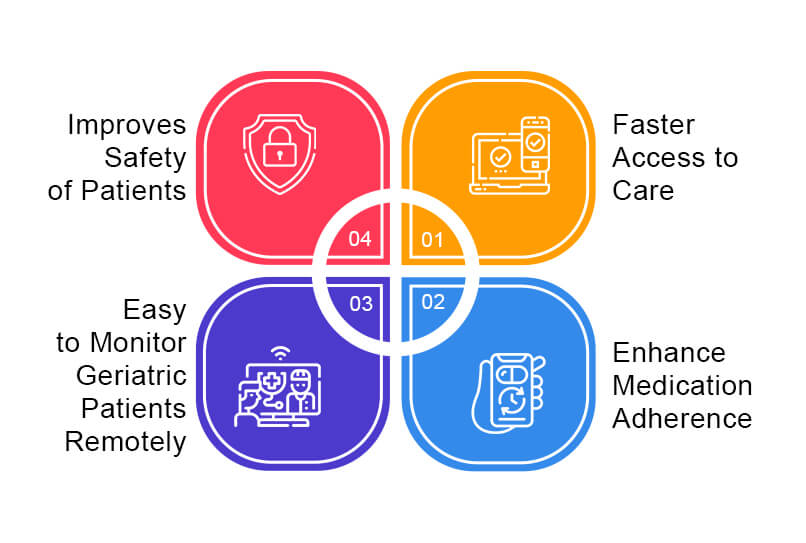 Now that you know how to develop a mobile patient monitoring system, here are benefits that you'll get-
1. Faster Access to Care
There's no debate that clinicians will provide faster access to care with patient monitor software or remote patient monitoring apps. Moreover, patients with such a health monitoring application can easily book an appointment, keep track of bio-signals and get effective care.
2. Enhance medication adherence
One of the key benefits of mobile patient monitoring systems is improving patients' adherence to medication. With patients taking medication timely, providers are benefitted from minimum readmissions, faster recovery, value-based care, and an excellent patient experience.
3. Easy to Monitor Geriatric patients remotely
Today, the geriatric and chronic patient population increases exponentially. Consistent tracking and remote monitoring have become a necessity to manage the health of such patients. Here mobile patient monitoring systems help, as it enables providers to monitor senior, chronic and high-risk patients continuously. And give these patients timely treatments and high-quality care.
4. Improves Safety of Patients
The current pandemic situation has triggered the growth of mHealth and remote patient monitoring systems. However, pandemic or not, these mobile health applications assure the utmost safety of patients. Providers get timely updates and make informed decisions too for effective care delivery.
Conclusion
Todays' healthcare scenario is changing and is becoming heavily dependent on technology. mHealth and remote monitoring apps benefit providers and patients in many ways. However, providers trying to develop such a mobile patient monitoring app must understand their organizational requirements, plan a budget, and include essential specifications. Opting for a customized mobile patient monitoring system is more beneficial for providers and patients. So, investing in a vendor service for the same is a wise choice. Above all, the mobile patient monitoring system is a great technology solution to boost patients' health and experience with the provider.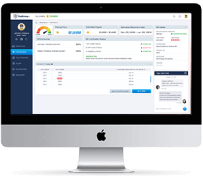 How can we help?
Fill out the short form below or call us at (888) 846-5382
Looking for software solutions to build your product?
Let's discuss your software solutions for your product in our free development acceleration call!
Get In Touch arrow_forward
About Author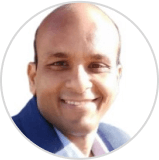 Written by Riken Shah
Riken's work motto is to help healthcare providers use technological advancements to make healthcare easily accessible to all stakeholders, from providers to patients. Under his leadership and guidance, OSP Labs has successfully developed over 600 customized software solutions for 200+ healthcare clients across continents.