In the middle of a healthcare crisis, the COVID 19 pandemic has taught us many lessons. The healthcare sector has struggled to accommodate innovative means around social distancing as the new normal. With this calamity, virtual reality has emerged as the need of the hour. Innovative opportunities in remote health monitoring systems have taken on priority. A recent Frost and Sullivan study has projected a surge in growth opportunities. In particular, patient monitoring devices are now emerging as the way forward. With scalable, meticulous solutions and offer a virtual environment, remote patient monitoring services of healthcare are poised to address the needs of the current healthcare environment. As more than half of U.S. hospitals have adopted patient monitoring devices and with a global valuation of 20% annual growth in mobile patient monitoring, healthcare organizations need to, quite literally, get with the program. Remote patient monitoring software adoption will ensure a pathway into the future of healthcare.
In a nutshell, the adoption of a remote patient monitoring system offers the following advantages:
Improved patient outcomes with reduced costs
Reduced burden on medical staff
Minimized spread of infection
Population risk assessment through predictive analysis
Continual monitoring of patients through remote accessibility
Remote monitoring to reduce hospital readmissions
Increased efficiency of clinical staff
Increased care coordination
Reduction in emergency visits
Example of Patient Monitoring in Healthcare
As an example of an EHR healthcare application, a US-based company approached OSP to build a modern-age remote patient monitoring product, including EMR and EHR for practice management. They wanted to create virtual mobile health apps that would allow virtual connectedness between patients and their caregivers.
With our expertise as a healthcare solutions company, we offered the following solutions through integrated healthcare solutions:
Vital Sign Record Patient – to obtain vitals through advanced telehealth solutions
Nutrition Facts Patients – to get information about nutritional intake
Pill Reminder – to add new medications, receive reminders, and track prescriptions
Telehealth Video Conferencing – to get access to doctors through virtual meets
Chatbot – to communicate with healthcare providers using the chat feature
Emergency SOS Safety Alert – to allow family members to receive SOS alerts
Health Management – to support the viewing of patient data through EMR solutions
Third-Party API Integration – to support third-party integrations with EHR Medical
My Community – to allow patients to connect with and build communities
Access Control RFID Software – to provide access controls for staff
Datafication – to facilitate a better understanding of patient information
5 Common Myths Clarified: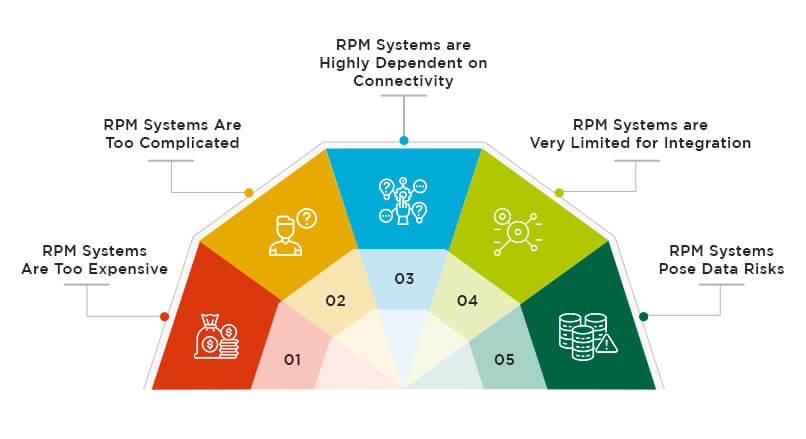 1. RPM systems are too Expensive:
On the contrary, patient monitoring companies for hospitals are constantly offering cost-effective remote patient monitoring platforms. Healthcare software product development can now be undertaken to offer solutions specific to the organization's requirements. Remote patient monitoring vendors offer custom healthcare software solutions to align the system health monitoring software with the organization's goal and mission. Healthcare companies should eliminate fixed costs as far as possible while developing remote health monitoring solutions. This will aid in creating strategic value toward the deployment while achieving goals. Unnecessary costs can be avoided if the healthcare organization is crystal clear on the purpose of deployment. For example, if the aim is to offer an advantage to the patients, then patient engagement systems should be the answer. Analyze the remote health solutions to address the need of that division, which could be reducing fixed costs, increasing regularity, etc.   
2. RPM systems are too Complicated
Remote patient monitoring tools should be deployed with the priority to keep the patients, physicians, and organizational staff at the center of decision-making. A clear timeline toward implementation can make the process seamless and simple. Additionally, key project stages can be identified and monitored to ensure implementation timelines. Timelines should be made realistically, considering organizational size and capacity and the type of automated healthcare solutions. Other factors for consideration include time taken to troubleshoot and test, practice sessions, etc. After deploying remote patient monitoring tools, there is an essential step before implementation. This is the training of every organizational entity involved in the onward processes. Integration should go hand in hand with training for simplified usage. For example, real-time healthcare monitoring solutions' audio and video components should be used in practice. Internal meetings and conferences can be planned to increase familiarity with the technology and reduce hesitation toward health care management.   
3. RPM Systems are Highly Dependent on Connectivity:
Companies can now deploy patient monitoring systems through healthcare cloud computing. A remote patient monitoring system on the cloud can be accessed across multiple devices and locations, and it can operate through basic connectivity. Health monitoring companies can begin execution on a small scale and gradually increase it for seamless adaptation and electronic data interchange. This method allows for natural integration between old systems and innovations. For example, a hospital can begin with automated appointment scheduling and slowly ramp it to virtual visits. Technology can slowly be excited to offer higher levels of health care monitoring. In this manner, gaps can be easily identified and mitigated quickly. A remote patient monitoring solution has a higher chance of success when undertaken in a phase-wise manner that merges old systems with new ones.
4. RPM systems are Very Limited for Integration:
Remote patient monitoring systems can always be accentuated with additions. As deployment and implementation are underway, medical informatics can be applied to identify more opportunities for innovations. Let us consider a medical remote monitoring solution that offers at-home services to the critically ill by monitoring their vitals. Organizations can install medication reminders, fitness goals, diet plans, etc. The opportunities in health monitoring applications are endless. Additionally, merging the remote patient monitoring program is crucial to success. Beginning with the executive leadership, the remote healthcare monitoring system has to be prioritized. From physicians to administrative staff, every involvement will assist in merging the system into the organization's mainstream processes. Administrative support is integral to the remote monitoring system in healthcare through accessibility. Furthermore, physician buy-in is another crucial factor in success. For example, appointment scheduling should merge to offer a combination of virtual and physical visits.
5. RPM Systems Pose Data Risks:
Data security on remote health monitoring devices is a non-negotiable aspect of the development process undertaken by remote monitoring companies. Due to the sensitivity of health data and the consequent hesitation from patients in sharing this data, advanced encryption and security features are deployed within every aspect of remote monitoring system healthcare development. HIPAA compliance is given priority in patient monitoring systems as they are in practice management solutions. Next, when it comes to malpractice, that risk exists irrelevant of a remote health management system. Adopting safety procedures, such as patient education, consultation protocols, agile documentation techniques, and data privacy, can considerably reduce malpractice risk.
Conclusion
The development of a remote health monitoring system aims to address the needs of the Community and the patients related to the organization. Therefore, remote monitoring software solutions should be identified based on these needs. Devising solutions based on the Community's needs is the foundation to ensure success. Direct communication with patients, data analysis, feedback forms, etc., will aid in determination. For example, in an organization where critically-ill patients are experiencing poor outcomes, a remote monitoring service can address their needs. Remote patient monitoring solutions are a broad technology category with plenty of innovative offerings. From the management of critically-ill patients to clinical workflows, many healthcare opportunities can be explored in this domain. A smart deployment strategy can prove instrumental in successful implementation and take the healthcare organization from strength to strength.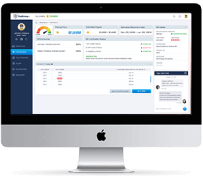 How can we help?
Fill out the short form below or call us at (888) 846-5382
Looking for software solutions to build your product?
Let's discuss your software solutions for your product in our free development acceleration call!
Get In Touch arrow_forward
About Author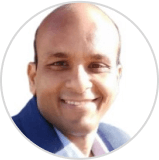 Written by Riken Shah
Riken's work motto is to help healthcare providers use technological advancements to make healthcare easily accessible to all stakeholders, from providers to patients. Under his leadership and guidance, OSP Labs has successfully developed over 600 customized software solutions for 200+ healthcare clients across continents.