Table Of Contents
Healthcare apps have undergone a rapid transformation due to the introduction of technology in healthcare. More and more smartphone medical apps for patients are being used worldwide, with people relying on them for everything from medical treatments to general health and wellbeing. Did you know that by 2025, the global hospital app market can grow exponentially to generate a revenue of around USD 111.1 billion? So, if you are looking to invest your time and resources in medical app development, think no further. Mobile health apps fall under the category of healthcare, and these apps can address mental, physical, and social factors that govern overall health.
Developing a healthcare application involves building an app for mobile devices to help the end-users effectively manage their medical conditions, fitness goals, hospital visits, or insurance claims. Healthcare apps for patients include telemedicine, lab results reviews, patient portals, prescription and appointment management, and more. This post will provide you with all the information you need to create a successful patient app in 2023.
Patients are benefitted the most from the use of mobile healthcare apps, be it scheduling an appointment or finding a specialist with experience. Mobile health apps also enable viewing medical test reports from labs online, purchasing medicines, reordering prescription medicines and other products at affordable prices.
With telemedicine technology gaining importance, patients can also have a video call with their doctors and discuss their health issues. Patients can maintain a healthy diet by consulting dietitians and nutritionists online and seeking counselling to address mental health issues. Hospital apps have rich features that allow the patients or people to monitor their health. Patients can check vitals, such as measuring their weight blood sugar level, and doctors can monitor their health remotely.
1. How COVID19 has Impacted Healthcare App Development
In 2020, COVID-19 became a global pandemic in no time, and since then, the world has witnessed more virtual care. It resulted in digital health app development for better population health management and data management. Healthcare mobile app developers began strategizing and adopting different digital technologies for effective virtual care delivery. Digital health technology facilitated new patient-provider interactions and supported health access without in-person doctor visits.
As a result of the pandemic, various countries integrated digital technology into government-coordinated containment and mitigation processes. There has been a surge in hospital mobile app development for processes, such as surveillance, testing, and contact tracing. Big data helped facilitate COVID-19 preparedness, the tracking of public health, and controlling the spread of infection in several countries. Healthcare mobile app developers implemented migration maps, which incorporate mobile phones, mobile payment applications, and social media to obtain real-time data on geolocations.
Mobile apps for hospitals emphasized the need to track COVID-19 with data dashboards that can visually display disease updates. Healthcare mobile app developers built new web-based tools to screen individuals quickly and effectively. The importance of digital healthcare was realized with the onset of the pandemic, and various mobile health apps have been used since to support different health needs, from remote patient monitoring to chronic care management. Healthcare mobile app developers also integrated high-performance infrared thermal cameras in airports and other public places to capture thermal images in real-time, allowing rapid detection of individuals having a fever.
Mobile health apps improved data collection and health analytics immensely. There has been more healthcare automation and better interoperability with mobile health technology. Healthcare mobile app developers have collected data on patient-reported symptoms and utilized clinical and genomic sequencing data for identifying the virus and containing it. This approach has served useful during the prevalence and transmission of asymptomatic COVID-19. The indiscriminate lockdowns for infection control took a toll on people's mental health conditions. Healthcare mobile app development made it possible for patients to seek help for mental health virtually. With digital technology, quarantined individuals could communicate with doctors through patient portals in hospital mobile apps for regular consultations and follow-ups.
Healthcare mobile app developers have revolutionized the medical system, promoting better communication, health access, availability of resources. According to a report by Statistic in 2020, the market size of the mobile health industry is expected to keep growing from 2020. Mobile apps for hospitals are reaching their maximum potential and expanding continuously to meet the needs of patients. The pandemic brought new challenges and tough times to people across the globe, but one of the positive outcomes was the introduction of new mobile health apps for patients.
2. Healthcare Mobile App Development Market Outlook
Health app development companies have become integrated into consumer health informatics to maintain a patient-centered healthcare model. Healthcare mobile app developers allow consumers to monitor their health-related problems, understand chronic medical conditions, and help patients achieve their personal wellness goals. Hospital applications enable doctors and pharmacists to offer safer and more effective care. Moreover, individuals can use a medical app to self-monitor their treatment and increase adherence to therapy.
It is estimated that by 2024, mobile app development to reach $390.7 billion. Successful healthcare mobile app developers can take advantage of this and integrate it with digital therapy tools. Currently, virtual reality, big data, and chatbots for pharmaceutical companies are trendy. Healthcare mobile app developers can help with better clinical decision-making and health analytics. Mobile healthcare app development involves algorithms that allow medical practitioners to gain unprecedented insights and achieve high patient outcomes and diagnostics. Healthcare mobile app developers need to keep up with the latest trends in digital transformation and know-how to adapt to the new technologies.
Cloud-based healthcare solutions are gaining prominence as electronic health data is stored online for easy access while eliminating the need for storing the data on local servers. Healthcare mobile app developers must be familiar with mobile applications to integrate data related to the patient with geolocation information on the cloud. Mobile app development companies facilitate better and easy health management with simple applications like exercise trackers, diet, and calorie-counting.
Mobile health apps enable medical professionals to integrate better practice management and faster documentation of complete records to improve productivity and patient engagement. Healthcare mobile app developers can improve patient health outcomes and reduce error rates while lowering healthcare costs. Mobile health app solutions can simplify the treatment process and automate the management system. These features associated with the usage of mHealth apps are increasing the market demand.
Additionally, apps for patients are becoming popular across all age groups due to easy health access. The number of individuals owning mobile devices and accessing the internet via mobile phones has increased, which improves the mobile health app market value. Hospital app development also positively impacts the cost-effectiveness during medical practices and raises awareness of chronic disease management.
Many healthcare app development companies have been investing in the market for optimum growth. For example, some mobile health app companies have extended their telehealth services to provide an alternative to in-person visits. Healthcare mobile app developers need to evaluate the market and trending to integrate the right technologies. They must also be aware of data breach concerns that can hinder market growth.
3. Trends in Healthcare Mobile Apps in 2023
The use of wellness apps increased recently, with new digital products having different functions and applications, and this growth is expected to escalate in 2023. In 2018, users of patient apps started gaining importance, and today it has reached a stage where almost 200 new options are unveiled daily. Healthcare mobile app developers can capitalize on the latest trends in hospital applications on mobile devices, such as smartphones, tablets, and wearables. We have prepared a list of health apps for patients that will trend in 2023.
1. The Integration of (IoT) Internet of Things
Wearable fitness tracking devices are perfect examples of IoT implementation in mobile apps for healthcare. Internet of things involves a minimum human-to-human interaction and where human-to-machine interaction may be required. However, wireless technology is needed to connect two points to transfer intelligent data and insights. 2023 will see more IoT-based hospital mobile applications and healthcare mobile app developers introducing new gadgets to the medical industry. These IoT-centred devices will be utilized while connected to healthcare mobile apps that can be easily accessed.
2. Patient Record-Keeping and Billing Applications
Electronic health records will be important assets for the next-generation patients for government and healthcare organizations. Corona vaccination, dose alerts, and PCR testing apps are examples of this. Such medical record-keeping apps will become beneficial when travelling from one country to another in the world. The next big step for healthcare mobile app developers would be developing medical apps for patients and taking over these applications.
3. Integration of Cloud Technology
Cloud is an essential technology in the present and the near future because tons of data are being produced, stored, managed, and transferred daily. Apps for hospitals will also utilize the cloud and make it a centralized form of data storage for patients. Another reason why healthcare mobile app developers need to integrate the cloud because the technology can retrieve and analyse complex health data. For making quick and lifesaving decisions in the medical industry, we need cloud-based platforms and services.
4. Telehealth Mobile Applications
Patients may not always find it feasible to visit hospitals personally now and then unless it is an emergency. Be it booking an appointment for a dentist or a gynaecologist, mobile healthcare apps have eliminated the need to get up and head to clinics. Patients can now sit at home and consult a doctor conveniently using hospital apps for patients. Also, medical apps can deliver prescription medicines and equipment to the patients' doorstep. Telemedicine simplifies access to healthcare services, prevents any transportation costs, and saves time. Telemedicine apps provide instant consultation to patients from anywhere. For these reasons, telehealth will likely become a significant mobile health app trend in 2023.
5. Mental Health Applications
Medical mobile app development companies have seen a boom in healthcare apps for mental wellbeing. Healthcare application development has made it easier for people to manage their mental health conditions. Patients can receive therapy from home without stepping out and paying a personal visit to the doctor. Health mobile app developers will contribute to a rise in mental health applications in 2023, becoming trendier. These applications could be merged with rehabilitation and drug therapy apps. 2023 will also see medical iPhone app development integrated with mental health applications that will be easy to use and more accessible.
6. Post-Operative Care Apps
Although we don't talk much about pre-operative and post-operative care, they are important for maintaining a healthy body. Post-operative patient applications are being introduced. These apps enable patients to manage their health conditions through patient-specific and history-based suggestive pop-ups. Post-operative care apps for patients are handy for patients and providers. These applications offer insights for medical research and development.
7. Physiotherapy Applications
Virtual care mobile health applications are not just restricted to the types above. Hospital patient apps can enable patients to recover from accidents or injuries or seek daily therapy online. Patients no longer need to go through the trouble of traveling to clinics to receive physiotherapy. Hospital apps for patients have made it easier for patients to stay fit from the comforts of their homes.
8. Offline Mode applications
Healthcare mobile app developers need to make sure that apps for patients can work without an internet connection. Offline mode will become one of the top features of mobile health apps in 2023 because it will support uninterrupted access. In this mode, healthcare mobile app developers would enable the collection of patient medical records regardless of connectivity with continuous backups.
In 2023, modern healthcare apps will cover a wide range of patient needs, from disease prevention to virtual tracking and treatment. Healthcare mobile app developers would create apps to connect patients, doctors, and pharmacists, enabling remote consultations and prompt assistance.
4. How to Approach Healthcare Mobile App Development
When you build a healthcare app for mobile devices from scratch, you need to keep in mind the users. Ensure that your app development for healthcare can effectively manage patients' medical conditions, fitness goals, hospital visits, or insurance claims. This includes telehealth, health analytics, prescription & appointment management.
As a healthcare mobile app developer, your approach towards mobile healthcare technology should be patient-centric. So, it would be essential to think about the basic expectations of patients from medical app developers. Here is our take on what patients want:
a. Fierce Functionality:
Mobile health app developers must hold on tightly to functionality throughout the journey of mobile health apps. Even though healthcare mobile app developers are free to exercise creativity, keep in mind that basic features should be as accessible as possible. The goal is for patients to get the job done as fast as possible. If mobile healthcare apps are complex and time-consuming, you can rest assured that the patient will not use them. Booking appointments should be quick; an online diagnosis should be prompt; in essence, the healthcare application development should save patient time. Incorporating custom healthcare software development solutions toward the patient's specific needs can go a long way in increasing functionality.
b. Information On the Go:
Mobile medical app developers should utilize telehealth solutions to provide quick and easy information to patients. As a healthcare mobile app developer, you must devise ways to diagnose the patient's information and provide that as quickly as possible. Relevant information is crucial for medical mobile app development. While executing app development for healthcare, the trick is in seamlessly providing specific information through interactive tools and patient engagement systems. Finally, patients can use the information to connect with physicians for basic consults through integrated healthcare solutions virtually. Android healthcare application development should build platforms for connectivity between patients and doctors.
c. Consistent Connectivity:
Medical app development is strengthened through connectivity and interactive features. Building a community through health mobile app development helps patients connect. Health management systems that offer social connection features are more likely to attract patients, enabling them to communicate with people with a similar condition. Electronic data interchange solutions in healthcare application development can connect with wearable devices for gathering critical data and encouraging patient empowerment.
d. Study your competitors:
Once you have clearly defined the objective of your mobile app for patients, it is important to analyse the market and identify your potential competitors. Competition can work for or against your app, so it is crucial to prepare. Every rehabilitation app has a unique selling point (USP) that makes it stand out from the rest. For example, your competitors may be the fastest to respond to patient queries or have a larger drug information database. You need to add features to help your mobile health app stand out.
5. What is a patient-centric healthcare app?
Among the many industries that stand to gain from technological advancement, the healthcare sector has always been enthusiastic about embracing the latest technology trends. Healthcare app developers are now offering a solution loaded with benefits for all healthcare entities – the mobile healthcare app. With great potential for functionality, convenience, and increased patient satisfaction, healthcare application development is grasping the interest of every healthcare mobile app developer.
Benefits aside, health app development needs to be carefully executed as it deals with the most sensitive area of users – patient health. With rapidly increasing market competition and stringent laws, healthcare android app development needs to adopt an agile development strategy. Healthcare mobile application development requires a solid plan with attention to detail and security.
Patient-centric healthcare apps are software applications that apply to various devices, such as mobiles and tablets. Patients utilize these to monitor various aspects of their health, including weight management, calorie count, chronic disease management, etc.
Patient-centric healthcare apps offer health-related services conveniently from any smart device. Medical apps target individuals needing care services and are interoperable across multiple servers. Some patient-centric healthcare apps for patients serve useful in managing chronic diseases, such as diabetes and hypertension. For example, in the case of management of diabetes, a patient app would deliver services, such as tracking blood glucose measurements, maintaining a nutrition database, carbohydrate tracking, physical activity, and weight tracking. Moreover, these hospital apps also have the option of sharing electronic data exchange with clinicians. There are mainly two categories of patient-centric health apps: wellness management and disease and treatment management. These mHealth app development categories run on different types of operating systems such as iOS, Android, and windows.
In recent times, there has been a growing demand for patient-centric apps in healthcare, where app developers, mobile vendors, and healthcare professionals offer a patient-centric approach in the medical sector in conjunction with the medical industry. Additionally, the world has witnessed a rise in smartphone penetration, surge in demand for personalized care apps, and rapid digitalization worldwide, further increasing the patient-centric market trend.
The ultimate goal of patient-centric healthcare app developers is to create a product that will improve the patient's health. Therefore, healthcare app development must prioritize patient expectations as the focal point of medical mobile app development. There may be many healthcare mobile apps out there, but those that have succeeded are those healthcare app development services that develop solutions from the patient's perspective.
This means that mobile healthcare application development begins with empathizing with the patient. Before starting app development for healthcare, the mobile app developer must understand the patient's specific requirements.
The most important question here is – what does the patient want to achieve through this mobile medical app development. Health app developers that can successfully show empathy toward the patient's needs and devise a plan to satisfy this need have laid the foundational stone toward mobile medical app development.
6. Patient-Centric Healthcare App Checklist for Healthcare Mobile App Developer
i. Value Offering:
Value-driven healthcare mobile app development is where the patient lies at the core of all development. This essentially means that healthcare mobile app development services are executed with a driving force of empathy for the patient's needs. Medical software programmers can benefit from consistent consultation with the end-users through every developmental cycle. Incorporating their feedback into mobile app development for healthcare is the surest way to ensure success. Healthcare software product development is bound to be accepted when designed according to patient needs.
ii. Challenge Tracking:
As a healthcare mobile app developer, the next order of business is to undertake market research. Healthcare app developers should look into the competitive apps, market requirements, user expectations, and the available automated healthcare solutions best suit your particular app. Healthcare application development should aim to address a gap in the healthcare industry. During COVID-19, most health app development was designed around filling the gap. For example, a particular healthcare android app development was built to allow seniors to receive care without endangering them through physical doctor visits.
iii. Solution Identification:
Now that the challenge is identified, it is time for the healthcare mobile app developer to work on a solution. Essentially, the patient needs and challenge identification form the outline of healthcare application development. Now, the healthcare mobile application development can work within this framework to design the solution. If we continue with the same example as above, the challenge of getting senior citizens access to doctors' telehealth healthcare app development would be the solution. Accessibility and features should be at the forefront of medical mobile app development. EHR systems can be used for easy access to health data. The medical software programmer should start thinking about what other features, apart from video consults, can be incorporated into mobile healthcare application development.
iv. Requirement Analysis:
Incorporating features into the mobile medical app development requires a consistent analysis of evolving patient requirements. Healthcare mobile app developers must constantly analyze and document requirements and incorporate them into mobile health app development. If senior citizens are going to be doing online consults with doctors, health app developers need to ensure that their health data is secure. Medical app developers need to use easy appointment booking processes to access doctors/ physicians. A robust remote health monitoring system could also ensure that the health mobile app development is holistic in its approach.
v. Compliance Testing:
As a healthcare mobile app developer, this is an integral protocol. Healthcare app developers must ensure complete security of health data and abide by privacy regulations. HIPAA compliance is a mandatory requirement and must be incorporated across by mobile health app developers. Medical informatics solutions used for telehealth need to abide by the aforementioned compliance in healthcare application development.
vi. APIs Integration:
Close attention must be paid to APIs in healthcare mobile app development that deals with healthcare data exchange. Healthcare app developers can ensure smooth information exchange through robust APIs. Through healthcare cloud computing. This will allow the healthcare mobile app developer to unify the healthcare environment. Our example will allow patient health data to flow seamlessly across multiple mobile healthcare application development systems.
vii. UI/UX Design:
Healthcare app developers should consider the UI/UX design as the lifeblood of mobile medical app development. Healthcare app development must be designed around convenient navigation across custom healthcare software development solutions. Health app developers must focus on the specific needs of the senior citizens used in the example above and design based on their requirements. Usually, senior citizens should enhance visual elements, functions should be a single key, and design patterns should be simplistic in medical mobile app development. Medical app developers must also take cognizance of assistance features in android healthcare application development.
viii. MVP Assurance:
Although this is a starting point, mobile health app developers should consider building a Minimal Viable Product (MVP) to gain a clear picture of the medical app development. Healthcare application development can turn into a costly and complex affair, and having an MVP can allow healthcare mobile app developers to keep their eye on the ball. A breakdown of development cycles and specific features of the healthcare mobile app development journey will prioritize mobile medical app developers.
7. Privacy and Security Standards of Medical Mobile Apps
Healthcare apps for patients store and process a lot of health informatics, such as patient history, address, contact information, payment details, etc. So, a medical app development company needs to maintain HIPAA compliance. When hiring a mHealth app development agency, you should ensure that the software developers pay attention to risk identification and mitigation. Healthcare app development services must enable authentication, app expiration, and data encryption management as part of the development process.
If you're looking into health app development for the US market, you need to ensure it complies with HIPAA regulations if it processes, records, and stores protected healthcare information (PHI). In addition to these, there are separate guidelines while developing a healthcare app to address eight other areas influencing the security that medical mobile app developers must consider while creating mHealth apps involving the collection, storage, or exchange of personal information.
Vulnerability management- When medical mobile application development is initiated, and any upgrades introduced, they must be free from malicious software such as malware. This standard is also applicable for any advertisements supported by the healthcare mobile app developer.
Systems and communication protection- A healthcare mobile app developer must integrate encryption when mHealth app usernames, passwords, and other data are collected, stored, and shared.
Compliance: HIPAA compliance must be maintained to protect data confidentiality if the healthcare mobile app developer creates a mobile health app. It ensures that patient medical records available and exchanged through the health app development meet the federal regulation's standards.
Access control and authentication- The mobile health app development must offer at least one industry-accepted method for safeguarding against cyber theft. Also, remote access should require two-factor authentication to avoid unauthorized system use.
Asset management: A healthcare mobile App developer must ensure that information asset are classified as per their value to the organizations and outside regulation. For instance, they can be categorized as public, internal confidential, and sensitive. Healthcare app development services should have a process to monitor data and physical assets.
Physical and environmental security- The healthcare mobile app developer should maintain a record of how the android healthcare application development maintains security and contain information assets and system details.
Incident response- Custom mHealth app development must integrate an incident response system to be notified in case of a security breach. In case of a security breach, the healthcare mobile app developer should inform those impacted.
Disaster recovery and continuity of healthcare services- Healthcare application development services must have a documented plan for what happens in events when the app, data, or access is unavailable. Tests from the data should be backed-up regularly.
8. How to Find Your Ideal App Development Partner?
If you are wondering how to develop a health app, then you must be prepared to come across thousands of developers to choose from. The health sector is rapidly evolving, and the change is supported by emerging internet connections and modified customer priorities. While hiring a partner for your mobile healthcare app, it is important to follow guidelines and consider the criteria that will help you assess the technological partners.
A. Acquire all the information you can:
A software developer forms an essential ingredient in developing a health app. To select the best software developer partner, you need to gather all information you can, including social media sites. The research process will enable you to verify the identity and skills of the developer. You can also confirm details, such as their location and quality of work.
The next step is to check their portfolio and search for awards and recognition. You can also look for case studies or feedback describing their success stories. In due time, you would have a list of customers who have previously worked with the healthcare mobile app developer. You can cross-check their experience with the developer.
B. Find out about the Team
The contact information of healthcare mobile app developers on the website will take you to the page providing details about the sales representatives. You can always request a trial session with the development team to get an idea about their efficiency.
Utilize the time to understand their expertise, dedication, and innovativeness. You can also ask for the qualifications of each team member.
Request references and links to their previous works.
C. Bridge the communication gap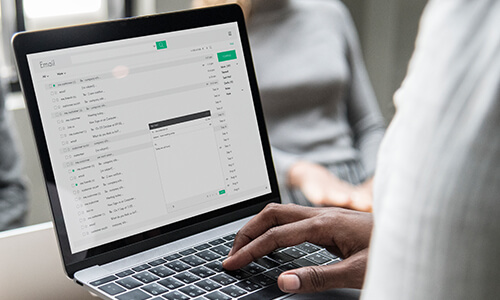 One of the issues you may face while partnering with a healthcare mobile app developer is the language barrier. You need to keep in mind cultural sensitivities while communicating with foreigners.
Additionally, try to establish communication through emails to overcome the language barriers. Make sure their team has at least one member who speaks and writes in English.
You can use applications such as Zoom and Skype to connect regularly. Alternatively, you can come up with other in-house tools to ensure privacy.
D. Learn about the SDLC
You must be aware of the type of Software Development Life Cycle model (SDLC) being implemented. Discuss with the healthcare mobile app developer to gain clarity on this, and understand their niche, whether it is Android or iOS, and the estimated time to complete each stage of the SDLC.
Re-runs in writing code can be avoided by ensuring commitment during troubleshooting and debugging. Talk to the healthcare mobile app developer team about this and mention it in writing in the contract.
After-sales support should be included in your deal to manage the interactive changes that may be added. Software engineers should be available in the team to handle such situations.
E. Create service-level agreements
Creating a non-disclosure agreement (NDA) with your outsourcing mobile app companies is advisable.
The first quote may not be the final one, and this needs to be understood by you and the healthcare mobile app company.
Discuss hourly rates, payment timelines, mode of payment, and advance payment amount beforehand and take these in writing.
The mobile health app IT process may be overwhelming initially, but following these steps will help you go through it successfully. You need to establish clear communication between you and the healthcare mobile app company if you want to launch a successful mobile health app and acquire information and provide an easily accessible medium.
9. Top 5 Questions to Ask before hiring any Healthcare App Development Agency
Patients expect that every healthcare application development company will meet their growing needs. Many healthcare mobile app developers are jumping to build better products and improve customer relationships. In most cases, that means hiring a healthcare mobile app development company to design and develop a unique mobile health app. The process involves large capital investment, so it is essential to ask the right questions to the app developer before agreeing to a financial deal.
Among these questions, some are straightforward, while others are difficult to face and uncomfortable. Healthcare mobile app developers need to ask each of these questions, irrespective of the comfort level. They will help you understand the nature of the partnership you will harness with the mobile app development company and enable you to make the right choice. We have enlisted our top 5 questions you must ask the vendors to ask their potential app development company of choice.
I. Since how many years are you in this service?
You cannot ignore the crucial role of experience while developing mobile health applications—the best way to verify the reputation of a healthcare application development company. Also, check if the vendor has a strong portfolio in the healthcare domain. Healthcare mobile app developers need to be careful when hiring newbies to ensure the end product is accurate.
II. Who will be owning the code?
A complete handover may be natural, but a clause can allow the vendor to walk away with the code. A worst-case scenario could be to resolve with the healthcare mobile app development company may give you a run-around and pay extra cash. Since the copyright owner controls the ability to copy, distribute, sell, or modify the code and influencers the ability to profit from the code, the ownership of the copyright in software code is crucial. As per copyright law, the author of a software code is deemed the copyright owner in that code. A re-usable code is the main component of a developer's toolkit. Building and owning a re-usable code is an important step to creating a successful software development business. To completely utilize the potential of re-usable code. However, healthcare mobile app developers must understand the legal framework that defines who owns that code.
III. What happens in events when deadlines are missed?
Deadlines are important, time flies fast, and missed deadlines can have severe consequences. We hope you don't have sleepless nights worrying about deadlines. It is important to clarify with your healthcare mobile app development the ultimate delivery date and agree on the consequences if that is missed. You need to be clear about how the vendor will compensate for the lost time. Do not miss any details while asking this question.
IV. How can a mid-way exit work out?
You may verbally agree in such cases, but the words need to be set in writing. Healthcare mobile app developers need to clarify the exit strategy with mobile health app development companies if it is required in the middle of the project. Even if you do not want that, sometimes unexpected things may happen, and you may end up wanting an exit mid-way of the project. You need to mention terms and conditions and have them all in writing. It is always a good idea to be prepared for the worse.
V. Do you follow proper paper-works or not?
In a digital world, when it is not common to scam, it is important to safeguard your software app, and the best way to make sure this happens is to have the right documents. Healthcare mobile app developers must ensure that the hospital app company has documents describing all the matters clearly and mentioning the terms and conditions discussed. You must make sure that every detail is written in the contract, check it thoroughly, and only then sign it.
With so many vendors available, it is tempting for healthcare mobile app developers to choose a health app provider solely based on the budget. However, while it is crucial to discuss the money, it is also equally important to ask the right questions. These questions will help you figure out if the mobile health app development company is a good fit for your needs and objectives.
10. Common Pitfalls While Choosing a Healthcare App Developer
A healthcare mobile app platform is a system that enables patients to access quality healthcare services with the help of mobile health app developers. Hospital apps can be installed on mobile devices such as smartphones and health monitoring devices. Mobile health apps allow disease surveillance remote patient monitoring and help doctors with population health management.
The pandemic made people realize that technology plays an essential role in health management. Virtual care has gained importance since the pandemic started, and it has made it easier for patients to seek help with health conditions. Mobile health apps simplify the exchange of patient medical records and ordering of prescription medications. mHealth apps skyrocketed and have become the fastest-growing industry, with an estimated increase to reach $536 billion by 2025.
The main objective of a patient app is to make obtaining healthcare services as accessible as booking a cab or ordering food online. Patients prefer not to wait long hours for appointments and get their reports and prescriptions online. Patient-provider communication is a challenge in healthcare, and this can be drastically improved with mobile health applications.
Telehealth or online hospital apps offer a wide range of features to help with different operations. However, developing a healthcare app comes with a set of challenges. Healthcare mobile app developers know that creating a mobile health app involves phases where crucial factors must be considered. These include UI and UX, database design, security module, and so on, where healthcare mobile app developers must pay attention to intricate details. Building a patient IT app requires dedication and expertise to handle the challenges. Let's look at some of the challenges and their potential solutions.
1. Data Security
Healthcare mobile app developers must ensure that patient data is secure and of utmost importance for any hospital app developer. Mobile health apps are at risk of cybercrimes, so data security is important. Apps like telemedicine or mHealth store and access their data from cloud servers. That is why the healthcare mobile app must have a robust backend infrastructure. If healthcare mobile app developers miss working on this, hackers can easily breach the data. The security of healthcare apps is one of the most common challenges that developers face while building a telehealth app.
Solution: Healthcare mobile app developers should only opt for trusted app development frameworks that yield successful results. They must ensure that the frameworks and libraries provide the most advanced security updates. Healthcare mobile app developers should also use cloud storage leaders like Amazon Web Services (AWS).
2. Integration of UI/UX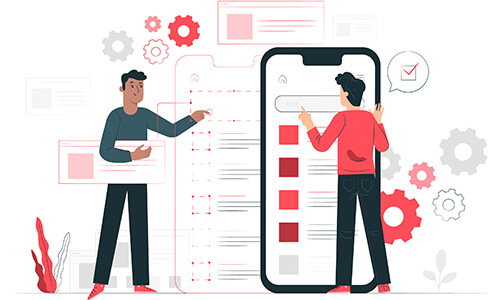 To create an innovative mobile health app, healthcare mobile app developers need a user-friendly, intuitive design that works efficiently on all platforms. Building a mobile health app can be quite challenging for healthcare mobile app developers because they need to create an interface that caters to the demand of all types of users.
Solution: While building a mobile app for patients, healthcare mobile app developers need to create two versions of the app. One of these can be used for the doctors and the other for the patients. Since the two versions will have different end-users, their features and functionalities will be completely different. Moreover, the interface and compatibility of both versions should be simple so that doctors and patients can easily operate them.
3. Scalability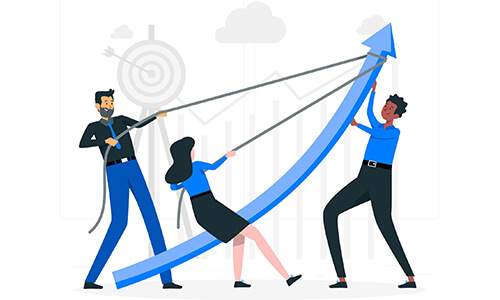 A successful patient IT app must consist of useful features and be highly scalable. Healthcare mobile app developers must make it a point not to overlook this aspect while developing the app. While developing a telemedicine app, always consider the rise in demand and the number of users. Healthcare mobile app developers need to make sure the app can take the load to avoid issues.
Solution: Scalability challenges can be handled by building a scalable app, implying that the app can work seamlessly with multiple users at all times, including peak or low traffic times. Healthcare mobile app developers must ensure that the patient app supports automatic scaling of server resources and can cope with increasing demand. They need to conduct a manual analysis of the code and verify that the poorly defined areas are optimized to create a scalable app database. Healthcare mobile app developers can also consider server cloning to help with a cluster of application servers having the same codebase.
4. Backend Integration
A mobile health app with a strong back-end integration can handle swift and successful data transfers from patients to doctors. The process is complex, and a hospital app requires several features to be integrated that must comply with the healthcare authorities. Additionally, you need to integrate several third-party services such as payment methods, location services, etc., into the app.
Solution: Healthcare mobile app developers should create a reliable and robust back-end process for hospital mobile apps, and this would promote a uniform data transaction between patients and doctors. Healthcare mobile app developers need to ensure that the app has well-organized API documentation. Additionally, they need to define a set of protocols to validate data synchronization and carefully check the healthcare guidelines to design the features accordingly.
5. Compliance with Healthcare Authorities
A major challenge faced by healthcare mobile app developers is to make sure that the hospital app is compliant with healthcare and data protection authorities and their guidelines. These are protocols that help protect the medical records and data of patients stored and exchanged through the health app. Healthcare mobile app developers struggle to maintain the set of rules in terms of the app's features.
Solution: As a healthcare mobile app developer, you need to make sure the mobile health app synchronizes the login controls, remote patient monitoring process, and data storage. Eliminate any scope of illegal access by third parties or data leakage. Healthcare mobile app developers can also make the most of AWS CloudWatch and AWSCloudTrail. Apps for patients can be safeguarded by using SSL-enabled endpoints during data transfer.
A mobile application in medicine creates a means of interaction between a patient and a doctor and solves several problems for the healthcare business owner. It is important to be familiar with the challenges you may face to be well-prepared to overcome them.
11. Why OSP is the Best Technology Partner in Healthcare Mobile App Development
The traditional healthcare models have shifted to adopt a patient-centric approach to increase patient satisfaction. With digitization spreading across the medical industry worldwide, more and more healthcare mobile app developers are emerging. It is, however, essential to select the right app developer to make sure your health IT app is a huge success among patients and other end-users. OSP can develop health apps compatible with various smart devices, including mobile phones and tablets. We have a team of experts and experienced software developers, and we can offer:
a. Custom-designed patient apps
OSP understands the challenges faced in the healthcare industry and the growing need to incorporate new technologies. We have in-house subject matter experts and software developers who can create innovative healthcare IT products to help you achieve high patient outcomes and better ROIs. Our sound knowledge in UI/UX technology and software engineering enables us to develop hospital apps that stand out.
With our custom-tailored healthcare software products, you can implement better scalability and performance management and deliver quality care services. We can help you reach heights in the competitive market through our unique health IT products.
b. Compliance with regulatory standards
Maintaining compliance with regulatory standards is crucial in the healthcare industry because it deals with large volumes of sensitive patient data. For instance, HIPAA compliance safeguards healthcare technology systems, thereby supporting smooth access to and exchange of health informatics. OSP can create superior software products that comply with HIPAA regulations.
Similarly, we are well-versed with requirements for enhancing data security, including specific criteria of information technology equipment (ITE). We have expert product engineers who adhere to various guidelines, such as HIPAA, HL7, FAA, HACCP, and OMB A-123. Our team can create successful hospital apps for patients without compromising the regulations.
c. Embedded Healthcare Applications
OSP offers healthcare IT products with embedded turnkey to help you address your challenges. We have product engineers specializing in embedded products to integrate embedded operating systems, and we can enable you to incorporate different operating systems, such as Nuttx, Linus, and RTOS.
Our range of services in developing embedded healthcare IT applications implement scalability and help you achieve interoperable systems. OSP's health IT products are based on the principles of efficiency and reliability. Our team of expert software engineers can design embedded applications that are user-friendly and secure.
d. Advanced Legacy Systems
At OSP, we understand the importance of advanced legacy systems to maintain quality care services at affordable costs. Our team of experienced software product developers can create health IT products integrated with legacy systems to improve your overall performance efficiency.
We can incorporate cloud-based applications and develop innovative apps utilizing the latest technologies. Our modern apps are sure to help you overcome your existing healthcare challenges and achieve enhanced practice management. We consider modern legacy systems an utmost priority, and with that, we can enable providers to communicate with each other.
e. Product Integration
Integration of healthcare products with other cloud servers and third-party is necessary to ensure smooth operation. OSP can perform successful health IT product integration to implement healthcare interoperability and secure electronic data exchange. We can ensure easy functionality and usability with our efficient product integration.
OSP's healthcare mobile app developers' team has several years of experience in building compatible systems as per the requirements. We can help you implement integration in health IT products to achieve high scalability and efficient performance. Our integrated healthcare products also ensure compliance with regulatory standards, ensuring secure mobile health platforms.
f. Inspiring Health App Leaders
OSP can create amazing mobile health apps with robust features and adherence to regulatory guidelines. Our health applications are designed to inspire healthcare leaders and help them take their businesses to great heights.
We build patient IT apps to help healthcare leaders fulfil their goals and overcome challenges. Our team has created mobile healthcare apps for many clients and proven our expertise in the domain. If you are a healthcare leader looking to develop unique mobile health applications, look no further.
12. How OSP has Helped Healthcare Companies with Mobile App Development
Team OSP has helped many clients in US healthcare with custom software solutions. Here are some examples.
I. Remote Patient Monitoring
In recent times, virtual health has been in increasing demand. Health access is limited in many areas, especially remote locations and villages. Virtual health offers patients the convenience of reaching out to physicians anytime from anywhere. Elderly patients and chronic needs can also benefit from virtual health platforms, and it saves them the hassle of traveling to the clinics. Instead, they can have virtual consultations through video calls or chatbots. Virtual health platforms and applications provide health access to patients from the comfort of their homes.
A US-based company approached OSP asking for help building a modern-age remote patient monitoring product, including virtual health applications. They wanted to create virtual health apps like telehealth and chatbot that would include patients and their families in the entire process. The applications would also simplify the care process for patients with chronic diseases and senior citizens.
Challenges faced by the client:
Real-time health access to patients
Involvement of patients' families
Monitoring health plans of patients
Real-time communication
Solutions
OSP built the following software solutions to help the client overcome the challenges above.
Vital Sign Record
Patient vitals can be obtained via medical devices integrated with digital health tech. Patients would be aware of their daily health data, which will motivate them towards improved self-care.
Nutrition Facts
Patients can find information about nutritional intake in every diet through this app, and it can enable them to keep up with their fitness targets.
Pill Reminder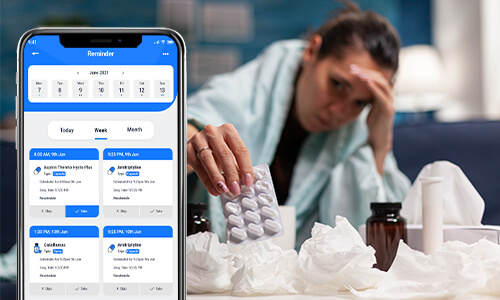 This serves both patients and providers to add new medications and track previous prescriptions. Patients will receive a timely reminder to consume medicines or supplements, thereby avoiding skipping any dose.
Telehealth With Video Conferencing
Patients can get health access to doctors of their choice through virtual consultations and video calls. It removes the hassle of personal visits to doctor's clinics and saves time.
Chatbot
Patients can communicate with healthcare providers using the chat feature. It offers real-time communication through a secure platform. Patients can discuss concerns and also provide feedback using a chatbot.
Emergency SOS Safety Alert
Elderly and chronic patients are at risk of injuries or accidents from falls. This feature allows family members to receive SOS alerts via call, text, or email in such emergencies.
Third-Party API Integration
With the use of API, this virtual health feature can support third-party integrations with electronic health records and other open platforms. API promotes the user-friendly utilization of these integrations.
Healthcare Management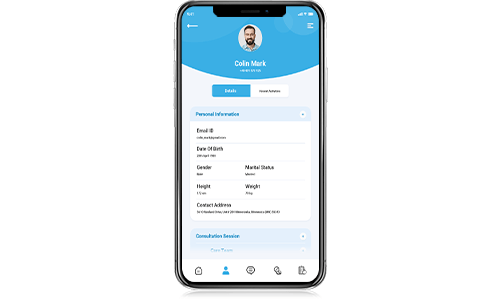 This virtual health tool supports viewing patient data from various sources from any smart device. Physicians can keep tabs on patient health through real-time vitals and health status.
Notifications, Alerts, and Monitoring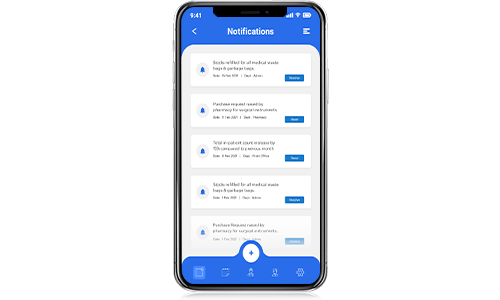 These features are especially useful for senior patients and those with chronic care needs. Physicians receive alerts and notifications of any changes or shifts in health conditions, which allows doctors to address the health concern before the situation worsens.
My Community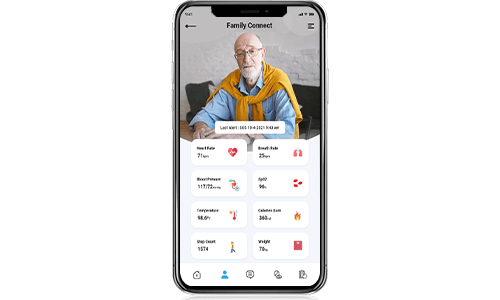 This application allows patients to connect with and build communities. They share activities, communicate, and share daily updates remotely.
Access Control RFID Software
As the name sounds, the software provides access controls for staff and prevents patients and home care residents from eloping.
Datafication
Datafication facilitates a better understanding of patient information and improves health outcomes. It enables doctors to perform predictive analysis to understand the patient's health status and learn of potential risks.
Results
II. Ultrasound Telehealth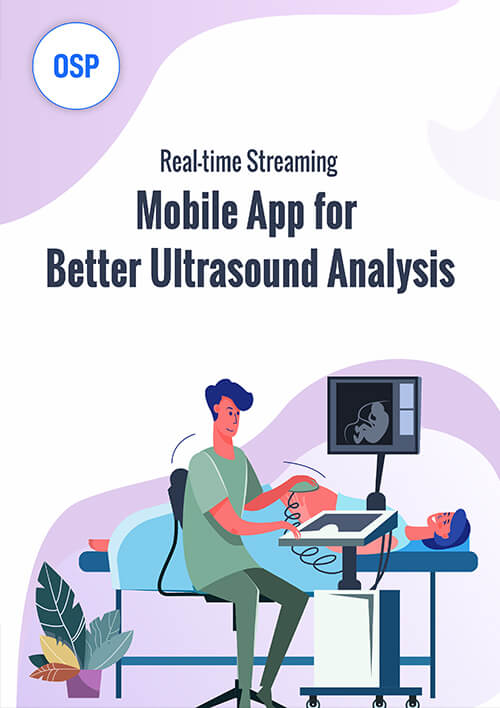 The US is facing a crisis of inadequate care for pregnant women, particularly those in rural or disadvantaged socioeconomic communities. Shortages of maternal-fatal medicine experts (MFM) have reached critical levels.
Our US-based client wanted to solve this challenge by using technology to provide quality health access to pregnant women. Building a solution that connects MFM experts to pregnant women in the remote local clinic through real-time video streaming was the need of the hour.
Challenges faced by the client:
Predicting preterm births
Real-time access to MFM experts
Predicting abnormalities
Low prediction accuracy
Solution
We analyzed the current reality and working of big hospitals and local clinics in a remote area. Each local clinic has doctors who can operate the sonography machine for the patient. Still, the diagnosis and prediction of preterm birth and abnormalities lie with MFM experts in bigger hospitals a hundred miles away.
We created a roadmap for highly advanced system architecture and encoder devices to set up a real-time connection. The solution developed by us consisted of the following steps:
Step 1: The local clinic configures the Encoder device with IP address, port no. app name, stream name, user name, and Password
Step 2: Local clinic registers the call through the interactive web admin panel on the mobile application.
Step 3: Restful APIs streamline communication between mobile devices and servers.
Step 4: Wowza streaming server creates a unique application ID for every new clinic register.
Step 5: Once the call is made, the encoder device publishes the streaming information to the Wowza streaming server.
Step 6: The application requests ultrasound streaming broadcasted through the encoder at the app-end.
Step 7: The mobile application also requests a playback URL to the restful API
Step 8: Restful API returns the streaming URL to the mobile device through the Wowza streaming server.
Step 9: The Wowza engine will generate a Hash value based on "Secure Token," application name, and stream name
Step 10: Both the hash values generated by the Wowza engine and specified in the playback URL are compared and matched to begin streaming in real-time
Step 11: The ultrasound is broadcasted on the mobile device of the MFM experts with Twilio.
The existing application handled and operated the patient's data, making the client's PHI security and HIPAA compliance a major challenge. OSP resolved this challenge by creating a smart and secure solution architecture.
Results
Quality health access in real-time
Uninterrupted connectivity between patients and MFM experts
Simplified risk probability
Secure streaming with HIPAA-compliance
Robust decision support in real-time
III. Doctor on Demand
Home-based healthcare has been expanding since the last decade, but with COVID-19, it reached a different level altogether. Not just children, the elderly, and post-operative patients, but now even adults prefer to have doctors visit their homes over personally visiting the clinics, and this is where the challenge lies.
A growing scheduling and staffing solution were struggling to efficiently manage their administrative tasks and other processes. They wanted to replace their legacy systems with a website and app that makes it easier to connect agencies and qualified clinicians to provide timely and quality care to patients.
Challenges faced by the client
Difficulty in tracking matching clinicians
Manual appointment scheduling
Longer waiting times for care delivery
Inefficient management leading to lesser follow-ups
Traditional time-consuming payment methods
Solutions
OSP worked with the client to build a customized and secure, easy-to-use scheduling platform to connect home healthcare agencies with top clinicians. We thoroughly reviewed the client's existing operational processes and developed a Doctor on Demand system. It offered advanced capabilities and security enhancements and offered these:
Faster scheduling of doctor's appointments
GEO-tacking to simplify the clinician assignment process
Automated scheduling of clinicians, based on patient locations and requirements
Smart doctor performance rating system, where patients can evaluate doctors after care delivery
User-friendly and interactive dashboard to help the management track the company's current standing and performance.
Results
With the integration of the scheduling, tracking, payment systems, and better visualization of all data through user-friendly dashboards, the client understood better the daily user activity, user agency, clinician updates, and daily revenue.
This app went on to win the prestigious 'Fast 100 & Innovation Award' by Houston Business Journal (HBJ)
Conclusion
Hospital apps allow healthcare providers to streamline communication with patients and caregivers. These applications enable 24/7 population health management and the flexibility to customize healthcare per patient. Healthcare mobile app developers create products that save patients' lives and improve care delivery with automated appointment scheduling and virtual treatment. Mobile health apps offer organizational incentives for a reduced cost in workflow management. Healthcare providers leverage patient apps as a platform for managing and accessing electronic health records without compromising data security.
Healthcare mobile app developers create apps that benefit patients and providers. Mobile health apps integrate advanced software innovations that can build successful healthcare applications. This article will help you build a mobile health app that patients appreciate.
OSP is a leading healthcare app development company for US clientele, and we have the expertise and skills to help you create the best mobile health application. With a team of expert healthcare software developers, OSP is a healthcare IT company that creates innovative apps for US healthcare. We understand the struggles of building a successful healthcare mobile app. OSP can add features to make your patient app increase patient engagement and reach maximum end users. Our customized software integrates a task-oriented approach, user0friendly UI/UX design, HIPAA compliance, and data security.
With our custom healthcare mobile apps, you can achieve highly scalable telehealth services. Our mobile health app developers create innovative digital solutions that connect patients and providers through a secure platform. Team OSP has several years of experience in healthcare mobile application development with many happy clients. We have top healthcare mobile app developers with experience in healthcare solution development.
How can we help?
Fill out the short form below or call us at (888) 846-5382
Looking for software solutions to build your product?
Let's discuss your software solutions for your product in our free development acceleration call!
Get In Touch arrow_forward
About Author
Written by Riken Shah

linkedin
Riken's work motto is to help healthcare providers use technological advancements to make healthcare easily accessible to all stakeholders, from providers to patients. Under his leadership and guidance, OSP Labs has successfully developed over 600 customized software solutions for 200+ healthcare clients across continents.