Contents
1. Introduction
As the healthcare sector continues its journey toward digital transformation, custom health app development has emerged as a critical player in the field. Healthcare professionals, entrepreneurs, and start-ups alike have recognized mobile health app development's ability to increase profits and patient experience. Health care app development requires conscious effort and specific protocols to offer your organization maximum benefit. Within the current scenario of health app development, it is plain to see that there are several interesting and innovative opportunities for health professionals and patients. However, the most crucial factor behind health mobile app development is its ability to address the healthcare organization's specific needs. For example, mental health app development requirements vary greatly from regular digital health app development.
This is where custom health app development comes into play. This requires healthcare app development services that offer customized solutions to address specific needs and innovative solutions. Healthcare organizations should look for customized offerings when choosing a healthcare app development company. Read on for a detailed guide on tailor-made healthcare mobile app development, common challenges that may be faced, and a quick preview of the current market dynamic.
It can be assumed that 1 in 5 Americans use mobile health care applications, and the number must have gone up with the onset of the COVID-19 pandemic. Custom health app development companies are now expanding their horizons to offer more digital technology solutions to cater to growing demand. As per a recent report, the worth of the custom health app development market will reach $150B by 2028.
2. Types of Healthcare App Development
Mobile health apps come in many varieties, each providing different type of health service. We have provided a comprehensive list of mobile health apps to help you decide which you prefer.
Mobile health development for healthcare comes in many different forms. Based on the most established healthcare application development, there are three broad categories – healthcare apps for patients, hospital app development, healthcare web application development for healthcare providers. Let's look at the popular types of healthcare product developments for patients.
1. Lifestyle Apps:
This version of healthcare software development incorporates health informatics to assess patient health by keeping track of specific lifestyle metrics. Custom health app development can offer specific tracking through healthcare software product development. For example, a gynecologist may use a lifestyle app to track the menstrual cycle of patients. Medical records management solutions can then be applied for enhanced offerings.
2.Fitness Apps:
This type of healthcare mobile application development aims to increase users' physical activity through general suggestions and advanced coaching options, depending on the type of mHealth app development. Fitness app development now offers several advanced features by incorporating cloud computing in healthcare and population health management solutions. Customized fitness advice can be offered through electronic health records, along with several other patient engagement solutions. A healthcare mobile app development company can use the solutions mentioned above to offer advanced fitness tracking and customized plans.
3.Telehealth apps:
Healthcare software solutions are being increasingly for automated appointment scheduling and online consults with health professionals. With this type of healthcare software development, integrated healthcare solutions can provide patients with convenience, accessibility, and overall satisfaction. Remote access to healthcare is also considerably enhanced through these forms of custom healthcare software development solutions. With online access to healthcare, practice management solutions can also assist healthcare organizations in streamlining their processes. For example, a healthcare android app development may offer automated appointment scheduling for patient convenience and reduce the hassle of physical appointment scheduling by healthcare staff. Finally, care management solutions can customize these medical mobile app developments.
3. Common Challenges in health app development
Healthcare mobile app developers may come across roadblocks that can make it cumbersome for them to build an app. We have provided a list here to prepare you so that you can avoid these.
Healthcare application development is never a clear-cut process, and a healthcare app development company needs to factor in the fact that there will be challenges along the way. However, an acute awareness of the common challenges of medical app development will make the hurdles easier to surpass.
a. Security:
When dealing with healthcare data, security is of primary importance. Cyberattacks and hacks are an absolute no-no for healthcare mobile app development services. Several examples of mobile health app development failures have been related to poor security protocols. Sensitive patient data can be conserved and protected through HIPAA compliance, and health app developers should be aware of encryption and privacy standard for mobile health app development. Finally, healthcare mobile app developers should prioritize government regulations and compliance.
b. Accessibility:
Health app developer services should be deployed to prioritize a high user experience. Users will easily accept an easy-to-use health app due to its seamless experience. Intuitive designing and healthcare automation are techniques for increasing accessibility in custom health app development. Accessibility can be further enhanced by conscious use of the latest mobile medical application development technologies.
c. Scalability:
Mobile healthcare application development that is not scalable in healthcare data is doomed to failure. Healthcare development services should be undertaken to maintain data scalability through healthcare interoperability. Common ways to maintain scalable solutions are AI, healthcare analytics, and IoT.
4. Features for Healthcare App Development
This section consists of a list of must-have features for creating a successful health app. Adding these features are a sure-fire way of making your app stand out.
i. User Profile:
This part of health mobile app development allows users to set up and view their health profile on the app. It can further provide specific health information and carry relevant data. The key is to create a profile structure that minimizes the hassle for the user and maximizes the output of information. For example, medical iPhone app development can use integrated tools to create a user profile swiftly.
ii. Connectivity:
Healthcare software product development must ensure swift connectivity across devices and platforms. Telehealth apps require impeccable connectivity options, for example, between the health professional and patients. The app must allow access to users on mobiles, laptops, desktops, etc. Another important factor would be to allow connectivity for information sharing seamlessly through chats and other messaging features.
iii. Dashboards:
This is nothing but a convenient overview of user-health records for quick accessibility. Every user can view a customized dashboard with relevant data with hospital mobile app development. A dashboard provides a critical summary of all the user's information from the get-go. These could be health metrics, diet charts, activity tracking summaries, or other relevant information based on healthcare application development.
iv. Cloud Integration:
Healthcare software product development requires electronic data interchange and accessibility. Cloud integration allows seamless transferring of medical records and data and quick accessibility for patients and providers, depending on the purpose of the healthcare product software development.
v. Security:
Healthcare web application development deals with sensitive patient health data and other confidential information. Keeping this in mind, developers should prioritize security throughout the entire development process. Some ways of enhancing security could be through advanced data encryption, multi-factor authentication, Compliance, etc.
vi. Notifications:
Health mobile app development is usually an interactive platform that requires users to take specific actions. These actions can be suggested through reminders and notifications within the app. Notification is an important component to encourage users toward fulfilling the purpose of the healthcare mobile application development.
vii. Payment integration:
Another important factor towards security is a secure payment processing methodology that maintains data privacy. Healthcare application development should incorporate payment protocols to offer end-to-end solutions to the users.
viii.Analytics Integration :
Analytics is an important tool for increasing the efficiency of healthcare mobile app development. However, setting up the appropriate permission parameters is crucial while using the user's health data. Using this data to analyse functionality, user needs, market trends, etc., can considerably enhance healthcare mobile app development quality.
ix.Scheduling Appointment :
Healthcare mobile applications have an appointment booking feature that enables the booking of doctor's appointments or video consultations. This feature allows patients to check the appointment availabilities of doctors quickly. Similarly, physicians can view their calendars and change their availability.
x. EHR Integration:
Telehealth apps need integration with electronic health records for simplifying data exchange and data access. This feature also helps doctors view patient details before appointments and better manage patient health conditions.
xi. Video Conferencing :
The pandemic significantly impacted the healthcare industry when hospitals were overrun and unable to accept in-person visits. Video conferencing replaced in-person visits and simplified health access for patients. Patients no longer need to wait for long hours for appointments.
xii. Tracking Health Progress :
This feature allows doctors to track patient progress with mobile health apps. For instance, physicians can visualize patient vitals, such as heart rate, blood pressure, or diet, and monitor their health conditions remotely.
xiii. E-Prescriptions :
E-prescription allows prescriptions to be stored and shared online easily. Patients no longer need to worry about losing prescriptions. This feature enables doctors to create and access prescriptions. Patients can also use e-prescriptions for ordering and re-ordering medications from pharmacies.
5. How Much Does it Cost to Develop a Healthcare App?
While building a mobile healthcare app, it is essential to know the estimated budget so you can plan things ahead. Here, we have provided the information you need to understand the approximate expense.
In recent years, the cost of healthcare services has increased worldwide, including in the United States. The demand for digital healthcare solutions is growing rapidly in the country. The use of mHealth apps has risen by 60% all around the globe since the onset of COVID-19. The mHealth market is estimated to have a value of $45 billion, and it is expected to cross $100 billion in 2022. This popularity of mHealth apps has resulted in more hospital applications earning high ROIs.
Determining the cost to develop a healthcare app can be tricky. This is because the costs of developing a mobile health app increase as more features are added. A rough estimate of the mandatory requirements for building a patient app include:
I. Custom health app development framework :
Custom health app development is dependent on the platform on which it will be created. The cost will vary depending on whether you use iOS or Android for cross-platform development.
II. Analytical team of custom health app development :
While developing a patient app, you will need an analytical team to assess mobile health app use trends and study user behaviour. It is the responsibility of the analytical team to evaluate performance metrics, surveys, and market performance of the existing hospital apps, to obtain actionable insights during custom health app development.
III. Team of front-end and back-end developers :
You will need to have an in-house team comprising skilled front-end and back-end mobile app developers in place. They can design the application or outsource healthcare mobile app development.
IV. A team for performing financial analysis:
Custom health app development involves having a skilled team for researching financial information. They can give you an estimated budget of the costs and predict the maximum expenditure. It can be understood that the cost to develop a health IT app depends on factors, such as design complexities, app functionalities, customization, features, team structure, and the experience level of the custom health app development company. Considering these, custom health app development costs would be approximately $20,000 to $30,000 for a single platform. The budget will increase if both Android and iOS platforms with advanced features are utilized.
6. 3 Fundamental Stages in Healthcare App Development
In this section, we have enlisted the stages that healthcare app developers will go through. Each stage has been briefly explained for your better understanding.
1. Business Analysis:
Business analysis is the first stage of custom health app development. It consists of the following stages:
Determine app goals
This step clarifies the concept and purpose of creating the mobile health app. The business analyst team will need to understand the client's requirements and areas of expertise carefully.
Identify functional requirements
This refers to all the information gathered during step one, where the app requirements are termed functional. A document is created specifying the features accessible to the end-users.
Decide non-functional requirements
Non-functional app requirements refer to the general properties of the app and include iOS and Android versions and the maximum number of users to perform the same action at the same time.
Estimate the project cost
This step is crucial for helping you determine the costs behind custom health app development with the assembled features.
Create a visual design
Once the features are defined, the healthcare mobile app developer can use the health app analysis to identify prototypes.
Specify functional design
This step involves creating a functional design specification (FDS), a single document enlisting all the requirements and prototypes.
Provide support for project implementation
The role of your business analyst team goes beyond the planning and analysis phases, and they need to ensure the app functions properly and supports its successful launching.
2. Project Management :
Project management in custom health app development refers to a process that can improve your mobile healthcare app's functioning and overall performance. The project management team for building a patient IT app can resolve issues in the existing operations and implement policies to improve patient care services and patient health outcomes. This phase involves utilizing the right skills and tools to meet the set standards and budget and achieve the objectives. Your project management team for custom health app development must define the objectives, plan a strategy, execute the plan, and regularly monitor the outcomes and performance.
3. Quality Assurance:
Quality assurance helps developers ensure that the mobile health app functions flawlessly during custom health app development. Healthcare mobile app developers need to conduct quality assurance in each step of building the mobile health app. Testing patient apps for quality is essential, even if experienced developers create the app. This stage will ensure that the product can handle any problems and work successfully with end-users. Testing mHealth apps for quality also guarantees that the quality requirements as per the standards are followed. It would be best to remember that the QA team must be well-trained and skilled.
7. 7 Steps in Custom Healthcare App Development
This section guides you through the steps that will lead to a successful mobile health app development. We have explained each step to provide detailed insights.
With a clear knowledge of healthcare app development services, our guide plans your healthcare mobile app development. When choosing a healthcare app development company, the following steps will help you understand your requirement and make healthcare mobile app development.
a. Recognize the Requirement
At the outset, while choosing healthcare mobile app development services, you must clearly understand the problem that needs to be solved or a gap that needs to be filled. Healthcare application development comes with a wide variety of choices, and you must be clear about what you need. Your target audience, the competitors, the expenses, etc., are all factors that come into play during healthcare application development. For example, healthcare apps for patients have to address the specific requirement of the organization's patients and should be chosen accordingly.
b. Understand the User
Are you looking to create mobile healthcare apps for patients or medical professionals? Custom healthcare software development is more likely to be successful if it is developed through the lens of the user. Once this distinction is established, it is time to communicate effectively with the end-user to understand their needs and goals through the health care application.
c. Identify the Issues
Healthcare web application development is always a step toward addressing a gap or solving the issue. The healthcare provider needs to identify the issue and understand it from the patient's perspective. Healthcare web development requires a clear understanding of both ends of the spectrum to arrive at holistic solutions. Sometimes, it may help opt for integrated healthcare solutions to solve more than one problem through healthcare product software development.
d. Develop the Design
This is the lifeblood of your healthcare product software development. When initiating healthcare app development, balancing creativity and standard formats is essential. The healthcare software product development team must maintain an equilibrium between a user-friendly design and minimal actions toward task completion. A responsive and empathetic design is the key to successful mHealth app development.
e. Model for Monetisation
Your goal behind healthcare mobile application development is most likely to generate revenue. Therefore, mHealth app development requires a clear monetization model. Ensure that this is clarified with the healthcare mobile app development company from the get-go. Mobile health application development can be done with an 'in-ad,' paid, or subscription model. The medical software programmer should adhere to this model, throughout the development process, for optimal results.
f. Initiate Integrations
Whether you are looking to integrate EHR systems or various features, it is critical to be clear of the multiple integrations required from the get-go. Mobile health application development should be initiated only after all integrations are considered. To address this component, the medical software programmer should be comprehensively briefed on the organization's and patient's requirements from the app. medical app development is usually more successful when it is developed holistically. Healthcare cloud computing can be an excellent tool for custom mHealth app development.
g. Consider Compliance
Let's assume you are undertaking a custom mHealth app development. Owing to the strict compliance standards in the healthcare industry, this becomes a critical factor of mobile health application development. Legal and privacy regulations may vary with android healthcare application development too. Further, if app development for healthcare is for more than one geographical region, then be aware that regulations differ across states and borders. Ensure that the healthcare mobile app development company knows HIPAA compliance requirements. If you develop healthcare software solutions involving patient data, then CCPA and NIST also come into play.
8. Healthcare App Development: Why User Experience Matters the Most
At OSP, we understand that user experience is crucial for determining the success of your health app. Here, we have provided a detailed explanation behind this.
With new mobile health applications being developed, the healthcare industry is becoming highly competitive. This compels custom health app developers to integrate innovative features. The healthcare market has become increasingly competitive, forcing app-makers to roll out more innovative features. Adding new features in hospital apps for patients is essential. Still, mobile health app developers need to create a good user experience to stand out in the competitive market. A mobile healthcare app must mainly be designed keeping the patients in mind. A bad patient experience can impact the quality of care received and the performance of the mobile app healthcare. Custom mobile health app development must be accessible; patients can easily search for doctors based on their symptoms.
UI/UX is about the users, which are patients in the case of health application development. Patient-centricity is crucial for UI/UX design for delivering effective care. For instance, UI/UX designers need to consider patient demographics and create relevant categories while building a telehealth application. Building a health app can start strategically by incorporating images, and images can help patients form connections and associations to their prescribed medications. Medical mobile app developers' major challenge is delivering quality care through hospital mobile app development and achieving a good patient experience.
One way to accomplish this goal of custom mobile health app development is by improving the UI/UX that exists. This would avoid introducing new user experiences, and patients would still appreciate the health mobile app development. Better UI/UX in healthcare involves creativity in delivering a good patient experience.
Mobile health application development must consider accessibility as an important determinant of user experience. This implies that hospital app development can enable patients to access information whenever they need it. A seamless UI/UX design of app development in healthcare makes it easier for patients to adapt to new technology. In other words, better user experience equals popularity of the mobile apps for patients and high ROI generation.
9. 5 Steps to Boost the UI/UX of Your Custom Healthcare App
This section enlists the top 5 steps that can help healthcare mobile app developers design the best UI/UX.
While medical mobile app development is not the only source of revenue for a healthcare business, it can be of immense value. Sometimes, the deficiencies in health app development may result in a decline in end users and impact the success of mHealth app development. To avoid this, these five steps can improve the UI/UX design for the efficiency of digital health apps.
A. Research other healthcare apps
Before you begin your healthcare app development services, you need to know all about what makes medical app development successful and what users prefer. You can check out other medical apps for patients offering the same services. It can assist in the mobile health app development process by giving you an idea of the features that make your health app successful. Mainly patients and doctors utilize healthcare apps, so it is important to address their needs through UI/UX design. Research on the EHR/EMR medication specifications, health informatics, popular features, and recommendations during healthcare application development.
B. Add colours and Keep it simple
Colours are crucial when it comes to custom health app development. Adding colours to healthcare applications can set the right mood and convey the right message through your app. Moreover, colours in healthcare app development convey the kind of service you are offering to your users.
Apart from making your custom health app colourful, a crucial step to a successful UX design is practising simplicity or minimalism. If you are a healthcare mobile app developer and observe the top-ranking healthcare applications in the market, you will realize that they are all simplistic or minimalistic designs. Utilizing minimalistic design in custom health app development can give the users a professional experience. That is why it should be your goal whenever you plan a healthcare app development.
C. Focus on the Functionality and Features
In healthcare mobile app development, design and functionality must work together. A good design of healthcare apps can easily address the users' problems and their pain points. The features and capabilities of healthcare mobile apps for patients can influence its overall performance.
For example, medical application development requires a personal account to view records of their visits, recommendations, and appointments. Mobile health apps are less likely to succeed without secure and encrypted communication features that support better patient-provider interactions.
D. Remember to add notifications to health apps for patients
Notifications are essential for mobile healthcare software development, especially for apps that provide tracking, reminders, and milestones. The importance of notifications can be realized by including them in custom health app development design.
For instance, medical mobile app developers can add a feature that reminds users about their designated time to take a pill. At the same time, it can also remind patients about their upcoming doctor's appointments. Mobile health app developers can avoid confusion and highlight by providing reminders with different design elements. This can be accomplished in custom health app development by colour-coding, font choices, gestures, or notification behaviour/animation.
E. Ensure that your healthcare app design works
Before launching the design of your medical mobile application development, you have to subject it to quality assurance. In the testing phase of creating a medical app, you will understand whether your goals are effective. To ensure that you are getting the feedback you are looking for; you should hire people outside the project. The testing phase can include medical professionals and the people as your target audience. Obtaining feedback will give you a better estimation of the performance of the custom health app development.
10. Healthcare Application Development Standards for healthcare in the US and Canada
We have highlighted all the US standards you need to know when building a health app. The information here will help you to create a mobile health app that is in compliance with the regulations.
In contrast to entertainment apps, hospital apps for patients need to go through a detailed approval procedure. Custom health app development should comply with regulatory standards designed for data privacy and protection. Let's look at healthcare standards in the US and Canada.
i. HIPAA
HIPAA stands for Health Insurance Portability and Accountability Act. HIPAA standards are a US legislation on August 21, 1996, aiming to implement data security provisions to safeguard patients' medical information. One of the key goals of HIPAA is to regulate the processing of protected health information (PHI) by any US healthcare organization.
When working on mobile healthcare app development, developers need to design HIPAA-compliant solutions. HIPAA standards apply to any mobile health app that collects, stores, and exchanges health informatics. Therefore, healthcare mobile app developers must address HIPAA compliance during mobile healthcare application development.
ii. CCPA
CCPA stands for the California Consumer Privacy Act (CCPA), and it went into effect on January 1, 2020. The law provides patients with great control and transparency over their data, and it is considered the strictest consumer data protection regulation in the US. CCPA protects patients from healthcare businesses sharing their data without their consent. According to the CCPA regulations, the patients have the right to know what personal data is collected from them and how it will be used and shared. Patients can stop or restrict the collection, use, or sharing.
iii. The HITECH Act
The HITECH Act stands for Health Information for Economic and Clinical Health Act. It was launched during the Obama administration to promote and increase the integration of electronic health records or EHRs. Before the HITECH Act, only 10% of hospitals had adopted EHRs. This act introduced incentives to make sure more and more healthcare providers utilize healthcare technology, especially EHRS. In this way, the HITECH Act encouraged healthcare providers to incorporate EHRs and enhance data privacy and security.
iv. GDPR
GDPR (General Data Protection Regulation) was introduced in May 2018, establishing rules for collecting, storing, and utilizing patient data. It may not apply to all healthcare businesses. The GDPR categorizes data collected as personal and health data. Personal data consists of identified or identifiable patients, such as their identification number or demographic details. Health data includes data about health, such as genetic or biometric data. The GDPR strives to protect personal and health data through stringent standards. GDPR safeguards data usage and protects user privacy which is beneficial in the healthcare sector, handling large volumes of personal data.
v. PIPEDA
PIPEDA (Personal Information Protection and Electronic Documents Act) established consumer data privacy laws for Canadian nationals. It consists of an exhaustive set of privacy standards that safeguard patients from collecting, using, or sharing their data without their consent. All Canadian consumer personal data needs to comply with PIPEDA regulations. It also monitors patient privacy for medical and billing information and ensures that patient data is securely managed.
vi. HL7 and FHIR standards
HL7 (Health Level Seven) refers to international standards designed to control electronic medical data management, exchange, and integration. They monitor data transfer between software applications used by different healthcare providers.
Fast Healthcare Interoperability Resources (FHIR) standard was launched as an alternative to the existing HL7 interfaces standards. However, custom health app developers and end-users faced operational difficulties due to the use of HL7v3. Since the HL7 standard was not easy to work with, the HL7 FHIR standard was created to offer the same functionality but simpler usability.
11. Common Risks You Will Face While Developing Custom Healthcare App Development
Healthcare mobile app developers may face hiccups in the process. This section will guide you through the possible challenges that you may face, so that you can avoid them.
Custom health app development is a complex process with its own set of challenges. Let's look at some risks health app developers may go through during medical application development.
I. Hardware specifics
App development in healthcare must involve considering in advance the hardware requirements of your custom health app to fulfill your goals. Medical mobile app developers need to think about their target audience hardware and specifics. This is important because the way users interact with each platform may vary with the hardware used. For instance, smartphone users may prefer quick access to data and texts. Whereas doctors and healthcare professionals may prefer working with tablets. Knowing your budget, figuring out how fast you would like your app to be developed, and the experience you want to deliver your patients can help you successfully design the hardware specifics.
II. Compatibility with enterprise systems in hospitals
Remote access to healthcare services for patients is possible due to digital health apps and wearables. Healthcare technology has expanded its reach to various smart devices, such as mobiles, fitness equipment, hospital equipment, etc. Third-party integration between different technologies and platforms can be challenging. This gap can be reduced by using APIs that simplify the interaction of software devices and data exchange. APIs in mHealth apps improve the compatibility with third-party services and tools.
III. Data security
Data security and protection are crucial in the healthcare industry primarily due to safeguarding against cyber-attacks. Health informatics contain highly confidential personal patient data. Users extract mobile medical apps for convenience and better health access. It is important that patients feel that their data are secure. Any information regarding their treatment, including prescriptions and diagnoses, should be protected. Users must have rights to security, and privacy is protected. Medical mobile app developers need to ensure that the app adheres to standards to safeguard data.
12. Why Use APIs for Medical App Development?
APIs are significant when it comes to mobile health app development. Here, we have provided an explanation as to why that is. You will learn the need to integrate APIs in health apps.
An API is an interface that allows software programs to communicate. Healthcare providers are looking to establish interoperability between mobile health apps, EHRs, and other data exchange tools, are increasingly opting for application programming interfaces (APIs) for managing the flow of information between different systems.
With the ongoing transition to value-based care, population health management, and care coordination, APIs are essential for ensuring that electronic health record data is accessible to authorized users. APIs safeguard data from malware and outside threats. For applications that function by pulling a constant stream of data from one or more sources, an API is especially important to decrease development time, save storage space on endpoint devices, and overcome any differences in the standards or programming languages used to create the data that lives at either end of the bridge.
The biggest challenge facing data integration in healthcare is the lack of consistency in data formats, especially EHRs. APIs simplify data requests and retrieval from multiple EHR solutions across healthcare organizations. The healthcare industry will enable easy data transfer from one place to another, thereby helping doctors attain more insights into patient health.
APIs supply pre-designed tools and functions that fasten and simplify the process of custom health app development. Mobile health app developers can also achieve quick data exchange with a single, simplified solution for managing secure health informatics with the help of APIs. APIs are a reliable storage for data that offer comprehensive multi-level protection along with threat prevention. With the integration of APIs, custom health app developers can link data points from different systems to create complete data sets.
13. Important APIs Needed in Custom Healthcare App Development
The various types of APIs have been enlisted and briefly explained in this section. You will learn the significance and application of each of these APIs.
Custom health app development requires a good API to reduce the hassle of creating codes from scratch and automating the process. Utilizing a ready-made code will enable medical application developers to build a successful mobile app faster, thereby saving time and resources. Additionally, APIs facilitate software support, debugging of code, and fixing errors. The APIs listed below are some of the best ones to improve your custom health app development.
1. Box API
Box APIs in custom health app development are your keys to obtaining the features and functionality you are looking for. Whether you want your users to share a document or see all the comments from collaborators, there is an API for every need. In other words, anything you're already doing with your documents on Box, you can do with a Box API.
2. Human API
Human API is a platform that supports the secure exchange of health data with developers of health applications and systems. Human API manages data integrations with third-party data sources and the users across all data sources.
3. BetterDoctor
BetterDoctor offers health plans having insights about their networks to improve decision-making about care access to individuals.
4. Doximity
Doximity is an online networking service for medical professionals introduced in 2010. It provides curated medical news, telehealth tools, and case collaboration. Doximity is a simplified way of enhancing communication between patients and providers.
5. Apple HealthKit API and SDK
Apple HealthKit and Google Fit SDK (software development kits) are considered two standard options for mobile health apps. These act as a central repository for all health-related data, thereby allowing users to create a profile and store data. Apple HealthKit can be integrated into health and fitness apps for iOS and watchOS to create a more seamless user experience. It can transform a custom health app into a valuable data source to deliver highly informative health and fitness solutions.
6. Google Healthcare SDK
Google Cloud Healthcare APIs allow smooth and standardized electronic data exchange between healthcare applications and solutions built on Google Cloud. The Cloud Healthcare API also has additional value-added capabilities, such as automated DICOM and FHIR de-identification.
APIs can simplify the integration of mobile health applications with third parties and different devices, thereby improving accessibility and patient experience.
14. Communication Technologies Used in Healthcare Devices
We have provided information about the different technologies that can be integrated in mHealth apps. The information here can be utilized for efficient and smooth functioning of mobile health applications.
The healthcare industry recently went through some major shifts with the implementation of advanced technology. So, it's not a surprise that various communication tools are used. Here's a list:
a. Bluetooth
One of the main applications of Bluetooth in healthcare technology is to enable patients to connect with other devices through wireless. Bluetooth in IoT is also evident when patients utilize a blood pressure monitor or heart rate monitor.
b. WiFi
WiFi is utilized for various devices in digital healthcare, such as oxygen monitoring and smart beds. It also comes in handy while using electronic medical records (EMRs) and providing real-time access to X-rays and MRI scans. Therefore, more and more healthcare providers are integrating WiFi for enhancing patient care services.
c. ANT
Healthcare services are now integrating ANT+ protocol-enabled sensors for delivering effective care. This approach can be applied to devices that monitor heart rate, fitness, temperature, etc.
d. 4G/5G
Physicians can use 4G/5G mobile devices for remote patient monitoring and virtual consultations with patients. Health informatics as electronic health records or visuals can be shared faster with stable 4G/5G networks.
e. Zigbee
Zigbee finds its applications in wirelessly enabling medical devices, such as vital signs monitors and ventilators. It allows patient data to be seamlessly integrated into a User Interface or Healthcare Information System (HIS).
f. GPS
GPS incorporates navigation satellites to track location, which can calculate the distance during emergencies. For instance, it can help find the nearest ambulance to pick up patients and save time. Similarly, it can also come in handy for locating the nearest health clinic.
g. NFC
NFC allows the secure exchange of portable medical records, reducing cyber thefts. It safeguards patient data and also enables monitoring patient fitness activities.
15. Benefits of Healthcare App Development
If you ever wondered why health apps are important, then this section will give you the answer. We have explained the benefits category-wise: for patients, providers, and healthcare organizations.
As per the report by Research 2 Guidance, there are over 3,25,000 healthcare apps worldwide, and Android is forward in mHealth.
i. Benefits for Patients
In the era of digital health, health access has improved remarkably. The on-demand apps allow patients to book appointments and order medicines online without the need for in-person visits. They can also obtain information about important healthcare tips through push notifications.
Patients can also benefit from mobile medical apps by viewing the medical test reports from labs online. Additionally, they can also have video conferences with doctors and discuss their health issues virtually. The users can get nutritional advice and counselling through telehealth apps. Mobile healthcare apps also have features that enable patients to monitor their health using devices and wearables.
ii. Benefits for Doctors
According to a statistical finding, 93% of the doctors think that mHealth apps can improve patient health outcomes. At least 80% of the physicians today are getting used to medical mobile app technology for delivering patient care. Custom health app development can be beneficial for doctors and other healthcare professionals.
E-prescriptions in mobile health apps have made it simpler for doctors to view and share prescriptions. Doctors can also view patient health informatics online and make quick decisions when needed. Hospital apps for patients have simplified integrated care services, where multiple healthcare providers can share data and discuss medical cases.
Healthcare technology apps reduce wrong diagnoses by allowing physicians to receive accurate reports and prescribe the right medications. Patients' medical records can be securely stored on cloud-based systems online. Integration of IoT in mobile medical apps streamlines practice management and healthcare data management.
iii. Benefits for Healthcare Institutions
The main purpose of any healthcare institution is to offer new benefits and high-quality care to its patients. Healthcare organizations can utilize medical mobile apps to find a specialist, manage appointments, view reports, store information, and compare the prices of medications and services. In other words, a useful health app can enhance the popularity of care services offered by a medical institution.
Healthcare systems can achieve better patient satisfaction from cloud-based mobile health apps. They can also create referrals to promote care services digitally. Medical billing and payment have become more streamlined with healthcare technology applications. Errors in coding are minimized, and the entire billing cycle is well-managed. Healthcare institutions can reach more patients through patient portals and other gateways. Push notifications and chatbots can help to promote enhanced patient engagement.
16. Why is OSP Your Best Custom Healthcare App Development Partner?
Here, we have highlighted how Team OSP can help you in your journey of developing a mobile health app. This section is followed by our success story in developing a health app for our client.
OSP is leading custom health app development with a skilful and experienced team. We can create unique software products that can improve your overall practice management. Our expertise in healthcare technology enables us to build interoperable cloud-based products that allow the smooth exchange of patient data. We ensure that Compliance with US regulatory standards is not compromised, and you can deliver quality care with our custom-designed health apps.
Our subject matter experts and software engineers can help you achieve your business goal and achieve better patient outcomes. We discuss our strategy and plan outline to give you a clear picture of the end product. Our flawless UI/UX design enables us to develop efficient medical mobile apps that function properly. We can develop user-friend UI/UX modules that can simplify the process of patients adapting technology in healthcare. OSP can integrate patient portals and other platforms in healthcare apps to enhance patient engagement.
Our innovative and interactive healthcare apps can help you gain a competitive advantage in the market. We can assist you in delivering integrated care and patient health monitoring conveniently with our user-friendly health apps. Patients can feel motivated to use your health app to participate in their treatment actively. Our custom heath apps simplify integration with third parties and ensure data security.
OSP has a dedicated quality assurance team that will test the end product and verify whether it complies with the US standards for data security. We understand the significance of testing and can ensure your product launch is smooth and a huge hit. Our health apps can be integrated with any smart device and utilized by patients to monitor their health or physicians to track population health. OSP's knowledge and expertise in healthcare IT can help you deliver the best care services to patients situated anywhere.
17.OSP Case Studies – 5 mHealth Case Studies
We have discussed how we helped our client facing a healthcare challenge. Team OSP developed a custom health app to address the pain points.
The use of mobile technologies to achieve health objectives (mHealth) can transform health service delivery across the US. A compelling combination of factors is driving this change. These factors include rapid progress in mobile technologies and apps, a rise in new opportunities to integrate mhealth into existing health systems, and the continued growth in the coverage of mobile networks. By bringing quality care to the hardest-to-reach patients, mHealth is changing patient-provider relationships, developing patient knowledge and power, and dramatically promoting better health outcomes.
1. Mental Health Practice Management
A Texas-based mental health centre wanted to automate the practice management process. Their paper-based practice management affected the loss of revenue and the quality of care delivered. The main challenge for OSP was to bring the digitization of the clinic's daily practice and revenue operations.
Challenges
Quick mental health access
Long waiting hours for a single appointment
Paper-based practice
Secure online payments
Time-consuming manual appointment management
Solutions
Access to CAQH Profile Experts The app provides an amazing Telepsych feature wherein the patients can get in touch with their providers from the comforts of their homes via teleconferencing.
Appointment Scheduling The app provides an automated appointment scheduling platform for the patients to schedule appointments with their respective providers.
SOAP Notes With this feature, providers can store their notes on the patient in a digital platform that could be easily retrieved.
Secure Online Payments Patients could easily make online payments, reducing the effort to send invoices manually.
Results
Enhanced service capacity
Better patient engagement
Fast and secure payments
Improved staff efficiency
Better health access in time
2. Real-time streaming for Ultrasound Analysis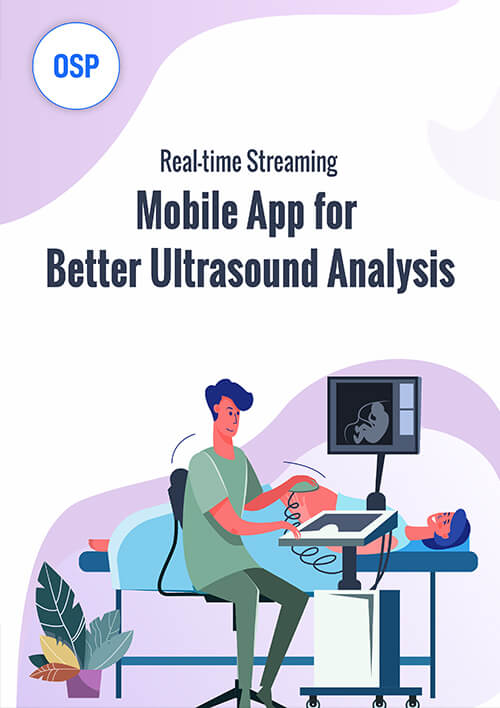 Our US-based client wanted to solve this challenge by using technology to provide quality health access to pregnant women. Building a solution that connects MFM experts to pregnant women in the remote local clinic through real-time video streaming was the need of the hour.
Challenges
Predicting Pre-term Births
Real-time access to MFM expert
Predicting Abnormalities
Low Prediction Accuracy
Solutions
OSP developed the following software solutions to address the client's challenges:
Encoder Device
The local clinic configures an encoder device with IP address, port no. App name, stream name, user name, and Password.
Secure Streaming with Wowza
The Wowza engine will generate a Hash value based on "Secure Token," application name, and stream name, keeping the stream secure.
Uninterrupted real-time streaming
Real-time processing of high-volume ultrasound data steams without any interruption during an ongoing MFM expert appointment.
Quality Health access by the experts
Best quality of health access by the patients in remote areas with better health insights by the MFM experts.
Results
Quality health access in real-time
Uninterrupted connectivity between provider & patient
Simplified risk probability
Highly secure, HIPAA-compliant streaming
No. of Follow-ups increased
Robust decision support in real-time
3. Telehealth with Chatbot
A client was looking to develop a Telemedicine application where the patient and the provider can have an online consultation to schedule either Text-based or video conferencing appointments.
Challenges
Quick and timely health access
Time-consuming manual appointment management
Secure digital Payments
No digital appointments
Solutions
Simplified Patient Registration
Easy-to-use patient registration module to create EHR by storing relevant patient health data.
Video/Text Appointments
Hassle-free interface for patients to register text consultation or video conferencing appointments with doctors using the mobile app.
Chatting with Experts
Connecting with expert and experienced providers through a secure mobile chat solution to get better health insights.
Teleconferencing
Connecting with expert health providers from the comforts of your home through mobile app streaming.
Secure Online Payments
Patients could easily make online payments, reducing the effort to send invoices manually.
Results
Quality health access in real-time
Uninterrupted connectivity between provider & patient
User-friendly scheduling solution
Highly secure, HIPAA-compliant streaming
4. Doctor on Demand
A health client wanted to build a custom-made scheduling and staffing solution that gives home healthcare agencies and clinicians a secure, easy-to-use platform to connect and deliver timely patient care. They wanted to connect agencies and qualified clinicians to provide timely care.
Challenges
Low Follow-ups
Manual appointment scheduling
Longer waiting period for health delivery
Tracking clinicians
Traditional payment methods
Solutions
Doctor on Demand
Schedule appointments with doctors in your vicinity with a few mobile taps.
Automated Scheduling
Automatically appoint clinicians to respective patients based on their locations and requirements.
Employee Geo Tracking
Ability to track the location of clinicians in a particular area to simplify the fastest appointment scheduling process.
Interactive Dashboard
User-friendly and visually appealing super admin dashboard to track the progress, no. of visits, and clinician performance.
Smart Performance Rating
Advanced and easy-to-understand doctor rating system where patients can evaluate doctors after the care delivery.
Simplified Payment
Pre-defined payment system automated with digital payments technology through the app.
Results
Increased follow-ups per day
Increase in revenue
Quick health delivery
5. Advanced Telehealth
A telehealth company in the US wanted to serve the senior population with user-friendly care delivery through video conferencing. Their main challenge was the lower quality of video streaming with continuous interruptions.
Challenges
Quick and timely health access
Continuous interruptions in teleconferences
No digital appointments
Solutions
Video Appointments
Hassle-free interface for patients to register video conferencing appointments with doctors using the mobile app.
Teleconferencing
Connecting with expert health providers from the comforts of your home through mobile app streaming.
Zoom Integration
Integrated a third-party software called Zoom to facilitate the appointments in a secure environment
Security Authorization
Enhanced security with passcode authentication created uniquely for each patient for every new meeting.
Results
Increased follow-ups/day
Quick health delivery
Fully compliant system
Conclusion
With the advent of healthcare technology, patients and doctors realize the importance of mHealth apps. Health apps streamline processes and greatly improve health access to patients. Patients no longer need to wait in long queues to receive care. They can reach out to healthcare providers easily through portals and chatbots. Telehealth and mHealth services have bridged the gap between patients and providers, and they are expected to keep trending. With the increasing demand for healthcare apps, mobile health app developers must be aware of the features, UI/UX design, and other necessary aspects for building user-friendly apps.
Many healthcare app development services are available in the market, but it is important to know what makes a health app successful. The right custom health app development would integrate features that increase patient engagement. Critical development factors will determine the quality of the health app and its acceptance with users. While ensuring the deployment of essential features, the medical mobile app developer should embrace the latest trends and technology geared toward customized health apps. This guide will help you with custom health app development that can address the needs of futuristic users.
OSP has the expertise in creating custom health apps that stand strong in the competitive healthcare market. We can build interoperable health apps that can be operated from any smart device. Our team of software engineers understands the importance of mobile health apps and how they can achieve high patient outcomes.
How can we help?
Fill out the short form below or call us at (888) 846-5382
Looking for software solutions to build your product?
Let's discuss your software solutions for your product in our free development acceleration call!
Get In Touch arrow_forward
About Author
Written by Riken Shah

linkedin
Riken's work motto is to help healthcare providers use technological advancements to make healthcare easily accessible to all stakeholders, from providers to patients. Under his leadership and guidance, OSP Labs has successfully developed over 600 customized software solutions for 200+ healthcare clients across continents.