An Introduction to Software Development for Healthcare:   
The healthcare sector has witnessed technological breakthroughs like never before. Healthcare custom software development has turned into the need of the hour, with healthcare organizations and patients looking to lap up its many benefits. Healthcare software developers are applying Artificial Intelligence (AI) innovatively to transform and automate the process of caregiving. Healthcare software development companies are looking to consistently grow and develop software with the potential to elevate patient and provider satisfaction.
With the recognition of specific and customized needs, custom healthcare software development solutions have grabbed the attention of healthcare software development companies. From ideation to final development – the entire process of building healthcare software solutions is undertaken in a tailor-made fashion. Further, while making healthcare software product development solutions, close attention has to be paid to the migration process.   
At OSP, we were approached by a healthcare client to develop a telehealth application for healthcare product development. Patients and providers could engage in online consults, appointment scheduling, and video teleconferencing. They looked for custom healthcare software development to ensure timely health access, online practice management solutions, and secure digital payments.   
To address their challenges, our custom healthcare software development offered the following features:
Simple Patient Registration – Easy-to-use patient registration module creates Electronic Health Records (EHR) by securely storing relevant patient health data.
Video/ Text Appointments – Hassle-free interface for patients to register text consultation or videoconferencing appointments with doctors using the mobile app.
Chatting with Experts – Connect with experienced providers through a secure mobile chat solution for better insights.
Teleconferencing – Connect with expert health providers from the comfort of your home through mobile app streaming.
Secure Online Payments – Patients can easily make online payments, reducing the effort of manual invoicing.
Our custom medical software development seamlessly incorporated automated healthcare provider solutions, HIPAA compliance, integrated healthcare, and integrated care management for overall satisfaction and a higher profit margin.
Healthcare Software Solutions Best Practices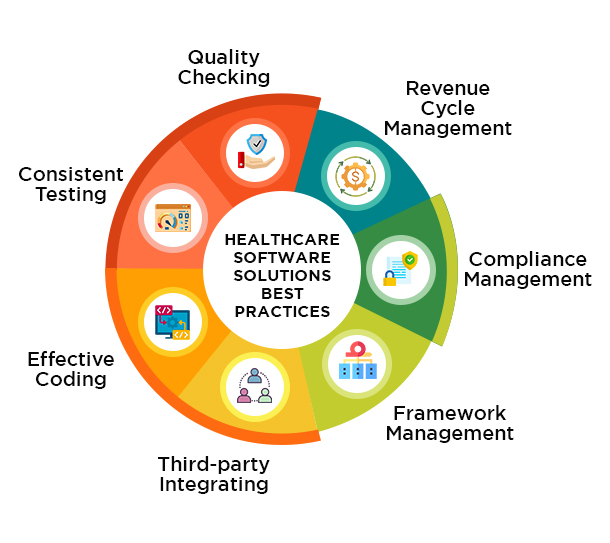 1.

Revenue Cycle Management:

A critical factor in healthcare software development services is to grasp a holistic comprehension of the revenue cycle workflow of the relevant healthcare organization. Software development in healthcare has to factor in billing formats, claim details, payment modules, denial workflows, pre-registration processes, regulatory requirements, remittance, third-party involvement, and other coding and collection processes involved. The software company, healthcare industry, and healthcare custom software development are all essential entities of the process.
2.

Compliance Management:

Healthcare software development services must be executed to ensure that healthcare software solutions meet all compliance and healthcare standards. A custom healthcare software development company must be aware of all healthcare integration standards – HL7, FHIR, ANSI X12n 5010, NCPDP SCRIPT, DICOM, and HL7 v3 CDA. Health software development must be undertaken by complying with the relevant standards.
3.

Framework Management:

Health software development must comply with integration frameworks for electronic data exchange and medical records management. A custom healthcare software development company can provide immense benefit by adhering to the integration continuum through every stage of development.
4.

Third-party Integrating:

Successful healthcare software product development involves an understanding that a single EHR software development or EMR software development may not be enough and integration with third-party liaisons may add significant value. For example, a hospital management software development may need third-party integrations with payers and vendors to create seamless healthcare interoperability.
5.

Effective Coding:

EHR software development success is dependent on effective coding. Healthcare software product development is best executed with stage-wise coding, wherein coding is done on smaller levels and tested for efficiency. This will ensure that there are no large coding errors through healthcare analytics solutions. Consider effective coding as the lifeblood of healthcare solution development services.
6.

Consistent Testing:

Regular testing is a wise idea for software development in the healthcare industry. Custom healthcare software development services must undertake consistent testing and regular intervals to ensure smooth functionality. Unit testing, integration testing, functionality testing, system testing, and performance testing are important factors.
7.

Quality Checking:

Medical software development services should have a clearly outlined framework and stringent quality check measures. EMR software development and patient engagement systems can greatly benefit through quality analysis and testing.
5 Common Mistakes in Healthcare Industry Software Development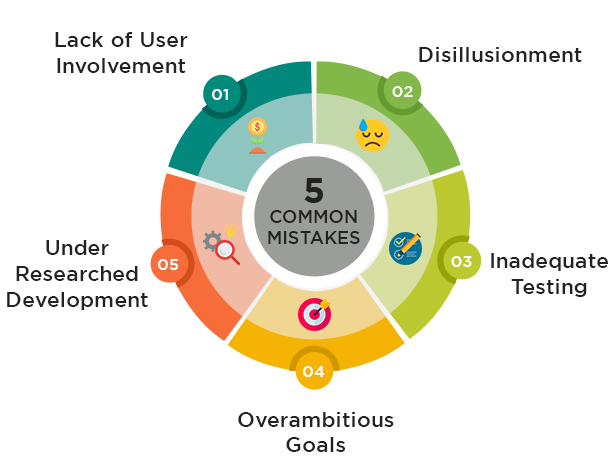 1.

Lack of User Involvement:

Hospital software development should be done while keeping the user at the forefront throughout the development process. If the hospital software development company fails to educate and train users, the healthcare software product development will not be accepted and used entirely. Automated healthcare solutions, for example, can bring in a great advantage toward easing the hassle of healthcare processes. However, if users are resistant toward utilization due to a lack of familiarity and training, they will continue to use manual processes. Consistent user feedback during the development stages will also play a big part in a successful launch.
2.

Disillusionment:

Software development, medical or otherwise, should always be initiated with the end-goal in clear sight. The final stage of achievement should always be an achievable target and not something that will be thought about later. Within mobile healthcare software development, for example, if the idea is to launch in multiple cities, the requirements of all cities should be taken into consideration throughout the development. The custom hospital software development company should be wary of an adaptation approach involving high unaccounted costs and other difficulties. Using broad clinical informatics can aid developers in gaining a holistic picture.
3.

Inadequate Testing:

When healthcare solution development services are undertaken without adequate testing, glitches and process inefficiencies are highly likely to occur. A fully developed product that experiences inefficiencies in process flows can cost the healthcare organization a hefty sum to rectify. It is also possible that the software will even cease to be used due to this. Coding errors are common and should be nipped in the bud with regular testing. Medical mismanagement can have drastic implications on patient health, and testing, therefore, must be prudently executed.
4.

Overambitious Goals:

Sometimes, a custom hospital software development company may receive a quite big project in its objective. Population health management solutions, undertaken through cloud computing in healthcare, can be one such example. Even though these are achievable, it is important to understand the scope of the software and align goals accordingly. Biting off more than the technology can chew will eventually lead to failure. Healthcare solution development services should be done with a clear view of attainability and available resources. Technical support is another important factor of consideration. The easiest tip toward avoiding this blunder is to build from the bottom-up, with the patient and providers as the driving force.
5.

Under Researched Development:

Finally, healthcare software product development is safest when backed by holistic and rigorous research. For example, the developer should know the project's scope, the number of users using it, the speed at which the software will need to function, etc. All of these areas and more should be researched before development. Determining the demand for the software and undertaking load testing is critical to launching success.
Conclusion:
Healthcare software development can be a tricky game, but here are some helpful tips towards overall success. Ensure that user opinions are always taken into consideration, and strict quality controls are put in place. Engage in regular software testing to avoid malfunctions and be sure that the architecture and applications are a seamless match. Finally, peer review processes can be beneficial to maintain accountability and adherence to deadlines.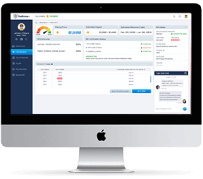 How can we help?
Fill out the short form below or call us at (888) 846-5382
Looking for software solutions to build your product?
Let's discuss your software solutions for your product in our free development acceleration call!
Get In Touch arrow_forward
About Author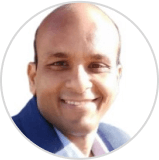 Written by Riken Shah
Riken's work motto is to help healthcare providers use technological advancements to make healthcare easily accessible to all stakeholders, from providers to patients. Under his leadership and guidance, OSP Labs has successfully developed over 600 customized software solutions for 200+ healthcare clients across continents.