Introduction:
In healthcare management, integration of EHR and EMR can transform the practice. EMR integration offers a myriad of benefits to providers, including seamless interoperability. All the stakeholders in a care setting are benefitted too. However, integration of EMR is challenging due to the lack of accessibility of information systems and patient health data. And to eliminate these challenges, ONC for HIT formulated some policies to ensure easy access to information and data transparency to improve overall care.
FHIR or Fast Healthcare Interoperability Resources is one such ONC policy that integrated with EMR boosts easy data access and sharing across platforms through API. FHIR EMR integration allows external entities to access information from providers' EMR. Besides, these entities can design their applications to access the EMR server for data. Health care CIOs and leaders promote FHIR EMR integration to improve organizational interoperability.
Further, many leaders have pointed out that FHIR is a standard to improve modern healthcare interoperability, ensure flexibility and better functionality than just EMR/EHR. Although it's pretty new yet FHIR will rise in the future. This way, FHIR enhances practice management as well.   
So, if you're thinking of FHIR EMR integration, you need to understand the potential challenges and identify your practice's needs. EMR software systems integrated with FHIR are possible through a simplified process. Here are more details about it.
Challenges in FHIR-EMR Implementation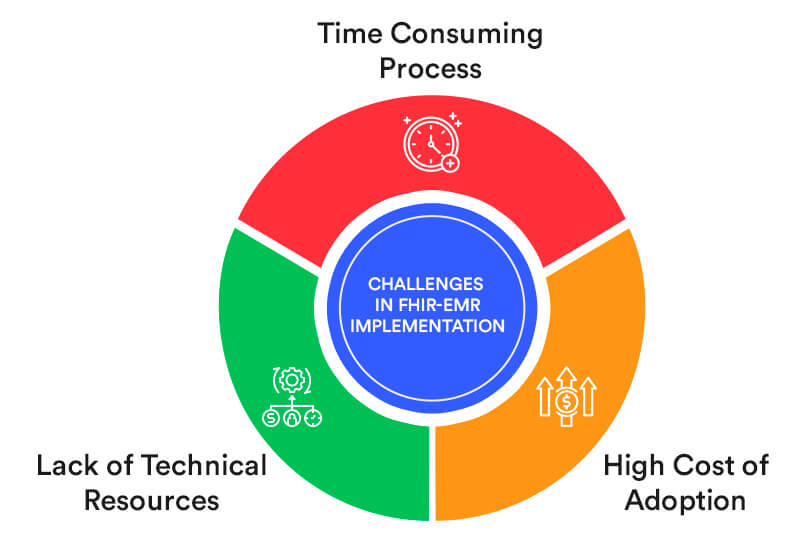 Healthcare providers are plagued with multiple challenges in FHIR EMR Integration, and these roadblocks impact the EMR interoperability or electronic data exchange. However, the three major obstacles impacting Fast Healthcare Interoperability Solutions integration are here.
1. Time Consuming Process
Healthcare interoperability is critically important today to improve patient care through the appropriate data. FHIR solutions integrated with EMR take care of data access, sharing, and analysis. But the real challenge is its lengthy process. FHIR EMR integration and implementation is a time-consuming process. Many providers are skeptical that such a time-consuming process will impact other healthcare solutions, including increasing their costs.
2. High Cost of Adoption
Similar to the time-consuming aspect, FHIR EMR integration also has high cost of adoption. Small-scale healthcare providers are mostly affected by this obstacle. Moreover, the high cost of adoption also affects the complete health system. So, leaders suggest that practitioners willing to implement FHIR can go for EMR software companies or vendors to customize this as per the budget and requirements.
3. Lack of technical resources
Another significant roadblock in FHIR EMR integration is the absence of adequate technical support. EMR integration with HL7 FHIR requires technical expertise, and care practices need HIT support. Apart from implementing, handling the software also requires specialized knowledge. So, the best providers can invest in vendors and train their staff on FHIR solutions.
Benefits of EMR FHIR Integration in Healthcare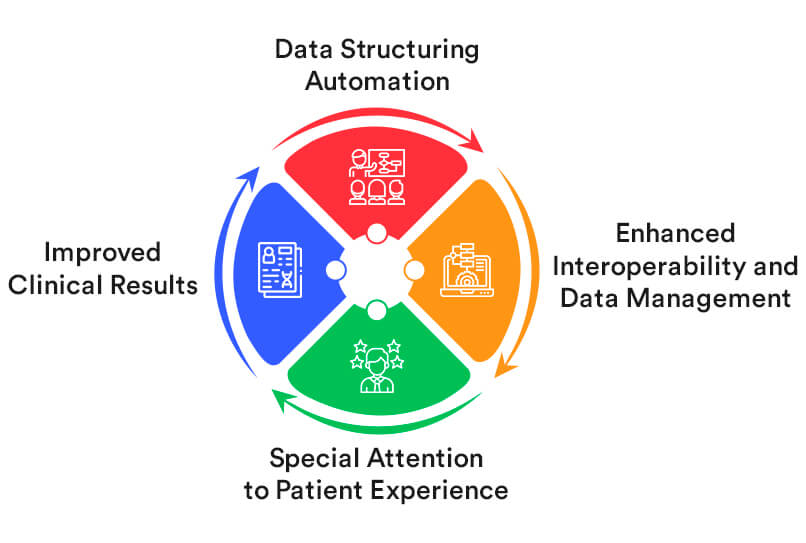 Integrated healthcare solutions offer multiple benefits to improve the clinical and non-clinical processes undertaken by the provider. Similarly, EMR and FHIR integrated solutions benefit providers in numerous ways. Here are some notable benefits acknowledged by healthcare providers.
1. Data Structuring Automation
Healthcare automation is gaining momentum these days. And with FHIR EMR integration, providers can easily automate data structuring, otherwise a time-consuming process. FHIR solutions assure clinical support to providers in managing and structuring their health data. Moreover, automated data structuring promotes value-based care services that improve patient engagement systems and experiences.
2. Enhanced Interoperability and data management
Data management in todays' care context is a critical task. Providers resort to medical informatics and healthcare analytics solutions for effective medical records management. Even FHIR healthcare integrated into EMR is much better, as it enhances healthcare interoperability solutions and manages data. And effective data management means accuracy, easy accessibility, and smooth sharing of patient health information. Whatever is the data resource, FHIR has a unique identifier for each. This simplifies the data accessibility process and allows control from every type of device.
3. Special Attention to Patient experience
FHIR solutions aim to improve care delivery through effective data management. EHR and EMR systems integrated with FHIR allow providers to extract, share and analyze crucial patient data in the care continuum for better diagnosis. Moreover, FHIR also offers patients control over their data to make informed decisions. Empowering patients and providers with data and interoperability eventually enhance the patient experience.
4. Improved clinical results
In clinical researches, data is crucial. From population health management to predictive analysis, health data is what clinical researchers need the most. Moreover, clinical researchers can improve their care delivery and patient experience with accurate data. And FHIR EMR integration aids clinicians in accessing and sharing essential patient data securely, thus improving clinical results.
How to Simplify EMR to FHIR Integration Process
Now that you know, FHIR EMR integration directly empowers providers to achieve interoperability in the systems. However, as we mentioned earlier, the FHIR implementation is time-consuming and even adds financial pressure to the adoption process. However, you can simplify EMR FHIR integration by these methods-
1. Configuring EMR interface
Medical EMR integration with FHIR isn't possible without configuring the EMR interface. Providers need to know about the different source and target systems for accurate data exchange. Moreover, providers must also ensure that FHIR EMR integration is a