Revenue Cycle Management in the U.S healthcare industry has been gaining momentum over the last few years. With the growing popularity mHealth and integrated healthcare systems, providers are concerned about payment delays and denials. The traditional payment and reimbursement system lacked efficiency and had frequent errors. But healthcare reimbursement solutions resolve most of these issues, helping providers with timely payment for their services.
The U.S healthcare reimbursement and payment systems have three key players- the government, employers/individuals, and private insurers. So, the payment for healthcare services comes from these three entities. And a compliant, integrated reimbursement payment system ensures seamless processing for faster payments and improved ROI. Moreover, customized healthcare reimbursement solutions benefit providers in many ways, as it's developed as per practitioners' needs.
Guide to Healthcare Reimbursement Solutions 2022  
If you're thinking of deploying quality healthcare reimbursement systems, here are some crucial aspects to consider for better outcomes.
Medical Coding- Without accurate coding, it's difficult to define the type of care service delivered and results in payment delays or denials. So, providers must ensure that treatment codes and billing chores are authentic and 100% correct. Providers can use healthcare automation or clinical informatics solutions to leverage the coding tasks.
Coverage- After coding, the healthcare providers must check with the claim coverage part. Although insurers take care of the coverage part as per the care services and available benefits, providers must recheck for minimum errors.
Payment- Once the coding and coverage part is clear, insurers can release the payment. However, insurers can employ healthcare analytics solutions to identify the payments and their mode.
Difference between FFS and VBR
The current healthcare reimbursement industry is experiencing a paradigm shift from Fee For Service to Value-Based Reimbursement models. Most of the healthcare providers solutions focused on value-based care, where patients are consumers. And their experience determines the payment part to a certain extent.
Healthcare reimbursement vendors and insurers are interestingly willing to adopt value-based reimbursements. So, if you're also trying to shift from FFS to VBR models, you must understand the fundamental differences.
Fee- For-Service is the most common model of reimbursements in the healthcare system. This model bases the payment amount on the cost of products, services, or technologies that physicians order. Medical billing professionals include products and services with their prices listed to inform insurers or patients; whosoever are paying. Since these products and services listed in the medical bill are as per doctors or providers, often patients are left unsatisfied with products and services. This impacts the patient experience, which disrupts patient engagement systems too. Moreover, the billing professionals deploy medical records management solutions or clinical data analytics to understand the patients' diagnoses accurately.
On the contrary, value-based reimbursement is a pay-for-performance model. VBR model is gaining popularity among many providers. Healthcare organizations find this model to reduce costs and enhance the quality of care. The government also promotes this model under the type ACA so that Medicare and Medicaid programs continue to offer maximum benefits. Here are some types of VBR models.
Models of Value-based Reimbursement System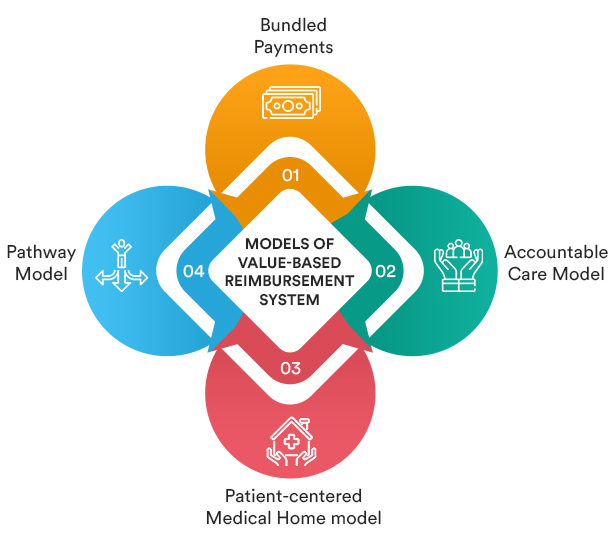 Bundled Payments: Value-based care aims to ensure the best quality of care. In the VBR model, too, quality care and reduced costs are the goals. So, bundled payments model is a type of value-based reimbursement model. Bundled payments model simplifies the bill into one collective care episode. This means that the patient, employer, or insurer pays a single amount instead of paying different providers throughout the care episode. Further, the payment received gets divided among the different providers involved in that care episode. The only downside of this model is the risk of loss. However, this model is also effective in ensuring the best quality care. Further, the providers can minimize risks in this model by leveraging custom healthcare solutions.
Accountable care model– Accountable care model is the most preferential model of the value-based reimbursement model. ACOs ensure that patients receive the best care whenever required at the most affordable costs. Healthcare providers in ACOs deal with checks and accountability to keep the process accurate and smooth. Moreover, ACOs require excellent coordination through communications and accountability. So, it's essential to ensure smooth and secure electronic data exchange and medical records management. Also, providers must pay special attention to their electronic health records too. This will reduce errors and loss of payments.
Patient-centered Medical Home model– Quite similar to ACO is the patient-centered reimbursement model. Although this model follows similar goals of providing the best quality care, it's different from ACO, as the PCMH model is a method employed by a single provider. It offers personalized care to patients through 5 attributes. These are patient-centeredness, quality/safety, comprehensive services, accessibility, and care coordination. Providers employing PCMH must employ different tools like integrated care management to improve these attributes. Integrated care will ensure more safety and coordinated care. Moreover, this model is quite suitable for home health reimbursement.
Pathway model– Healthcare reimbursement at times differs as per health disciplines. The Pathway model is an evidence-based decision-making tool that serves oncologists and patients to choose the best and most affordable care treatment.
Benefits of Using Healthcare Reimbursement Software   
Healthcare reimbursement solutions are either of these models. However, the benefits these offers are comprehensive and similar. If you're confused about deploying healthcare reimbursement solutions, then here are some benefits of healthcare payment reimbursement solutions.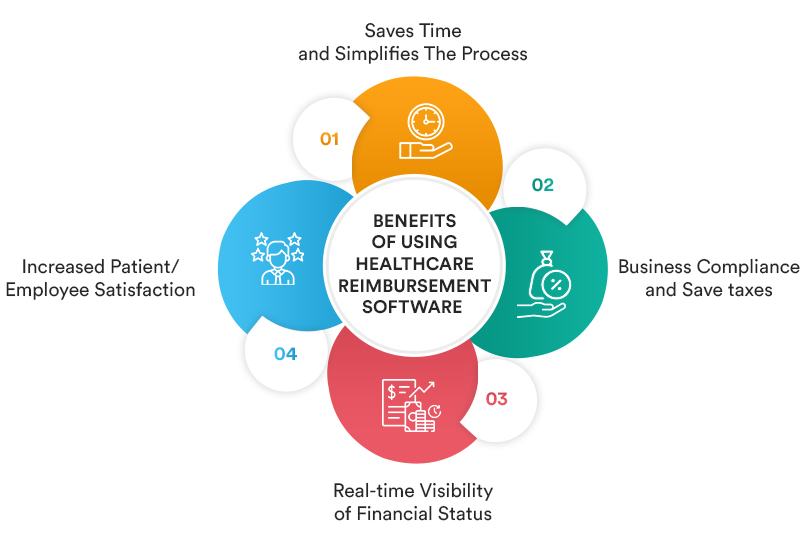 Saves time and simplifies the process– Traditional method of patient billing reimbursements takes time and is a complicated process. Deploying healthcare reimbursement systems will reduce the time and complexities of the process. This speeds up the process, and providers get their payments faster. Insurers are also benefitted as it reduces their work burden by simplifying the workflow.
Business compliance and Save taxes– In the case of reimbursing employees for their health insurance, the healthcare reimbursement software offers tax-saving benefits to employers or organizations. This makes the business compliant in saving tax, IRS, and Federal compliance. Besides, the businesses are also compliant with ACA, which has some new requirements for healthcare reimbursement solutions. So, the developers need to ensure HIPAA compliance with the healthcare reimbursement solutions.
Real-time visibility of financial status– Health insurance billing and reimbursement helps providers with real-time financial status information. With meaningful financial information, the healthcare providers can plan and make necessary investment decisions for growth.
Increased patient/employee satisfaction– Healthcare reimbursement solutions streamline the workflow of this medical billing and payment process. It reduces time and costs of reimbursement but ensures quality care. Mainly value-based reimbursement models aim to provide the best quality patient care that eventually increases patient satisfaction.
Conclusion
Healthcare reimbursement solutions are changing the view of medical billing and coding, and payments. Even though the FFS and VBR models are both effective, the VBR model ensures better practice management. It's due to timely payments, patient-centeredness, and coordinated care. However, it's also essential for medical billers and coders, and insurers to consider potential challenges like lack of training, documentation errors, and more. So, healthcare reimbursement solutions are an excellent help for providers and insurance companies in today's revenue cycle management.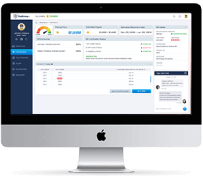 How can we help?
Fill out the short form below or call us at (888) 846-5382
Looking for software solutions to build your product?
Let's discuss your software solutions for your product in our free development acceleration call!
Get In Touch arrow_forward
About Author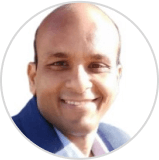 Written by Riken Shah
Riken's work motto is to help healthcare providers use technological advancements to make healthcare easily accessible to all stakeholders, from providers to patients. Under his leadership and guidance, OSP Labs has successfully developed over 600 customized software solutions for 200+ healthcare clients across continents.