'Tell me about your experience and educational background,' sounds familiar? Chances are you must have faced this classic job interview question at least once in your lifetime. A person or business with good credentials finds favor in every profession and industry. This article deals with healthcare credentialing, the advantages of automated provider credentialing, and 10 features you should look for in healthcare credentialing solutions.
Introduction to Credentialing Software
'Credentialing' can be loosely defined as a process used to assess the educational background, training, and practice history of a medical provider. Provider credentialing has existed for centuries, but it was only around 1990 that national organizations gave credentialing a formal structure. These organizations defined the criteria for credentialing physicians, physician assistants, and nurse practitioners. One of these criteria is the confirmation of the board certification, qualifications, malpractice claims, etc. from the primary source of the credential.
Credentialing software helps healthcare providers save time, money, and minimize errors as work previously done using stacks of paper forms, spreadsheets, and emails are automated.
Do healthcare providers really need credentialing software?
Healthcare credentialing software allows healthcare organizations and insurance companies to store and manage the records of healthcare providers. It also ensures they have the essential licenses and certificates to work as a medical practitioner. From a patient's perspective, the credentialing process provides them an assurance that they are in qualified and competent hands.
A healthcare provider who is a part of the credentialing software is assured that all other medical professionals are following the same standards as you. Also, it tells you that a prospective employer believes in providing quality and reliable healthcare to its patients.
Manual Credentialing Vs. Automated Credentialing
If you are still unsure whether you should opt for an automated credentialing solution or stick to manual credentialing, this table presents some of the benefits of automated credentialing.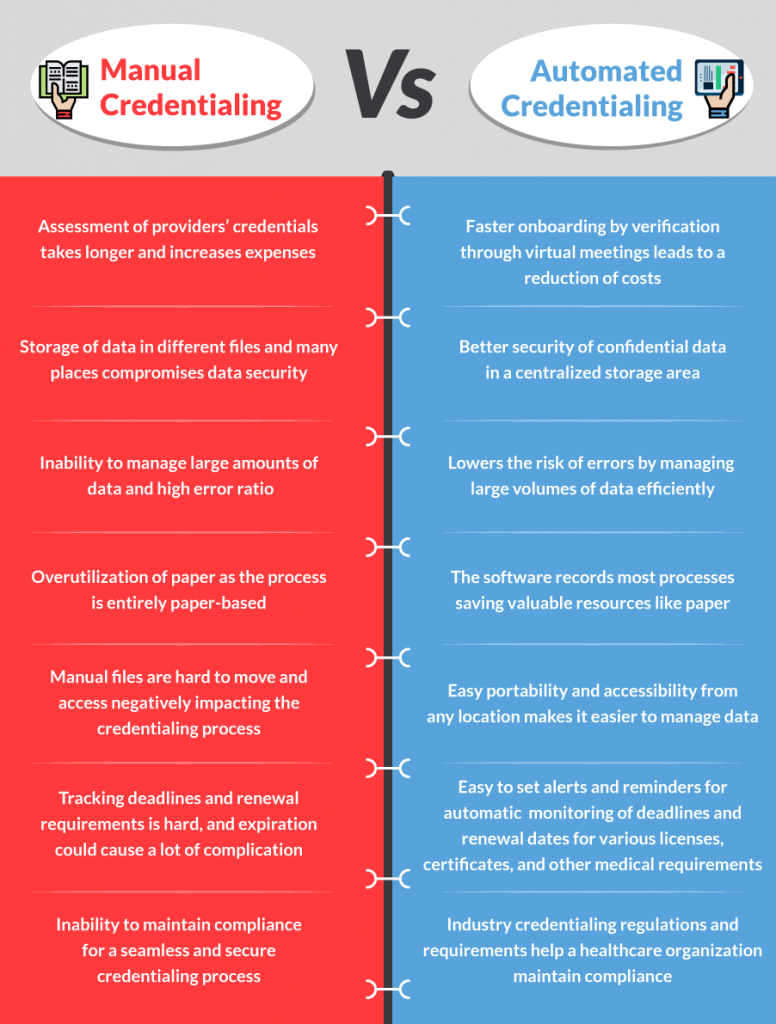 How to Choose the Right Credentialing Software for Your Organization
There are several credentialing software systems available in the market currently that include the basic features like data storage and online verification. However, if you wish to make your organizations' credentialing process more effective and proficient, look for credentialing software that includes the 10 features listed below.
1. Centralized Credentialing
Centralized credentialing is a process whereby two or more healthcare facilities reduce costs by dividing the total cost of credentialing providers. The good news for providers is they only have to go through the lengthy credentialing process once, and also increases the goodwill between providers and administrators. Other advantages of centralized credentialing include enhanced credentialing efficiency, easier facilitation of delegation with payers, and improved data integrity, all of which boosts revenue cycle management.
2. Cloud-based System (Total Portability)
Portability will not be an issue if you opt for a credentialing software solution that saves the data on the cloud. This will ensure that all the users – your organization's employees and the providers – can use the credentialing system on any digital device with complete security.
3. CAQH Integration
The Council for Affordable Quality Healthcare (CAQH) is a non-profit association of health insurers that collects and maintains a database of provider credentialing data. Customized credentialing system integrated with provider credentialing information from CAQH will make it easier to share provider data accurately and efficiently with multiple health plans in one go.
4. Workflow Automation
The credentialing process involves the collection of data from the healthcare providers, development of the credentialing strategy, verification of the given credentials and licenses, management of provider profiles, and getting in touch with payers. Credentialing software tailor-made with real-time, intuitive dashboards, and automated workflows for online verification, attestation aging, expiration management, credentialing metrics, and onboarding options will considerably enhance productivity.
5. Document Expiration Management (Alerts and Reminders)
Healthcare facilities using manual credentialing face challenges in regularly updating providers' data and credentials. However, credentialing software built according to your requirements can help to keep track of the provider's profile as well as documents and certificates nearing expiration and changes in performance metrics. You can also configure expiration reminders and alerts to send automatic notifications and email reminders to the staff responsible for these tasks.
6. CME Tracking (continuing medical education)
Learning never ends for physicians and other health professionals who are committed to improving patient care. However, tracking continuing medical education (CME) activities can get very tricky. When choosing credentialing software, look for a system that offers professionals a streamlined process to earn, track and view reports on CME certifications, CME credits, and certification points.
7. Electronic Forms and e-Signatures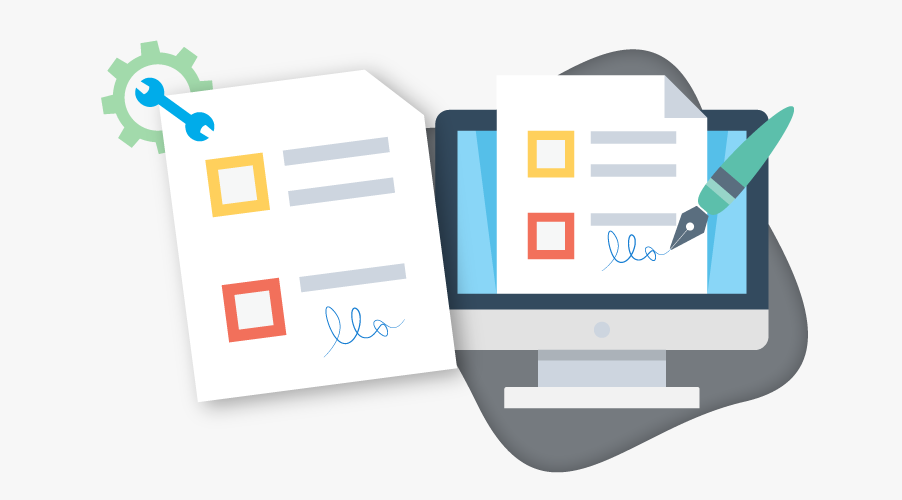 In a medical facility, every second count, and sometimes, waiting for certain medical consent forms or signatures can prove to be costly. Credentialing software solutions with comprehensive and robust systems that allow for the use of electronic forms and e-signatures can greatly benefit healthcare professionals.
8. Peer Review Process Automation
Medical peer review is a measure used to improve the quality and safety of patient care. In this process, healthcare professionals evaluate the performance of current and former colleagues to ascertain the accuracy, relevance, and significance of their work. If the credentialing software system acquires, combines, and saves feedback for the provider obtained from peers, this will help the peer review process run smoothly.
9. Secure Database Management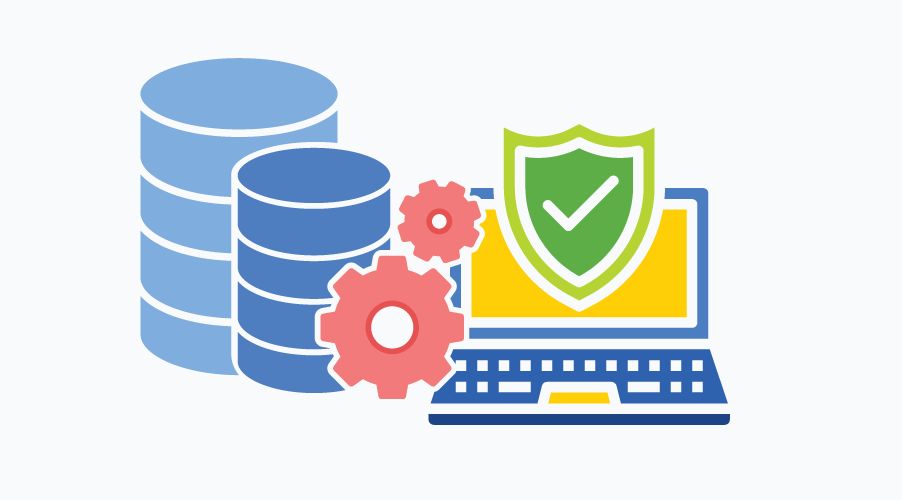 We all know how important data is, and yet, if not managed efficiently, the same data can pose a big problem. In manual credentialing, healthcare facilities struggle with handling providers' data. A personalized credentialing software system with comprehensive end-to-end functionality takes care of all aspects of data management such as data storage, data segmentation, and data security.
10. Customized Reporting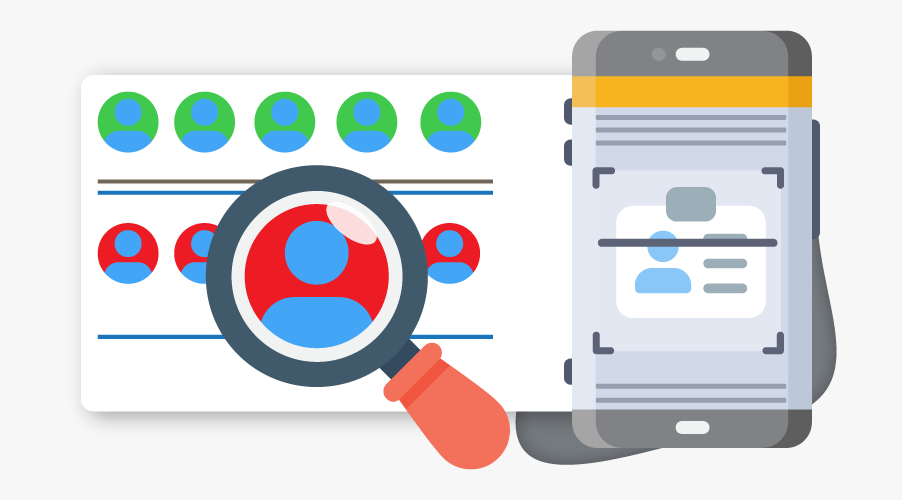 With automated credentialing, you no longer need to rack your brains, creating different reports to figure out how each parameter impacts the workflow process. Intuitive, comprehensive, and customized credentialing reports available in credentialing software systems use an ad-hoc report writer to recover insightful data and customize reports with top-quality features including institutional summary, days in enrollment, facility summary, provider summary, etc.
Conclusion
Every year, healthcare facilities spend a considerable amount of time and money on provider credentialing. A healthcare facility's complete revenue cycle depends on proper medical credentialing. Any errors in insurance credentialing cost you valuable time and money in addition to increased legal liability, and coverage and referral issues. Invest in a customized credentialing software solution to streamline this expensive, time-consuming, and complex process and boost your organization's income and efficacy.
OSP can program a custom-made healthcare credentialing solution to help you credential smarter and faster. We have experience in building top-notch credentialing solutions that can eliminate administrative paperwork and replacing it with a simplified credentialing solution. Learn how we helped a mental health provider in Texas to solve their credentialing challenges here.
Want to See it in Action?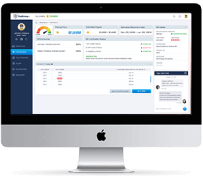 How can we help?
Fill out the short form below or call us at (888) 846-5382
Looking for software solutions to build your product?
Let's discuss your software solutions for your product in our free development acceleration call!
Get In Touch arrow_forward
About Author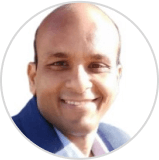 Written by Riken Shah
Riken's work motto is to help healthcare providers use technological advancements to make healthcare easily accessible to all stakeholders, from providers to patients. Under his leadership and guidance, OSP Labs has successfully developed over 600 customized software solutions for 200+ healthcare clients across continents.