Introduction:
Today, Integrated healthcare solutions transform the complete system, boost complex tasks, enhance productivity, and improve the patient experience. A wide range of new technological solutions like advanced telehealth solutions, healthcare interoperability, remote patient monitoring systems, and more in the last few years. Besides, healthcare data management, sharing, and analytics are also critically important for quality care. Electronic Health Records and Electronic Medical Records are two systems that are currently the must-have solutions in healthcare. With providers adopting EHR and EMR, sharing data across different care settings posed severe threats to the information. Also, sharing across other interfaces was a challenge too. Healthcare software product development providers shared healthcare interoperability solutions to securely access and share health data across different platforms.
Industry CIOs and leaders, concerned about the sensitivity of health data and security issues, cited to comply with EHR interoperability solutions to optimize healthcare outcomes. EHR interoperability solutions are also the most discussed software today among providers. So, here's everything you need to know about EHR interoperability solutions.
The Complete Guide to EHR Interoperability Solutions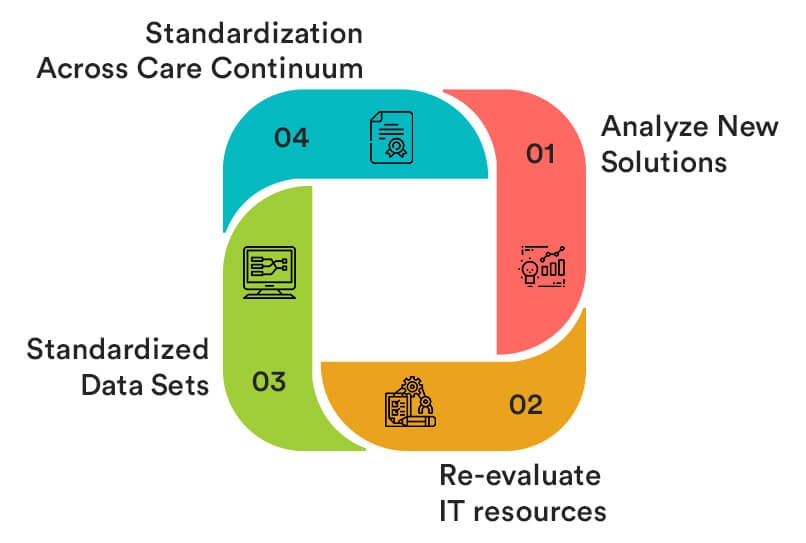 Tips for Successful Implementation of EHR Interoperability Solutions
With the shift from traditional care roles to value-based care, providers have become more focused on patient experience. EHR interoperability technological solutions aim to boost care coordination and patient engagement systems within the organization. So, if you're planning to boost your care delivery and patient satisfaction, here are a few tips for the successful implementation of EHR interoperability solutions.   
1. Analyze New Solutions
Since EHR interoperability has been in the industry for quite some time now, but updated solutions are helpful for today's problems. Providers must think ahead of EHR and its contribution in the future. So, EHR interoperability must include new solutions like test results, appointment scheduling, financial information, clinical documents, and more. Indeed, this will boost your patient experience.
2. Re-evaluate IT resources
Even though physicians actively use EHR systems, they opt for core EHR for insights and interoperability. This highlights the need for re-testing IT resources. Providers must timely re-evaluate their IT resources to cater to their needs and boost healthcare interoperability. Moreover, providers must ensure interoperability solutions in healthcare on four levels- semantic, foundational, structural, and organizational.
3. Standardized Data Sets
In EHR, no two data documentation practices are the same. Providers and custom healthcare software solutions vendors need to use a standardized data set for electronic data interchange. And when integrating EHR, maintaining a standardized data set ensures seamless interoperability. Moreover, the current standard followed is HL7.
4. Standardization Across Care Continuum
A recent report from Gartner highlighted that by 2023, nearly 35% of health organizations would opt for workflows out of the EHR system to provide better outcomes. So, providers must focus on the standardization of patient health data instead of EHR functionalities to promote healthcare interoperability.
Barriers in EHR Interoperability Solutions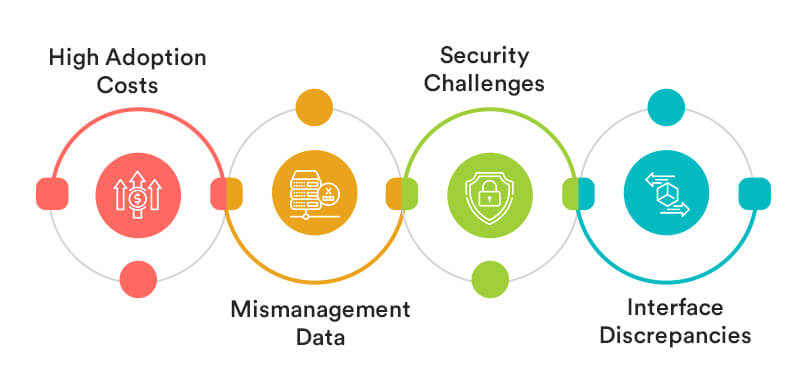 Achieving EHR interoperability solutions facilitate better patient outcomes. However, multiple EHR interoperability challenges impact its successful implementation.   
1. High Adoption Costs
Implementing the high cost of integration impacts EHR interoperability solutions. Providers' financial constraint is the biggest barrier alongside their other organizational challenges. Besides, there are some affordable EHR interoperability integrated models available. But it's best to opt for customized electronic health records interoperability, as it will cater to your requirements more efficiently.
2. Mismanagement Data
Health data management is an arduous task. Providers opt for automated healthcare solutions or medical informatics to manage their data in health care management. However, data errors such as inaccurate details affect the implementation of EHR interoperability solutions. So, providers need to ensure the proper data management practices to ensure efficient integration of EHR healthcare interoperability.
3. Security Challenges
One of the major challenges in healthcare is privacy and security issues. Health data is prone to security risks, and providers need to ensure HIPAA compliant solutions to mitigate this challenge. EHR systems and healthcare interoperability are all about data. So, providers must check with its HIPAA compliance to securely share data across the care settings.
4. Interface Discrepancies
Another barrier in implementing EHR interoperability is interface discrepancies. When data moves from one system/platform to another, the interoperable system must accurately route the information and transform it into a standard format. Provider's EHR software must correctly exchange the data without losing during the translation process.
How to Implement EHR Interoperability Solutions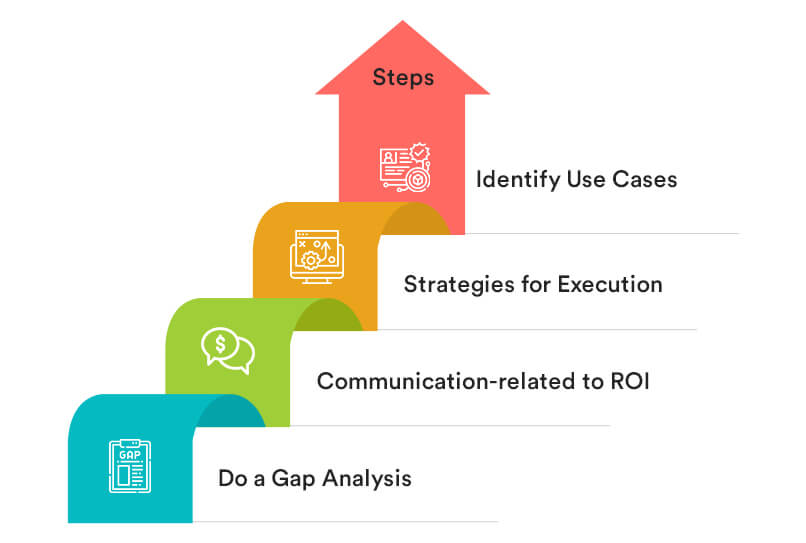 Understanding the barriers mentioned above in EHR interoperability solutions, you can adopt the right practices to implement EHR interoperability technology solutions successfully. Here are some of the essential steps to follow-
1. Identify Use Cases
For successful implementation of healthcare interoperability solutions, providers must correctly identify specific clinical cases, data types, and entities
2. Strategies for Execution
Providers need to involve in strategic planning for implementing the EHR/EMR interoperability. Planning will ensure informed decision-making, timeframe, and cost of the process. So, providers can achieve their interoperability goals without much fuss.
3. Communication-related to ROI
It's essential to communicate important revenue expectations to all the stakeholders. This will boost interoperability systems and help the organization achieve its goals.
4. Do a Gap Analysis
Success of EHR implementation is a critical task. So, providers must conduct a gap analysis to understand the potential limitations and devise effective solutions.
Benefits of EHR Interoperability Solutions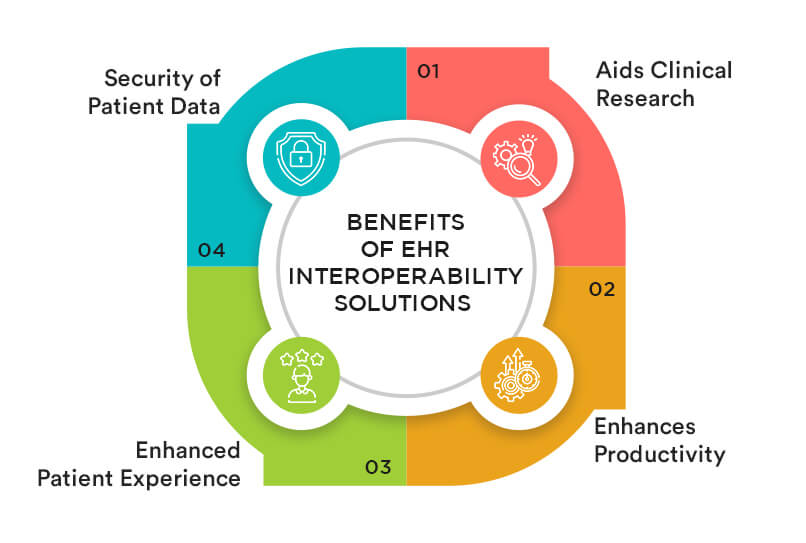 There is no debate about the varied benefits of EHR Interoperability solutions. Of all the pros of EHR interoperability in healthcare, here are some major benefits.   
1. AIDS Clinical Research
It's a known fact that data is highly crucial to clinical research. With seamless EHR interoperability across the care continuum, clinical researchers easily access required data. Moreover, interoperable systems allow providers to share data with scientists to facilitate their research.
2. Enhances Productivity
EHR systems that are interoperable saves times and money alongside reducing the work pressure of the staff. Moreover, digitization data removes redundancy, errors and improves processing speed to ensure faster action by providers.
3. Enhanced Patient Experience
Providers can focus on patient care completely with increased productivity. Easy access to data helps clinicians make decisions to improve patients' diagnoses and outcomes. And this eventually improves the patient experience and practice management solutions too.
4. Security of Patient Data
One of the major benefits of EHR interoperable solutions is the security of patient health data. Since health data have higher chances of getting hacked or attacked, health leaders and providers ensure regulatory compliant EHR systems. Moreover, EHR interoperability also secures the patient data by constant tracking and assessing it. Besides, the care providers have complete control and rights to see how the PHI is used.
Conclusion
EHR interoperability today plays a great role in aiding providers with increased productivity and seamless data exchange for better patient outcomes. After all, patient data in EHR and EMR systems are the real wealth in improving care delivery and treatments. Even it helps in predictive analysis. Moreover, providers must also oversee the software and handling aspects for maximum benefit. Providers using healthcare cloud computing solutions can easily integrate EHR interoperability solutions into their existing systems, eliminating the hassle of choosing the right vendor and additional costs. Above all, EHR interoperability will reach its peak and witness more advancement in the future.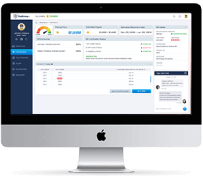 How can we help?
Fill out the short form below or call us at (888) 846-5382
Looking for software solutions to build your product?
Let's discuss your software solutions for your product in our free development acceleration call!
Get In Touch arrow_forward
About Author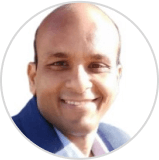 Written by Riken Shah
Riken's work motto is to help healthcare providers use technological advancements to make healthcare easily accessible to all stakeholders, from providers to patients. Under his leadership and guidance, OSP Labs has successfully developed over 600 customized software solutions for 200+ healthcare clients across continents.