Introduction:
Healthcare management's success depends on many aspects- care delivery, staff satisfaction, revenue growth, and more. However, revenue is an essential subject that providers are quite concerned about. And a lot depends on the hospital billing system. It's the providers' job to deliver care to patients. So, health IT developers have created medical billing software to make the billing process easier.
Billing systems in a hospital or the medical billing software automate the manual task of billing to ensure faster payment. This benefits providers by making the processing faster, improving workflow, and tracking patient information. Implementing a billing system in hospitals will boost its revenue too.
At OSP, we were approached by a California-based client who managed dental clinics' payment systems. The client company wanted to implement an automated HIPAA compliant solution that providers and payers could use across the care settings to manage dental patients and payments. The main challenge that the client faced was to implement automated billing workflow software to manage their claims and reimbursements. So, we devised these solutions for this client-
Fully Automated Claims Cycle- Automation in billing and claim management process
CMS coding automation- Accurate coding and uniform billing tracking
Intelligent Analytics- Managing billing data workflow and denied claims
Unpaid bill ratio- Decrease in unpaid bills
So, if you want to implement a billing system in a hospital, then here's the complete guide on hospital billing system 2022.
Key Requirements to Successfully Implement Hospital Billing Software in 2022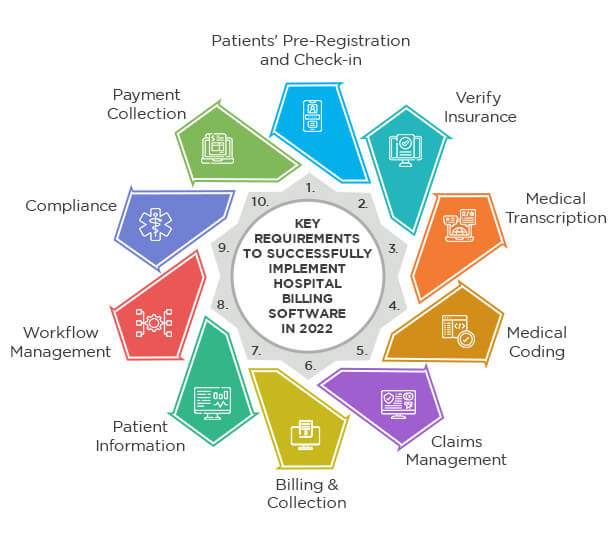 In today's practice management, big issues are revenue losses, claims denials, billing, and coding errors. However, healthcare automation solutions are transforming these problems in the medical practice. Similarly, medical billing software also changes billing dynamics in the hospital management system. A successful billing system in a hospital must have a few essential requirements.
1. Patients' Pre-Registration and Check-in
A hospital billing system must get the patients onboard first. Pre-registration is the first step to initiating the medical billing process. Patients' information is essential for the appointment and further payments. Moreover, hospital management needs to check patients' eligibility for insurance and other Medicaid benefits. So, patient pre-registration is instrumental in the billing process and patient satisfaction. Besides, the medical billing system must include pins for patient check-in forms, eligibility options, medical benefits, and patient payment history. Moreover, providers trying to implement billing systems in hospitals can opt for customized medical billing software as needed. Healthcare Providers can also integrate electronic health records with the hospital billing software to manage the patient history and other details.
2. Verify Insurance
Healthcare providers must ensure its billing system in hospitals verifies patients' insurance. Every time the patient books an appointment in the hospital, the insurance needs verification. Checking the insurance status is important for easy and fast processing of claims or reimbursements. So, providers must double-check before initiating the billing process. Also, patients with medical benefits need verification of their status and insurance coverage. It's just to ensure that all insurance and medical benefits information and coverage are up-to-date. Providers can boost their verification process through integrated healthcare solutions.
3. Medical Transcription
Medical transcription is required in the hospital billing software after the patient-clinician consultation. It's the work of qualified professionals to listen and analyze the diagnostic documents to prepare a medical script. Eventually, this medical script is used for further consultation and medical billing. So, clinicians and medical transcription professionals need to ensure its error-free to facilitate faster bill processing. Providers can also resort to healthcare analytics solutions to improve the medical script.
4. Medical Coding
Every medical bill must follow specific medical information codes. Professional coders use different codes to define the reason of visits, type of disease, potential treatment plan, and place of service delivery. All this information in specific codes makes it easier to understand in the bill.
5. Claims Management
The billing system in hospitals must address the requirement of claims management. Organizing, filing, and processing medical claims of patients' care episodes. And providers can only simplify this process by automating claims management. Moreover, providers can even use effective medical informatics or cloud computing solutions to manage claims denials.
6. Billing & Collection
It's a long process, from appointment scheduling to payment receiving. And medical billing and collection is an essential requirement in medical billing solutions. Providers need to send out invoices to insurance and patients for payments for this. It must include functionalities such as patient statements, bill generations, soft collection letters, bill recording, automated billing, and more.
7. Patient Information
A healthcare billing software requires accurate and centralized access to patient information. Patients and insurance providers having patient information will impact the billing process. Moreover, accessing patient information through a centralized interface can also be used for population health management and patient engagement systems. Further, integrating EHR with the medical billing system will also optimize medical records management.
8. Workflow Management
Todays' medical billing software must meet workflow management requirements. Loads of administrative billing and coding till payment processing, providers have an array of tasks. This workflow management function in the hospital billing software will speed up the process with accuracy and optimize staff workflow. Moreover, providers need to ensure proper electronic data exchange in workflow management to maintain accuracy.
9. Compliance
Of all the requirements, a billing system in hospitals must have regulatory compliance. It assures the users of the safety and security of the patient information. The data in the medical billing system need security, and HIPAA compliance is the best way to protect the software and patient data.
10. Payment Collection
Payment collection is the last and most important function of medical billing management. The complete billing process ends with insurance and individuals paying the claim. Either traditional payment or electronic transfer is the two possible payment processes. However, bulk payment must accompany an EOB, and providers need to update it in the hospital EHR system.
Benefits of Hospital Billing Software in 2022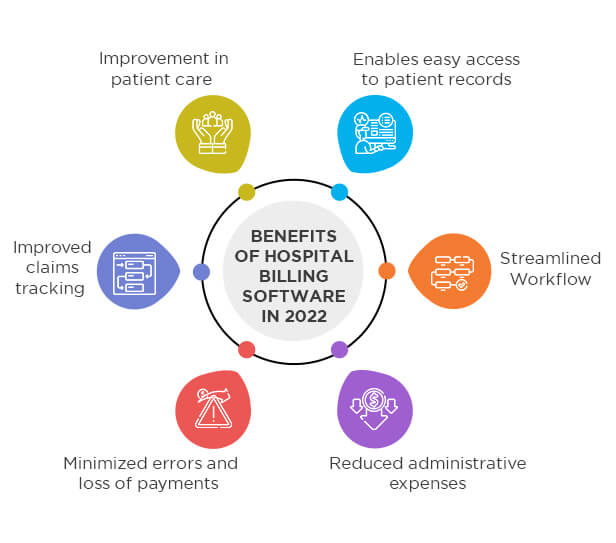 Billing systems in healthcare with personalized features and requirements simplify and speed up the billing to the payment process. Moreover, providers receive many benefits from using this medical billing software.
1. Enables easy access to patient records
Healthcare billing systems have up-to-date patient information, including medication and insurance status. And such medical billing system grants patients and insurance providers easy access to this information. Moreover, providers integrating this billing system with EHR will boost their healthcare interoperability too.
2. Streamlined Workflow
As one of the main requirements of a hospital billing software, providers' workflow is streamlined. Every task, from pre-registration to payment collection, the medical billing solutions streamlines the complete staff workflow.
3. Reduced administrative expenses
Manual billing and processing add up administrative expenses of providers. However, providers can save a lot on administrative tasks with medical billing systems by automating them.
4. Minimized errors and loss of payments
Providers need not stress about data errors and loss of payments with hospital billing systems. Automated billing solutions minimized errors and optimized the payment process. And eventually, providers' revenue also increases.
5. Improved claims tracking
Hospital billing solutions streamlines claim tracking and processing. It's one of the essential requirements of the software. It ensures the claims are error-free to facilitate the processing.
6. Improvement in patient care
Medical billing solutions simplifying the payment process indirectly boost patient care and experience. It also improves patient engagement systems.
Conclusion
Billing systems in hospitals have transformed over the last few decades. From a manual paper-based medical billing and coding process to complete automation, providers benefit from the hospital billing system. Moreover, if you are willing to invest in a hospital billing system, choosing a vendor that can customize the billing software per your needs is wise. You incorporate all basic requirements and functionalities to boost the providers' billing and revenue cycle process.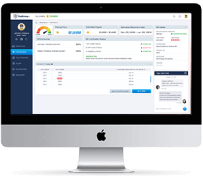 How can we help?
Fill out the short form below or call us at (888) 846-5382
Looking for software solutions to build your product?
Let's discuss your software solutions for your product in our free development acceleration call!
Get In Touch arrow_forward
About Author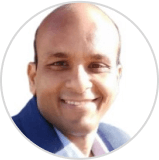 Written by Riken Shah
Riken's work motto is to help healthcare providers use technological advancements to make healthcare easily accessible to all stakeholders, from providers to patients. Under his leadership and guidance, OSP Labs has successfully developed over 600 customized software solutions for 200+ healthcare clients across continents.