Telemedicine technology has demonstrated promising benefits for enhancing healthcare delivery and improved patient outcomes. Having telehealth applications overcoming the obstacles posed by the pandemic is heartening.

The app market for telehealth trends is evolving. Due to strong demand, there are several options for monetizing telehealth and telemedicine software. According to the American Telemedicine Association, more than half of US hospitals are currently using telehealth technologies in their work procedures.

Healthcare software product development is an exciting prospect. On a strong idea, an app is always constructed with custom healthcare software solutions. To ensure that the concept is viable, you must be prepared to address why you want to create an app and why you want to build a doctor on call app. It takes a lot of reading, the right knowledge, and an understanding of the industry.

Here is everything you should know about developing a telehealth app with a sense of market dynamics.

Evaluation of app idea: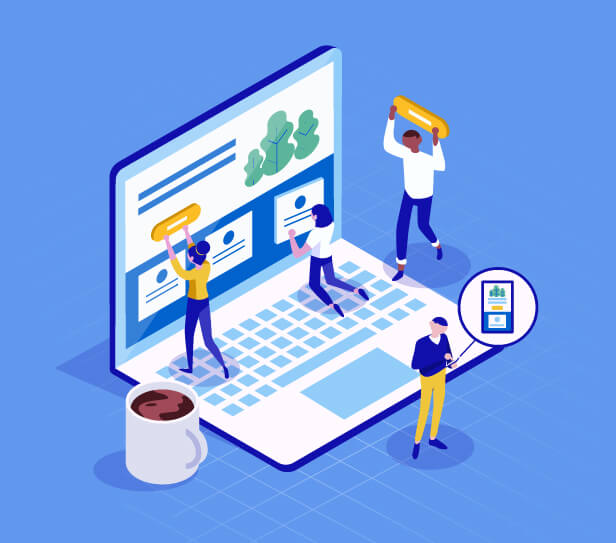 The best way to begin with telehealth mobile apps' development is to evaluate the market, identify your consumer segments, and outline your specific sales plan. Evaluation is necessary to differentiate a particular functionality. You can then devote your money to find a competent IT production vendor who will ensure HIPAA compliance and HITECH regulations for your application.

The strategy focuses on producing the first version of the software with key functionality. For the next versions, it integrates dimensions of scalability. You may want to release a fully-featured portal for telehealth platforms with integrated telehealth solutions. With those models, the costs could be higher.

The development team will prepare to build the code, validate, and bug-fix the program. You should thoroughly research and consider the different techniques used in the creation of the telehealth app. Knowledge helps to fuse inefficiently with technologies. Telepractice is committed to solving the shortage of healthcare providers and declining access to medical care. It unlocks doors for new prospects.

With instant success, telehealth providers enable clinicians to expand their services and positively affect the community with better patient outcomes with advanced telehealth solutions. Many telehealth benefits are contributing to the transformation of the healthcare industry with improved and convenient patient care.

The creation of interactive telehealth apps needs considerable responsibility since they specifically impact patients' health via virtual care. Do they wonder how to make teleconferencing such as video calls, audio calls, chat, photo-based, and real-time appointments with the best telemedicine apps? There are several significant stages in the production of this sort of telehealth software for telehealth virtual visits.

SWOT Analysis: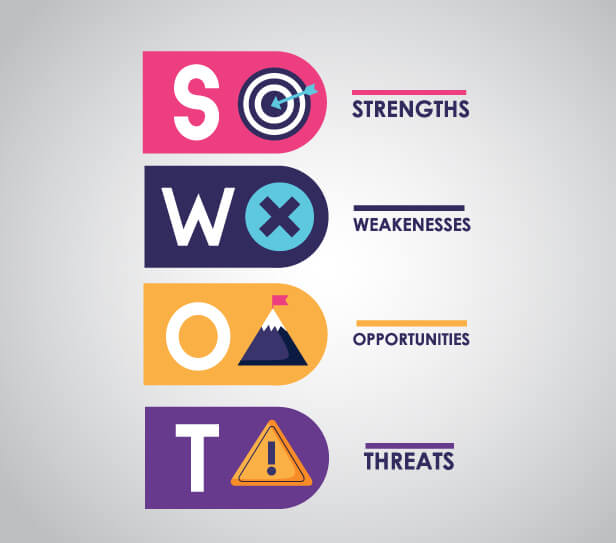 It will be better to focus on the strengths and limitations in this phase and try them out. You will now move to recognize industry leaders in telehealth services and potential competitors. It would help if you researched attributes of your rivals' successful projects, ratings, and customer feedback. Look at their pricing and platforms too. The transition would continue to look at the weaknesses and learn from the experts of the industry.

Now how much does telemedicine cost? Well, the cost of a telemedicine system depends on the concept, functionalities, the methodology to development, and the product selected vendor. You should expect telehealth requirements to cost about $80k to $250k (iOS, Android, or Web) for one platform. When you want to focus on a feature-rich approach, it will go way past $250k per platform. But OSP has defined telehealth app development strategy and years of experience, helping us to deliver the best telehealth app within your budget. (less than the market price)

You will need to encounter another concern after determining how to develop telemedicine software platforms integrated healthcare solutions – having a reliable tech team. You may either employ an in-house development team or find an outsourcing company specialized in the development of telehealth applications, depending on the business goals, priorities, and financial capability.

For the company, the latter choice is more advantageous because it opens up the below possibilities:
Low telemedicine costs for software development with the best quality
No hiring process and training requirement
Access to a vast talent pool that knows how to develop a telehealth product
Allocation of IT vendors for managing projects
Market Research:
This process enables you to assess your app's market and identify your customer's identity, who will define your target market. The quality of your market research will give a long-term benefit. Your audience has concerns, and your offering addresses those issues. Often, knowing who your user is would enable you to market your app after launch successfully.
For post-launch growth, this stage carries a lot of significance. How do you let your customers know and choose to be using your app? This question is the primary reason why you need to study the target market.
It would be best if you recognize what social networks your target consumers are using, what online information they are searching for, and at what time they choose to use a mobile to surf the internet. To make the most benefit, advertise your telehealth app on platforms where your potential customers are focused.
Healthcare practice management solutions and government regulations are in continuous improvement, so it is not a simple task to conclude diseases' transmission. The current telehealth trends also demand a new policy shift for telehealth billing and telemedicine costs in state and reimbursement.
The telemedicine system is changing the healthcare sector, according to the American Telemedicine Association. Several US regulations are there to streamline the telemedicine industry.
For example, the MACRA act opens up possibilities for healthcare associations and communities, patient advocacy organizations, educational agencies, and independent research organizations to develop, strengthen, upgrade, and extend telemedicine platforms and incorporate this technology.
Choosing APIs for App Integration: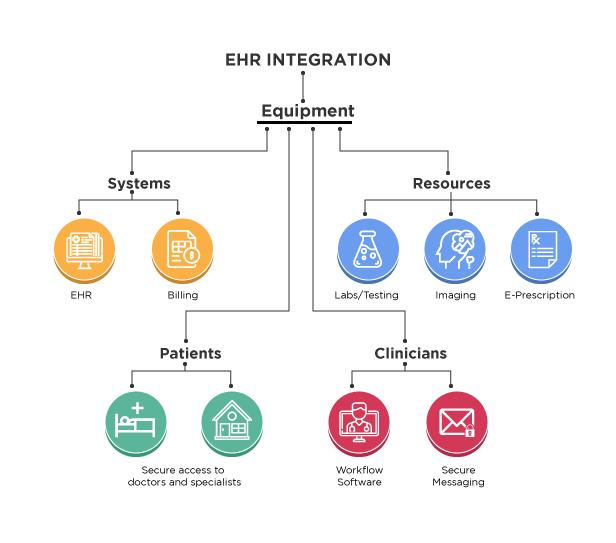 It would help if you had a reputable development partner to offer the correct telemedicine app development standard to suit the commercial and technological plans. Telemedicine applications for automated healthcare solutions can use many different tools, API usage, and 3rd party integration mechanisms.

The healthcare business and patient engagement systems would benefit from applying emerging technology to enable cloud-based telehealth like Artificial Intelligence, IoT, Big Data, and Blockchain. For speech recognition, language translation, machine learning, doctor chat app, and giving users a customized experience, artificial intelligence is useful.

Big data technology is used to capture and interpret electronic health records (EHRs), perform medical studies, enhance therapy, and provide rapid detection. Blockchain technology is useful for mitigating the lack of health records (saved in stored in digital format) and protecting clinical information storage and transmission.

IoT technology can monitor data to provide diagnosis and recovery, adherence to prescription, care in real-time, etc. To understand your app's layouts, the cause and effect relationships between buttons and windows, and the search information that needs to be altered or omitted, you can create a low-fidelity prototype (LFP).

An LFP allows you to understand the working of the app and the advantages it offers. Then you have to make a UX concept, and you can proceed with the high-fidelity prototype phase when it's finished. This stage helps you to try the app and get your audience's input.

Healthcare cloud computing allows medical facilities to archive all of their data while avoiding additional costs for networking devices and servers. The technologies provided by health cloud service providers can be intended to boost medical informatics, health care optimization, improve diagnostics, enhance patient outcomes, maximize healthcare delivery operations and facilitate the transition from volume to value-based care.

Unique Value Proposition:

Copies barely ever leave behind the original. The platform must have unique features to get the edge over its competitors. Pay attention to these possible unique features when creating a telehealth app for consultation with a doctor.

Getting powerful chat features is essential for telemedicine mobile apps. A quality mechanism for communication must be used in an application for interacting with people. Seamless chat features let doctors better communicate with patients.

People want to know who they're consulting, and patients don't trust people simply because they're called doctors with a medical doctor app. A telehealth app can show information regarding credentials, costs, past patients, and patient ratings. To grasp their concerns and easily find remedies, physicians can check the medical information data and also study and discuss the electronic data interchange for treating novel diseases.

The three main types of telemedicine apps for the telehealth business model: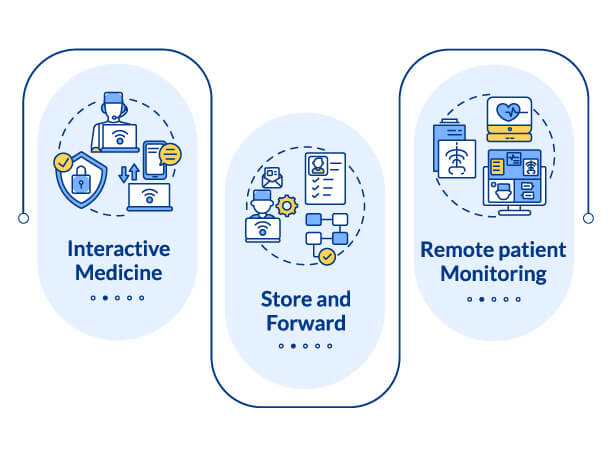 Interactive Telemedicine: Interactive programs may provide people who seek medical care with immediate advice. For this reason, many different channels, like mobile telemedical, online, and home visits, are used. It is possible to undertake a medical history and consultation on the severity of symptoms, followed by further examination equivalent to that usually carried out in face-to-face talks.
Store and forward: Store-and-forward telemedicine is uploading patient data and transferring it digitally to another assessment location. Health information contains data such as patient's demographic details, official files, blood work reports such as test results, photos, video, and sound files.
Remote patient monitoring: Telehealth in rural areas is commonly used to treat chronic conditions such as cardiac disease, diabetes, and asthma. Cost-effectiveness, more frequent reporting, and higher patient satisfaction are the advantages of remote healthcare delivery. You can configure your telemedicine software for remote health monitoring systems to automatically provide this data or allow your patients to enter vital data and current medical records manually.         
Testing and QA: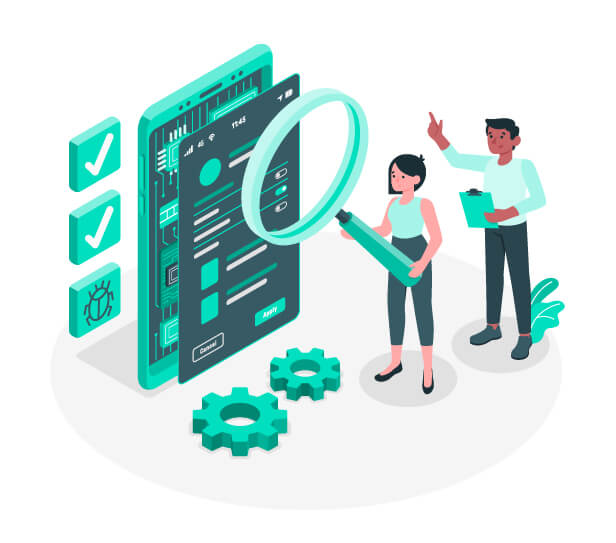 App Development for telemedicine requires constant attention to detail. It will help if you acknowledge that the software complies with your target country's laws or territories and defines the functionality to be used inside the app and the technology to be included. You need to provide each doctor with accurate details and encourage patients to score and monitor doctors to make the telemedicine system trustworthy for your customers.

Making sure the software performs flawlessly is a significant achievement in the growth journey of the telehealth app. It would help if you had peer code feedback executed by the app developers. The QA team carries out unit research on multiple systems at the same time.

Although an adequately maintained QA process entails regular checking after each sprint, prepare for a final quality assurance round that requires regression testing and covers all you've already reviewed in previous sprints. Before the launch, we suggest doing stress tests to see how the software will hold an inflow of new user groups.

Team review: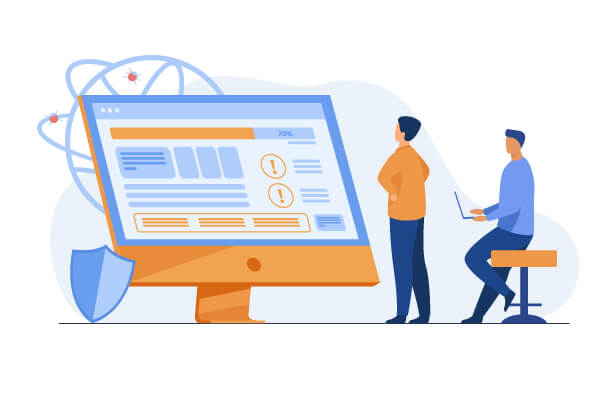 The production team will explain the software demo to you when the app is finished. The leap is a beautiful way to see how the software suits your expectations and inquire about changes to provide the best healthcare management software.

You can have continuous input, making it clear and leaving no space for any poor communication. The outcome that resonates with the vision of your dream app is what matters most. You will tweak the settings until the exact blueprint you had imagined is matched.

Conclusion:
This niche domain will attract you as a healthcare entrepreneur. It is the right time to invest in mobile telehealth systems' growth, as demand for these services will continue to grow.
Apps for telemedicine with custom telehealth solutions can help draw up time for real activities. This eliminates inefficiency with much of the automated documentation. It would help if you looked at higher returns as a result.
You will increase connectivity and enhance patient safety through telehealth app development when the pandemic has introduced new challenges. You should launch an app for telemedicine that can connect consumers with high-quality treatment.
References:
https://topflightapps.com/ideas/how-to-create-a-telehealth-app/
https://www.imaginovation.net/blog/launching-successful-telehealth-app-in-market/
https://mlsdev.com/blog/telemedicine-app-development
https://themindstudios.com/blog/telemedicine-development/
https://www.leewayhertz.com/telehealth-app-development/
https://www.byteant.com/blog/telemedicine-app-development-market-study-and-startup-opportunities-2020-whitepaper/
https://themindstudios.com/blog/telemedicine-development/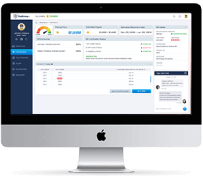 How can we help?
Fill out the short form below or call us at (888) 846-5382
Looking for software solutions to build your product?
Let's discuss your software solutions for your product in our free development acceleration call!
Get In Touch arrow_forward
About Author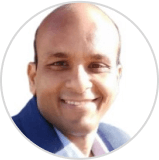 Written by Riken Shah
Riken's work motto is to help healthcare providers use technological advancements to make healthcare easily accessible to all stakeholders, from providers to patients. Under his leadership and guidance, OSP Labs has successfully developed over 600 customized software solutions for 200+ healthcare clients across continents.